International students now able to experience local culture
11:03 UTC+8, 2023-05-20
0
East China University of Science and Technology is cooperating with a local community school to make it a base for its international students to experience Chinese culture.
11:03 UTC+8, 2023-05-20
0
Ti Gong
East China University of Science and Technology has reached a cooperation program with a local community school to make it a base for its international students to experience Chinese culture.
The community school of Lingyun Subdistrict in Xuhui District, which is located near the university, will provide opportunities for the university's international students to learn Chinese culture via its regular activities for local residents. The students will also serve the community as volunteers, said Li Xiaopeng, dean of the university's College of International Education.
"Friendship, which derives from close contact between the people, holds the key to sound state-to-state relations," he said.
"As an extension to regular classes, the program will enable our international students to go out of campus to interact with local residents. When learning Chinese culture here, they will also make their contributions to community development."
Han Peng, an official of the Lingyun Subdistrict, said the program was a milestone in cooperation between community education and international education.
"Civilizations have become richer and more colorful with exchanges and mutual learning," he said. "Through cultural integration and collision, we hope to cultivate more comprehensive, open-minded and inclusive talent."
Ti Gong
During the launch ceremony of the program, three teachers from the university were appointed by the base as tutors and gifted representatives of international student books of Chinese culture.
An international student presented the community school a piece of Chinese calligraphy which literally reads "distance can never separate real friends."
After the ceremony, the international students tried their hands at the traditional Chinese skill of paper making. They watched as paper mulberry tree bark was pounded and soaked to produce paper pulp. Then they used a mould to scoop the pulp to transform it into sheets of paper. During the process, they put some flowers and leaves on the sheets to decorate the papers.
They also learnt to make panda-shaped handicrafts with 10 layers of paper. This is a typical paper-art class at the community school for children, seniors and child-parent activities.
Ti Gong
"I really like the Chinese culture and tradition," said Pakistan doctoral student Muhammad Javed, who was the first to finish the panda handicraft.
"Most of the time, I was looking for this kind of activities and on monthly basis, I take part in activities related to the Chinese culture. But this time I was really excited because the panda is really nice and I love it."
Javed has been in Shanghai for five years and is a biotechnology major. He said he is not good at painting, but the tutors at the base have produced video and paper instructions, which guided him to finish the painting and installation easily.
He said he was grateful to the university for giving him the chance to take part in the extracurricular activities to "know more about China, Chinese culture, Chinese people and Chinese traditions."
Wang Runzhu, a senior volunteer at the community school, was glad to see the international students.
"I'm in my 70s and I feel happy and proud to teach them paper art and Shanghai dialect," she said. "They also taught me simple English words, I can't remember them now, but anyway, they've brought me happiness and laughter and made me feel younger."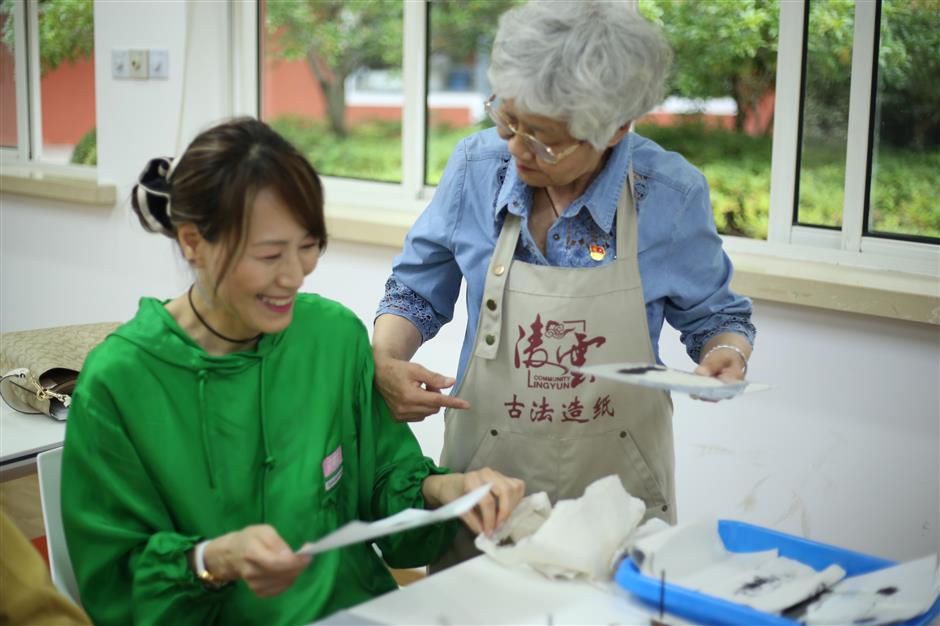 Ti Gong
Source: SHINE Editor: Yang Meiping Special Reports