Makoto Fujimura's natural colors resemble Chinese royal porcelain
21:46 UTC+8, 2023-05-22
0
At an exhibition at C3M on the Bund, keen observers may notice unintentional parallels between Makoto Fujimura's mineral-based paintings and Chinese royal porcelain.
21:46 UTC+8, 2023-05-22
0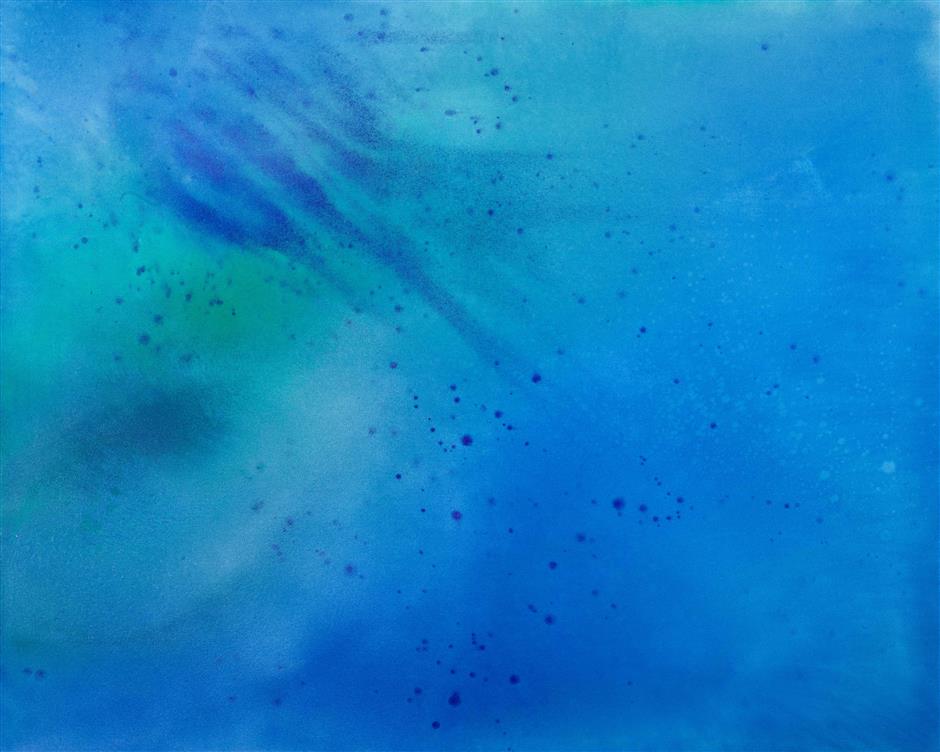 Makoto Fujimura's mineral-based painting appears light and fragile, making it hard to believe it has 150 layers.
The exhibition, "A Gaze Traverses Time and Space: Dialogue between Makoto Fujimura and Chinese Ancient Porcelain," at C3M on the Bund, features 17 paintings by the world-renowned artist and 13 pieces of Chinese imperial porcelain, combining to create a special Oriental beauty.

Art pieces that rely largely on physical materials and abilities have almost disappeared from modern displays due to the rapid growth of digital and artificial intelligence technology.

"Screens, immersive projections, and other virtual worlds have replaced the tangible experiences of natural materials and space," said Wang Chunjie, who curated the exhibition along with Cai Shiyin. "The ancient mineral-based painting art developed by early human civilization and the long-standing art of porcelain is now on the fringes of the contemporary art world."

Wang's comments echoed those of Fujimura.

"I preferred the slow-paced process of making art," Fujimura said. "Believe it or not, I once spent 20 years on a single piece."

Unlike the prevalent usage of chemically synthesized pigments in the art world, Fujimura incorporates natural mineral colors into his abstract paintings, ranging from gems, lazurite, gold leaf, silver, and mica paper.

In fact, Nihonga (Japanese painting) uses natural pigments, powdered mineral particles, and hide glue as an adhesive agent, producing beautiful color that uses water as its medium.

Fujimura's works often reveal the sparkling gemstone texture beneath the thick layers of color paint or gold and silver leaf. His exquisite skill allows these natural elements to radiate a distinct shine on the canvas, radiating nature's rhythms and vibrancy.

"Even the process is the art of waiting," Fujimura explained. "For example, it would take me an entire day to melt and filter.


"To prepare the white paints for the base, I would first make the oyster shell mixture and then saturate it with glue by throwing it against a bowl 100 times. Nihonga teaches us to wait as a daily practice, even before we apply a single stroke to the surface of the painting. Yes, it's almost like Zen cultivation, and I enjoy it."

Fujimura converts traditional art materials into a spiritual texture by merging them with the vocabulary of current abstract art, provoking the viewer's imagination toward the universe or other undiscovered lands.
One of his artworks mirrors the sky's stunning Klein blue. The artist is skilled with colors. Every painting on display has a completely different tone. Each work is like a "color symphony," creating a natural and calm ambiance that mimics his lengthy and meditative approach.
Observers may discover an unintentional similarity between Fujimura's paintings and Chinese royal porcelain.
The old porcelain culture, which has its roots in the East, has developed into the highest level of abstract thought.

Each imperial porcelain piece requires at least 72 steps to complete, from extracting raw materials to shaping and firing. Each phase necessitates the craftsman's skill, knowledge, patience, and luck, and any error can undo all of the hard work. Only one out of thousands of pieces can be done successfully, which is one of the reasons imperial porcelain is so precious.

These imperial porcelain tones unintentionally replicate the hues on Fujimura's tableau, conjuring up a wordless dialogue that spans time and place.

Exhibition info:
Date: Through June 18 (closed on Mondays), 11am-7pm

Venue: C3M on the Bund, Raffles City The Bund
Address: 4/F, 999 Dongdaming Rd
东大名路999号4层
Source: SHINE Editor: Su Yanxian Special Reports