Shanghai-style dining options to revel in traditional Lunar New Year dishes
10:14 UTC+8, 2023-01-30
0
Shanghainese cuisine, known as benbangcai, has left a collective memory on the older generation of locals, with Minhang offering many restaurant choices.
10:14 UTC+8, 2023-01-30
0
Shanghainese cuisine, known as benbangcai, has left a collective memory on the older generations as a cultural token.
The Minhang Hotel was the first hotel in the district with a garden view after the founding of the People's Republic of China in 1949. The hotel restaurant once appealed to the palate and soul of the older generation of Minhang Satellite City in an age of clanking and roaring heavy machines.
The Laobayang (old eight dishes) Restaurant in Zhaojialou Ancient Town remains a haunt for local middle-aged people and seniors for gatherings of family and friends.
A chain of Fuchun xiaolongbao eatery inside Pujiang Country Park, while continuing to serve authentic Shanghai small steamed buns, dazzles customers with a daring mix and match of small steamed buns and a cup of coffee.
Here is a closer look at some of these time-honored restaurants in Minhang.
Ti Gong
Minhang Hotel
The Minhang Hotel was constructed within 78 days in the 1950s together with Minhang Satellite City's Phase One project, the No. 1 Road. The hotel was a landmark architecture in Minhang at the time and was also the first hotel with a garden view in the People's Republic of China.

For the older generation of Minhang residents, dining in the restaurant was quite a trendy thing. In fact, the hotel initially opened exclusively for the reception of high-ranking officials and foreign guests.
It is noted for its traditional Shanghai cuisines like soy sauce braised fish tails, hairy crabs, soy sauce braised burclover and chitterlings, and eight delicacies hot sauce.
While retaining its traditional Shanghai thick-sauced flavor, the hotel also appeals to the younger generation with renovated dishes like butter silver pout and deep-fried crispy duck wrapped in lotus leaf.
Visitors to the hotel may also marvel at its art pieces, including a poet's inscription, 24 traditional Chinese painting master pieces and a boxwood carving work that records the splendid view of constructing Minhang No. 1 Road in the 1950s.
Address: 202 Lanping Road, Minhang District
闵行区兰坪路202号
Ti Gong
Laobayang Restaurant
Laobayang are the traditional eight dishes in Shanghai served at the Chinese Lunar New Year or holiday banquet. The most common combination is led by shredded ham, chicken and bamboo shoot soup, steamed egg rolls, braised bacon, casserole with three delicacies and braised pig knuckle in brown sauce.

The dishes, due to their complex recipes, have gradually faded from Shanghai people's daily dining table, but memories linger on.
The Laobayang Restaurant in Zhaojialou Ancient Town of Minhang, with the traditional eight dishes as its signature, keeps alluring both tourists and residents. Local middle-aged folks and seniors usually hold their family or friends' gatherings here.
Behind each classic dish is a set of treasured traditional cooking recipes. Take the braised pig knuckle in brown sauce for example. The chef usually prepares the dish one day ahead. He first steams the knuckle, then deep-fries it and soaks the knuckle in cold water till the skin is easily torn from the meat. Then he cooks the knuckle with ingredients. The entire process lasts for eight to nine hours.
Due to a revamp of urban villages inside Zhaojialou Ancient Town, starting from tomorrow, the restaurant may suspend operations some time this year. Diners had better check before they go. The restaurant has other chain outlets in Shanghai.
Address: 25 Xingdong Street, Zhaojialou Ancient Town
召稼楼古镇兴东街25号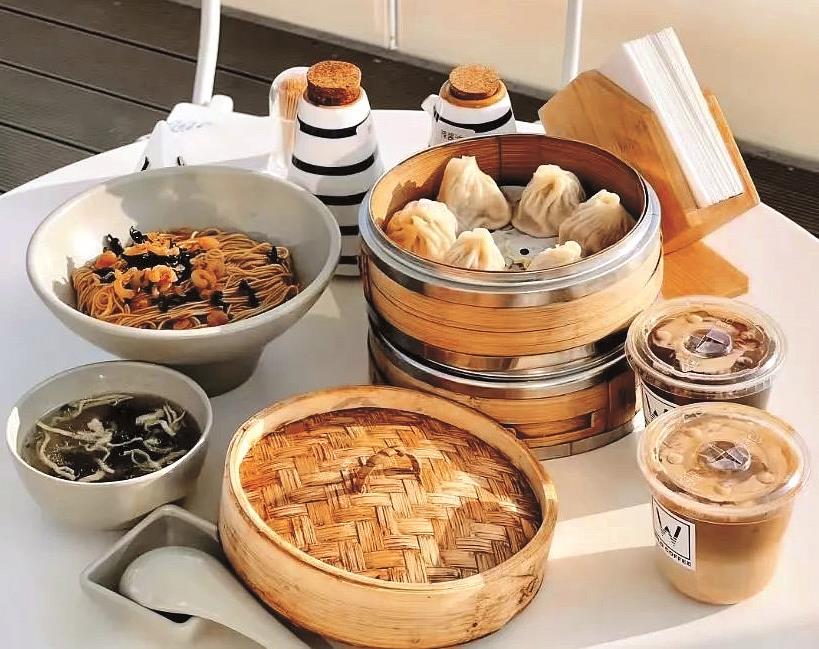 Ti Gong
Fuchun Xiaolongbao
Some gourmets of xiaolongbao, or small steamed buns, may be feeling upset over the closure of Fuchun Xiaolongbao's Yuyuan Road branch due to urban renovation projects around the Lunar New Year. But they will be delighted that they now have an alternative to dine on the famous snack at another branch at Minhang's Pujiang Country Park. What's more, the restaurant is trying a daring "mix and match" through combining the xiaolongbao with coffee.

Upon arrival, visitors will notice a long bar counter with coffee machines, while the kitchen, where chefs make small steamed buns and noodles, is hidden behind it.
The restaurant keeps the tradition of serving six steamed buns inside a steamer. The xiaolongbao tastes juicy with thin skin and a big chunk of fillings that vary from pork, shrimp to crab meat.
Other popular dishes served in the restaurant include shrimp and green union braised noodles and three-delicacies dumplings.
"I visited the restaurant because of its good reputation online. It's a novel idea of drinking a cup of coffee while having the dishes," said one customer.
Address: Bldg 4, 1080 Pujin Rd S.
浦锦南路1080弄4号楼
Source: SHINE Editor: Su Yanxian Special Reports