Jing'an speeds up urban renewal with four major construction projects
16:10 UTC+8, 2023-04-25
0
Renovations, restorations and new builds included in projects worth almost 20 billion yuan (US$2.9 billion).
16:10 UTC+8, 2023-04-25
0
Jing'an District has accelerated its urban renewal pace by launching four new construction projects worth nearly 20 billion yuan (US$2.9 billion).

One of the most anticipated projects is of a renowned slum area, known as the 240 Hongnanshanzhai neighborhood, in Zhijiang Road W. Subdistrict.
The old rundown houses, built in 1964, had fallen into a state of disrepair with cracked walls, leaky ceilings and shared toilets and kitchens. Local residents were eager to leave.
With the relocation of more than 1,500 families completed, demolition of the shanty houses started early this month, and new complexes including a new school and a new community fitness center would be built.
The project, with total investment of 11.5 billion yuan, would cover 31,300 square meters of land.
Meanwhile, a separate 6.5-billion-yuan project would turn the former site of the Shanghai Film Technology Plant into new residential complexes.
It covers over 96,800 square meters. In addition to newly-built high-rise buildings, historic buildings and cultural relics would be retained and renovated to blend seamlessly into the new environment.
In another project near the bustling Yan'an Road, historical buildings would also be preserved to retain the local flavor.
In the project, the former site of the Jing'an District Museum of Cultural Relics and Historical Materials on Fumin Road would be converted into a new guochao (Chinese-chic) center. Guochao is a fashion trend among Chinese youngsters who favor domestic brands and products incorporated with traditional culture elements and styles.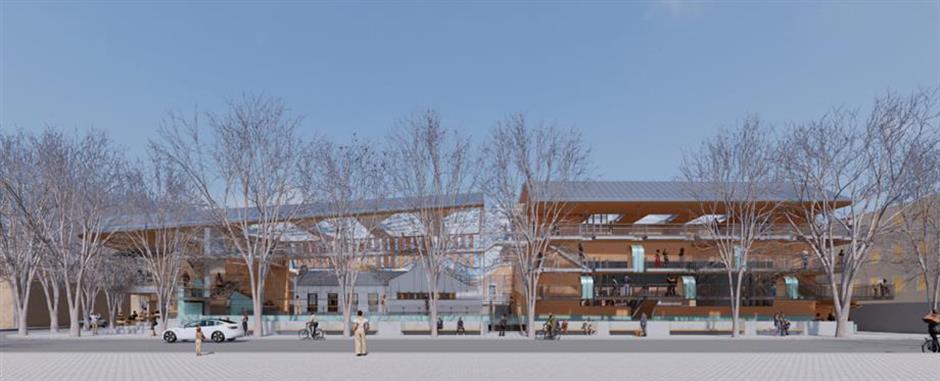 A new five-storey building would be built, and a sanheyuan (Chinese traditional U-shaped courtyard) would be repaired. Along Fumin Road, benches and a sunken courtyard would be built as an extension of the new center to open up public cultural spaces.
The new center is also expected to inject new impetus for the development of guochao in the renowned "Ju Fu Chang" area, the abbreviation of Julu, Fumin and Changle roads — backstreets that feed into Nanjing Road W. in Jing'an.
The area has been providing a fertile land for domestic fashion design. Of more than 200 shops, more than 80 percent of the fashion retailers are domestic brands.
This month, a "Ju Fu Chang" domestic brand development alliance was established, with members including LABELHOOD, Fashion Lab and 108 Shangyuan, to further lead the guochao consumption trend in the area.
A set of policies to grant resources to domestic brands for expansion, lower their rental costs, and other favorable measures will be instigated.
The last project, with a total investment of 1.15 billion yuan, is in a new innovation and technology industry center in northern Jing'an.
Jointly developed by Bailian Group and Shibei Hi-Tech Group, the center would cover 14,000 square meters of land, east to Jiangchang Rd No. 3, west to Pengyuepu Greenland, north to Zoumatang Greenland and south to Jiangchang Rd W.
It will feature headquarters and industrial clusters in the sectors of digital and intelligent economy.
Source: SHINE Editor: Cao Qian Special Reports