Largest subdistrict enables convenient life
16:30 UTC+8, 2023-04-25
0
Daning Road Subdistrict in Jing'an excels with one-stop 24-hour administrative services, childcare and eSports.
16:30 UTC+8, 2023-04-25
0
Editor's note:
Jing'an comprises 13 subdistricts – Jing'ansi, Caojiadu, Jiangning Road, Shimen Road No.2, Nanjing Road W., Tianmu Road W., Beizhan, Baoshan Road, Zhijiang Road W., Gonghexin Road, Daning Road, Pengpu Xincun and Linfen Road, and one town – Pengpu. Every one of them is working to make Jing'an a better place. We will invite a local resident or worker to introduce the best of each subdistrict and town in this series.
Episode 2: Daning Road Subdistrict
One-stop 24-hour administrative service
Despite its bulk — the largest subdistrict in Jing'an — Daning Road Subdistrict is one of the most convenient communities as it offers one-stop 24-hour administrative services to local people.
Usually, administrative matters must be handled at the community service center. It may be inconvenient for people to take time off to attend the service center and line up to deal with administrative affairs, forcing shopkeepers to close doors and office workers to request leave.
In April 2021, the subdistrict launched "Daning E Ban," an online administrative service platform embedded with 5G, remote video and artificial intelligence technologies.
It allows people to deal with administrative affairs anytime anywhere. Through the hotline or WeChat mini program, people can access to "Daning E Ban" where robot receptions will search the database and answer questions. If affairs are too complicated to be automatically answered, users will be connected to the subdistrict's workers.
If documents and papers are required, people can submit digital versions to the platform.
For the elderly who are not familiar with digital devices, they can turn to local juweihui (neighborhood committee), the grassroots of governance that are usually embedded in residential compounds.
With the help of juweihui workers, they can directly speak to community service center staff through remote video, and handle more than 100 civil matters, such as renewing medical cards and applying for elderly in-home care, by scanning their ID cards.
Childcare everywhere
In the Daning Road Subdistrict, the "Baby House" project, which offers daycare to children under the age of three, has expanded to industrial parks and commercial complexes.
Shanghai has been establishing childcare facilities in communities to alleviate parents' burdens. This year, the city launched the "Baby House" pilot project to "embed" childcare services in existing venues to make lives easier for working parents and grandparents.
But in most cases, the "Baby Houses" are set up in residential compounds. Daning, which has 52 commercial and industrial parks, has moved further to meet local demands.
At Daning Dobe E-Manor at 602 Pengjiang Road, the city's first "Baby House" in an industrial park has opened.
As China's first e-commerce industrial park, most of the local workers engage in livestreaming and thus often work till night. The working parents can have their children taken care at the "Baby House" and pick them up while they are off work.
Shanghai's first "Baby House" in a commercial complex has also opened at Life Hub@ Daning mall in Daning. It provides comprehensive childcare to parents who work nearby, see doctors at a nearby hospital, and go to the mall to make purchases and handle personal affairs such as getting a haircut, a manicure and a facial.
eSports
Shanghai is home to more than 80 percent of China's eSports clubs, companies, livestreaming platforms, and other industrial participants, earning it the title of China's eSports engine.

Lingshi Road in the Daning Road Subdistrict is hailed as a "pilgrimage site" in eSport fandom. As a pioneer in the burgeoning billion-dollar industry of eSports, it is the heartland of the new craze.
About 20 years ago, when the local area began to transition from smokestack industries to a contemporary city, young eSports players found abandoned manufacturing buildings ideal for pursuing their dreams.
Gradually, an industrial chain began to grow around the region, housing game developers, operators and broadcasters. Many of them are leading players, such as China's top eSports club EDG; Shanghai-based VSPO, a leading eSports event operator in Asia; and Activision Blizzard, developer of "Call of Duty" and "World of Warcraft."
So, the area is considered as an unusual instance of a comprehensive industrial chain. Even globally, only a few locations have such a comprehensive eSports industrial chain.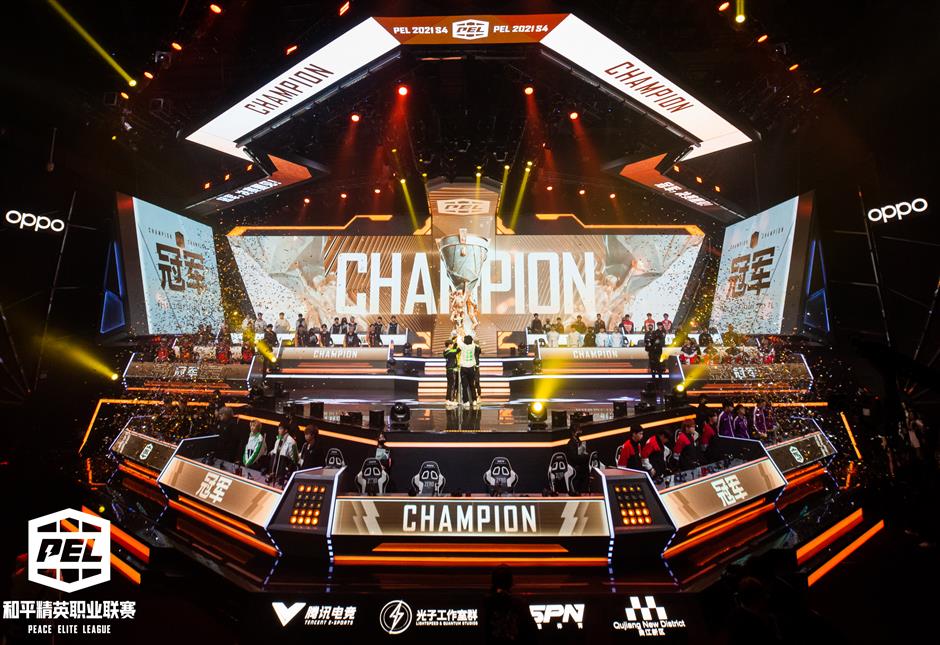 Source: SHINE Editor: Cao Qian Special Reports