Enjoy the roses in bloom and ancient Egypt at HKRI Taikoo Hui
09:00 UTC+8, 2023-05-30
0
Sotheby's, the world's oldest auction house, opens a new outlet along Suzhou Creek, while an exhibition at HKRI Taikoo Hui will transport you to ancient Egypt.
09:00 UTC+8, 2023-05-30
0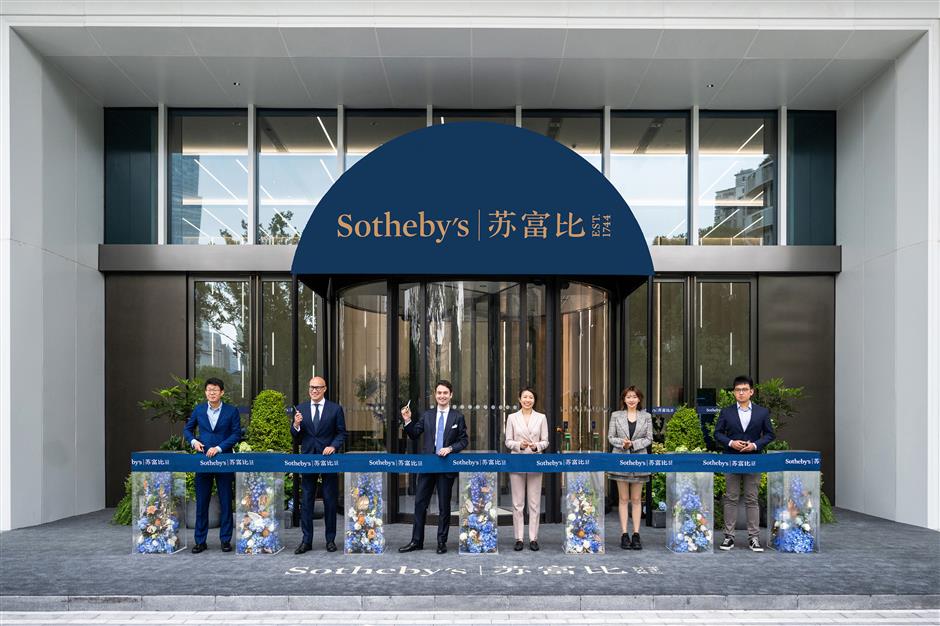 Shanghai Sotheby's Space
Sotheby's, the world's oldest auction house, has launched a new Shanghai location along Suzhou Creek.

Shanghai Sotheby's Space at 69 Hengtong Road E. incorporates its Chinese mainland offices as well as being a multi-functional hub for exhibitions, seminars, workshops and other cultural experiences.
Meanwhile, the "Buy Now" service was launched, allowing Chinese mainland collectors to buy bags, jewelry, watches and other categories via WeChat and the official Chinese website Sothebys.cn.
"Shanghai Sotheby's Space will become a hub for collectors and art lovers from different communities on the Chinese mainland," said Jean Qian, managing director of Sotheby's China. "We hope to bring a broader and more in-depth collecting experience to China and Asia to further boost the long-term development of the art market."
Horizon of Khufu
"Horizon of Khufu" is an immersive exhibition that transports you to ancient Egypt.

Virtual and augmented reality supplement the 45-minute tour of the exhibition at HKRI Taikoo Hui. You can see Khufu's Pyramid, the largest pyramid in the Giza complex and the sole remaining structure of the Seven Wonders of the Ancient World.
Wearing a backpack and a headset, you will travel back in time to visit the heart of the pyramid, witness a sacred ceremony, and ride down the Nile as an Egyptian villager 4,500 years ago. During the trip, you will be able to observe and speak with other tourists.
Shanghai is the second leg of the exhibition, which was launched in Paris last year. It will be on display until August 27.
Roses in bloom
Chinese roses are in full bloom in the district's parks and along the roadsides.

Daning Park, Sanquan Park, Middle Ring Park, Pengpu Four Season Park and Baiyi Bridge Park are among the top draws.
Pengpu Town also has a 6-kilometer-long floral appreciation route. It runs from Guangzhong Road W. to the south side of the Xingfu Xinyuan commercial complex, passing through Wanrong, Yonghe, Yuanping roads and Jiangchang Road W.
Dramatic arts promoted
Jing'an Culture Center was declared China's first Youth Dramatic Arts Promotion Center — the only one in Shanghai.

The center said it will collaborate closely with the other 12 venues on the list to create new drama landmarks.
There will also be acting lessons and talks for children and teenagers. More notable children's plays will be staged, and amateur children's troupes will be formed.
Huang Xiaoqing
Shikumen exhibition
An exhibition on shikumen (stone-gate house) is currently ongoing at the Xiwang Garden Lane Museum.

It is Shanghai's first longtang (alleyways) museum, located in the century-old Xiwang residential compound at Lane 68 on Fengxian Road. Xiwang is a construction compound of British Queen Anne-style buildings built in 1911.
Fireplaces, furniture and gable ends collected from the district's historic shikumen neighborhoods are on display.
The museum is open Monday through Saturday, from 9am to 12 noon.
Daning ecological business hub
A new development plan for the Daning area has been announced, with the goal of establishing an international ecological economic center.
The "one core, two industrial clusters and one commercial belt" plan specifies that Daning will grow around Daning Park, the largest ecological park in urban areas, to become a new ecological central business district.
The phrase "two industrial clusters" refers to a digital economy hub centered on Daning Central Square and an integrated circuits hub focusing on chip design along Guangzhong Rd W. The "one commercial belt" consists of Daning Music Plaza, Daning Jiuguang Center, Life Hub @ Daning and IMIX Park.
The area is home to 11 regional headquarters of multinational companies, 39 industrial parks and 216 research and technology enterprises.
Comprehensive community center
A comprehensive community service center has been unveiled to provide one-stop service to people in Jing'ansi Subdistrict.

The center, which was recently renovated, covers an area of nearly 3,000 square meters at 1855 Xinzha Rd, and incorporates childcare, elderly care, a library, a fitness club and a cultural center.
A variety of activities, such as traditional Chinese medicine consultations and a charity bazaar, were held during its reopening earlier this month.
Source: SHINE Editor: Cao Qian Special Reports