Recreating epicurean dishes served to the emperors
13:41 UTC+8, 2017-07-12
0
The meals served to the ancient Imperial Court have always remained something of a mystery, but it's safe to assume that emperors dined on grand style.
13:41 UTC+8, 2017-07-12
0
The meals served to the ancient Imperial Court have always remained something of a mystery, but it's safe to assume that emperors dined on grand style.
Just how epicurean were these ancient meals? Countless tales about the royal dinner table have been handed down for generations.
In April, Li Xiaolin, Beijing chef and fourth-generation successor of the Family Li Imperial Cuisine, was in Shanghai for three days to prepare a chef's table for a very limited 30 reservations a night.
The menu consisted of nine appetizers, five main entries and three traditional Beijing desserts. Cost per person was 1,980 yuan (US$295.5), plus 10 percent service charge.
Li took out time to talk with Shanghai Daily about the culinary legends from the Qing Dynasty (1644-1911) and how his family started a business based on reviving imperial cuisine.
Unfolding mystery
Inside the Forbidden City, the royal kitchen had clear divisions: the meat bureau, the vegetable bureau, the bobo bureau for staples like dumplings and steamed buns, the pastry bureau and the roast bureau.

When an emperor was dining, eunuchs would choose from more than 100 dishes arrayed in front of him. Many of the dishes took days to make, while others like stir-fries were cooked in a side chamber of the palace hall known as xing zao, or mobile kitchen.
The cuisine of the Qing Dynasty was the epitome of imperial food traditions. The Manchus, who conquered the lands from the northeastern region to Beijing, brought their own culinary traditions to the mix.
"Emperor Kangxi was the most impressive," Li said.
"He would go hunting himself and learned from Manchurian butchers how to cut up the game. Whenever he discovered a taste he liked, he did research to find out the reason."
When Kangxi was on patrol along the Yellow River basin, he sent some of his subjects out fishing.
The thousands of carp they caught were fed to army troops and guards. The emperor was impressed with the flavor of the fish, and eventually he discovered that the best-tasting carp came from a particular section of the river where they fed on a certain kind of algae.
In the Tang Dynasty (AD 618–907), Emperor Xuanzong sent his fastest steeds to southern China to bring back delicate lychee, a favorite of his beloved consort Yang Guifei. In the Qing Dynasty, transporting lychee to Beijing before the fruit spoiled became more creative.
Just before the fruits were about to ripen, selected lychee trees were covered with yellow bags, and the whole tree was carried to Beijing by sea in a giant wooden barrel. When the cargo arrived in the capital, the fruits were ready to eat.
The dishes
The Li family's menu of imperial cuisine is strict and attentive, and most of the dishes cannot be found elsewhere.
Shoudie is a series of bite-size appetizers, delicately prepared and served in a manner that balances light and bold flavors.
Li Anlan
Sesame buns stuffed with roast pork is a Manchurian dish that boils a suckling pig before hanging it in a roasting oven until the skin becomes crispy. Emperor Yongzheng loved this roasted pig so much that it's said he ate almost 300 in the lunar June of 1726. (Of course, he ate only the most succulent parts.)
"Only pigs weighing 50 kilograms could be cooked in the imperial court because they were judged to have the best taste, fattiness and skin," Li said.
Li Anlan
Chao xianshi, a cold vegetable dish comprised of shredded carrot, pickled vegetable, bamboo shoots and cilantro, appears to be the simplest appetizer on the menu, but it took two days to prepare in olden times. The carrot shreds must be chilled after stir-frying to retain the crunchy texture.
Edible bird's nest also featured in imperial dining. When the emperor awoke in the morning, he was served a bird's nest cooked with rock sugar. In the late Qing Dynasty, hundreds of dishes using bird's nest were developed, though the ingredient is commonly served sweet in modern cuisine.
"The Manchus were nomadic people who hunted game," chef Li said. "They used pheasant as the shredded 'chicken' with bird's nest. Wild pheasant in northeastern China fed on forest pine nuts. The meat is red and more delicious. Nowadays, we use regular chicken."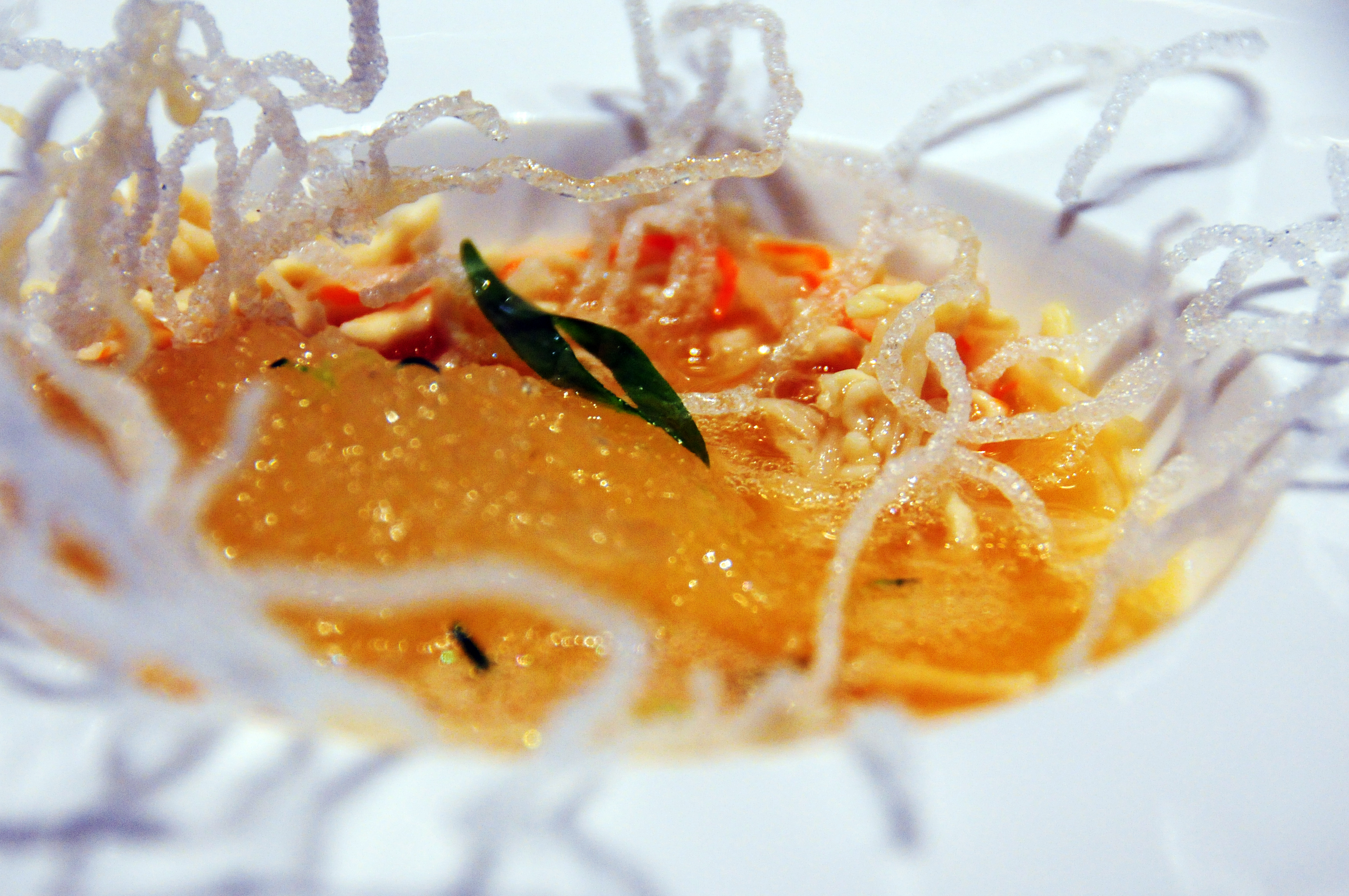 Li Anlan
Quick-fried mutton with green Chinese onion was also a common dish at court. The lamb was a breed that could be found only in Ujimqin, Inner Mongolia Autonomous Region. Unlike classic mutton and Chinese onion stir-fry that adds cumin to balance the meat's strong taste, the Li family recipe emphasizes the original flavor of the meat with green onion and simple seasonings.
"Xian, the Chinese character describing the unique flavor of foods, couples the characters for fish and mutton," Li explained. "Chinese people favor thin-scaled, spiny freshwater fish because xian has been the center of Chinese culinary traditions since ancient times. Chinese people seek light flavors to achieve xian in foods."
The English translation of the word — umami — comes from Japanese.
Li Anlan
A family business
The Li family traces its ancestry back to a prestigious Manchurian family. Li Xiaolin's great-grandfather Li Zhijia lived from the Tongzhi through Guangxu reigns in the late Qing Dynasty.
Li Zhijia was commander-in-chief of the palace guards, responsible for the security of the royal family. His duties also included ensuring that household affairs met the highest standards. As such, he organized all royal banquets and created recipes and menus.
When imperial history ended, the Li family moved on to other walks of life. Li Xiaolin's father, Li Shanlin, was an applied mathematics professor at the Beijing Capital Economy and Trade University. His mother Wang Xiaozhou was a pediatrician.
In addition to math expertise, Li Shanlin was also an acclaimed chef who learned culinary arts from his father and grandfather. He and his wife often hosted wonderful feasts at home for friends, neighbors and work colleagues. During the famine in the 1960s, when meat was hard to come by, Li Shanlin raised a pig and 40 or so ducks in the yard. A 150-kilo pig was butchered to celebrate Li Xiaolin's full moon birthday, and the ducks were used to make the Beijing roast duck.
"We didn't have an oven, so we converted a giant projector into a roasting device," said Li Xiaolin.
After retirement, Li Shanlin and Wang turned imperial court cuisine into a family business in an 11-square-meter room in a Beijing back alley. The 11 Yang Fang Hutong address could handle only one table of diners per night.
The business was a huge success. Politicians, business leaders, scholars and artists sought reservations.
Li Xiaolin didn't enter the family business at first. He studied architecture and interior design in Australia. When he returned to China, he gave up those pursuits and returned to the kitchen. He helped to expand the family business franchise overseas.
Today, Li Xiaolin lives in Beijing and oversees restaurant locations in China, including Beijing, Tianjin and Shanghai. His two sisters run the family's restaurants in Melbourne and Tokyo. The Shanghai branch has been open for a decade.
The original 11 Yang Fang Hutong still exists, now with six tables and capacity for of about 60 diners.
Source: SHINE Editor: Fu Rong Special Reports