A bike, a dream and gritty resolve. The odyssey begins
16:35 UTC+8, 2020-07-03
0
Ever feel like throwing caution to the wind and hitting the road? Many of us may dream such flights of fancy, but stay in usual ruts. Meet a man who didn't and never looked back.
16:35 UTC+8, 2020-07-03
0
"I was surprised, as always, by how easy the act of leaving was, and how good it felt. The world was suddenly rich with possibility," Jack Kerouac wrote in his 1957 novel "On the Road," a defining work of the American post-war Beat Generation.
Some 60 years on, Kerouac's self-proclaimed "detachment from existing society" retains its allure for those bitten by wanderlust. Just ask Zhou Jianbing, 34, a Gansu Province native now living in Shanghai.
Zhou made a 261-day trip around China's inland borders — including the autonomous regions of Tibet, Xinjiang and Inner Mongolia — to escape the rat race of modern urban life.

"I found myself more suited to 'the road' than to a mundane city life," Zhou told Shanghai Daily.
Ti Gong
Like other road adventurers, Zhou collected a wealth of unusual experiences during his trip. He crossed vast no-man's lands where no people lived. He slept in snowfields at minus 40 degrees Celsius. But what made his trip truly unique was that he undertook the 30,530-kilometer journey on an electric bike powered by lithium batteries.
"The decision to start the trip was more or less on impulse," he said. "The actual idea of touring around China came to me as early as 10 years ago, but I never initially imagined I would do it on an electric bike."
Zhou moved to Shanghai in 2008, where he worked as a vehicle-painting designer in a bicycle shop. Last year, business was poor and Zhou began to feel the pressure of living in such a fast-paced city.
"I faced all the usual worries," he said. "I had reached the age for marriage, but I could never afford an apartment for a wife in a city like Shanghai. I just wanted to take a pause and thought it might be the right time to revive my long-held dream of touring China."
Ti Gong
Zhou said he first thought about doing the tour on a regular bicycle but decided that might be too fatiguing. He wasn't skilled at riding motorcycles. An electric bike became the compromise choice for transport.
He did some trip planning, searching online for routes, accommodation and other travel information. Then, without telling family or friends, he took off on June 28, 2019.

Zhou first passed through Fujian, Guangdong, Guangxi and Yunnan on his way to Tibet. The two most difficult phases of the journey were the ride from Tibet to Xinjiang and the ride through northern provinces in extreme cold.
Charging his bike batteries was obviously a challenge throughout the journey. Zhou had his electric bike modified a bit before leaving, adding an extra battery, upgrading the headlight and tailoring himself a more comfortable seat.
Two fully charged batteries could keep the bike rolling for about 150 kilometers. Zhou carried an extra battery with him during the latter part of the journey because batteries run down much faster in cold conditions.
Ti Gong
"When I looked for accommodation, a charger or generator was more important than a bed," said Zhou. "It was not a problem in cities. But in rural areas, especially in places not covered by a power grid, I had to look for solar generators and sometimes sought help from military camps."
Zhou covered an average 100 kilometers a day.

"My best record was 245 kilometers a day," he said. "But in rough conditions, like snowy mountain areas, I couldn't manage more than 50 kilometers in 12 hours."
With limited experience in outdoor or long-distance travel, Zhou said he often had to rely on luck and the hospitality of strangers.

"I have to admit that I was blessed with good luck on the trip," he said. "No major malfunction ever happened to my bike, except the occasional flat tire. There were also a few times when my bike ran out of battery in the middle of a long highway. I was lucky that truck drivers were kind enough to stop and give me a lift to the nearest gas station or hotel so I could recharge."
Ti Gong
To ease his load on the bike, Zhou usually had his tent and spare baggage delivered to the next destination.

Loneliness. Zhou had to conquer utter solitude when he rode through the high plains between Tibet and Xinjiang.
"For days, I rode along a road surrounded by pale, endless hills," he said. "There was no trace of life for hours. I felt in a trance-like state sometimes. It was the unexpected change of landscape or the indistinct outline of rural villages that helped me cope."
Rural residents showed extreme kindness to the unexpected visitor.
"People of the Uygur ethnic group were the most hospitable," said Zhou. "They would offer me free meals and accommodation after hearing about my trip. I always tried to pay them back. There were language barriers sometimes, but luckily most of their younger generations spoke good Mandarin."
Ti Gong
Zhou usually carried with him enough food for one or two days. Once, when he was riding along the snow-covered Yizhao Highway in Xinjiang in late October, he encountered a fellow cyclist trapped by the snow.
"His brakes had frozen, so he was forced to stop," said Zhou. "When I saw him, he was cooking porridge — the only food he had for himself and his dog."
Zhou spent two hours with them and left them some crusty pancakes before leaving.
"He told me the dog was a gift from a herdsman in Inner Mongolia," Zhou recalled. "It was a dog who understood the hardships of the great outdoors. After finishing the first piece of pancake I gave it, the dog tried to hide another piece under the snow for the next meal."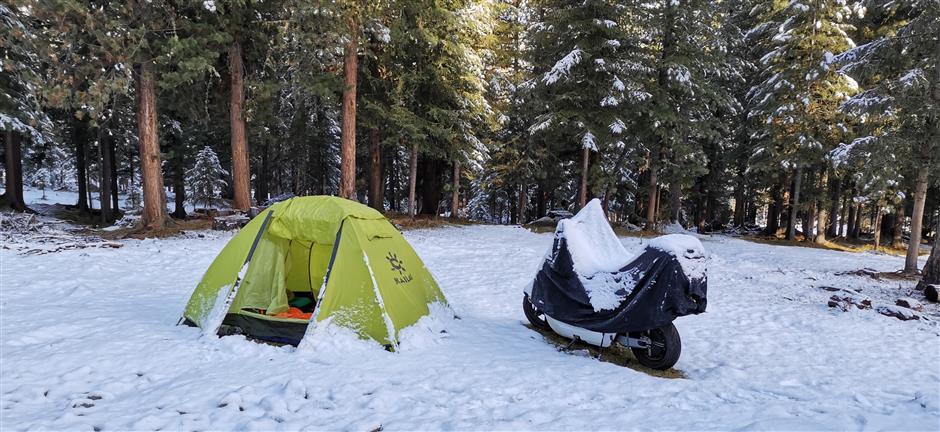 Ti Gong
Zhou informed his family about his trip only after he left Tibet.
"I blocked my family when updating my riding pictures on WeChat," said Zhou. "I unblocked them when the hardest phase was over. My elder brother saw the pictures and called me. I could hear that he was in tears on the other end of the phone. My parents also heard of the trip, and I had to do video chats in the following few days to assure them that I could handle the trip."
Zhou reached the city of Heihe in northeast China's Heilongjiang Province on January 12. He deposited his electric bike at a local hotel and returned to his hometown of Baiyin in Gansu Province for the Chinese New Year.
Because of the outbreak of coronavirus, Zhou stayed at home for two months. He didn't get back to Heihe to retrieve his bike until March 26.
In northern provinces, Zhou said he couldn't ride outdoors for more than four hours a day because of the cold.
"I would spend 20 minutes putting on layers of clothing before going out," he said. "When the weather report said it was minus 25 degrees Celsius, it felt more like minus 35 degrees riding a bike.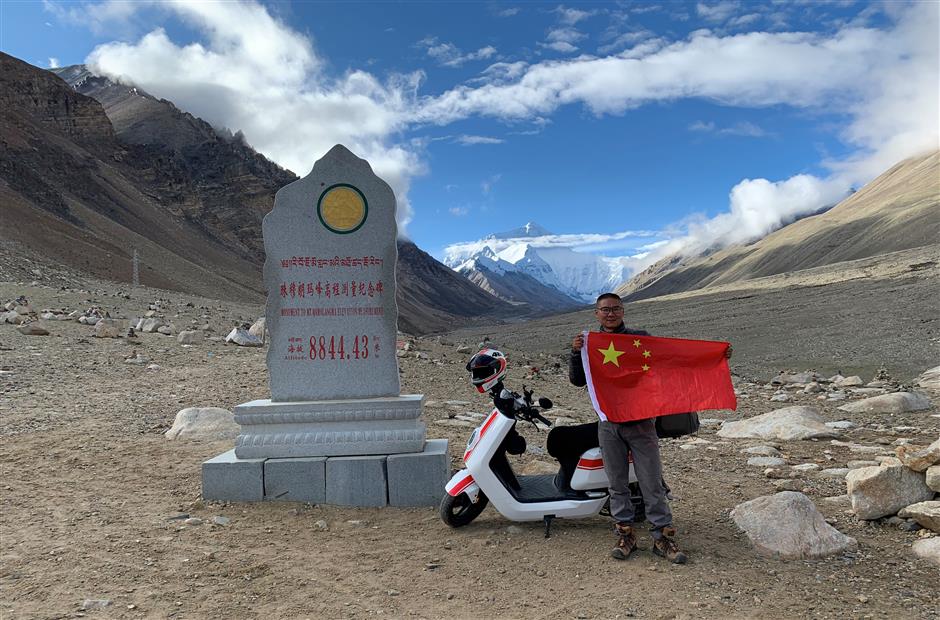 Ti Gong
Zhou's journey ended in Shanghai on May 28. The whole trip cost him about 100,000 yuan (US$14,100), including the 10,500 yuan he spent for the bike.
Currently, he is working freelance for an advertising and media company in Shanghai. He is already planning his next trip.
"Once pandemic restrictions are lifted, I will tour interior provinces in China," he said. "When the pandemic is over, I want to ride my electric bike out of China and visit some 'Belt and Road' countries. In short, I want to be on the road from now on. When I'm tired of traveling, I will open an inn for road travelers, offering them food and drink in exchange for their stories."
Despite his romantic outlook, Zhou is enough of a realist to know that he will need part-time work to make ends meet. An adventure on an electric bike doesn't create income.
"There are various life paths for everyone," said the young adventurer, who obviously prefers the path less traveled.
As Kerouac said, "There was nowhere to go but everywhere, so just keep on rolling under the stars."
Source: SHINE Editor: Zhang Liuhao Special Reports