TikTok CEO in spotlight after grueling testimony
19:24 UTC+8, 2023-03-26
0
TikTok chief executive officer Shou Zi Chew has been under the media spotlight in both China and the United States after a roughly five-hour testimony before the US Congress.
19:24 UTC+8, 2023-03-26
0
CCTV / Ti Gong
TikTok chief executive officer Shou Zi Chew has been under the media spotlight in both China and the United States after a roughly five-hour testimony before the US Congress on Thursday.
During his first appearance on Capitol Hill, Chew was battered by lawmakers who expressed bipartisan concerns about the app's power over Americans.
The video-sharing app, owned by China-based parent company ByteDance, is among the most popular in America, with more than 150 million active users.
Chew testified before the House Energy and Commerce Committee on whether the app is safeguarding user data on the platform.
The hearing titled "How Congress can Safeguard American Data Privacy and Protect Children from Online Harms" was held after some 20 US senators backed bipartisan legislation giving President Joe Biden's administration a green light to ban TikTok.
Though Chew spared no effort to defend himself and the app, his attempts failed to persuade the lawmakers, who questioned his every word and prevented him from responding multiple times.
The 40-year-old Singaporean, who was appointed TikTok's chief executive in May 2021, repeatedly pointed to efforts to protect the data of Americans.
The company had initiated a plan, Project Texas, to store the data of American users on domestic servers run by the Texas-based software giant, Oracle.
CCTV / Ti Gong
"The bottom line is this: American data is stored on American soil by an American company overseen by American personnel," Chew said.
"It is our commitment to this committee and all our users that we will keep TikTok free from any manipulation by any government."
However, not a single lawmaker offered support, and accused TikTok of promoting content that encourages eating disorders among children, illegal drug sales and sexual exploitation.
Washington Republican Representative Cathy McMorris Rodgers, the chair of the committee, opened Thursday's hearing by telling Chew: "Your platform should be banned."
Neal Dunn, a Republican from Florida, asked whether ByteDance has "spied on American citizens."
Diana DeGette, a Democrat, said TikTok's efforts to prevent the spread of misinformation on the platform were not working.
Republican Gus Bilirakis of Florida said there is a lack of adequate content moderation, which leaves room for kids to be exposed to content that promotes self harm.
A TikTok spokeswoman said in a statement later that the hearing "was dominated by political grandstanding."
Some videos clips of the hearing went viral on Chinese social media, with netizens expressing sympathy for Chew and mockery towards some questions like "does TikTok access the home WiFi network" and "does it assess users' pupil dilation and improve algorithmic recommendation."
Ti Gong
Chinese netizens also compared it with the treatment of Apple CEO Tim Cook, who was met with rounds of cheers and applause when he showed up at an Apple store in Beijing on Friday.
Chinese and US netizens shared the feeling that Chew was not attending a hearing, but was being interrogated barbarically. Multiple US media also described Chew as being "grilled" for five hours before the Congress.
Twitter user Scott Hanselman wrote: "There's not a single congressperson who has the technical background to ask or understand the questions and answers. Not even close."
Supporters of TikTok rallied at the Capitol in Washington during the hearing, holding paper saying "Keep TikTok" and "My business (art, family, study) thrives on TikTok."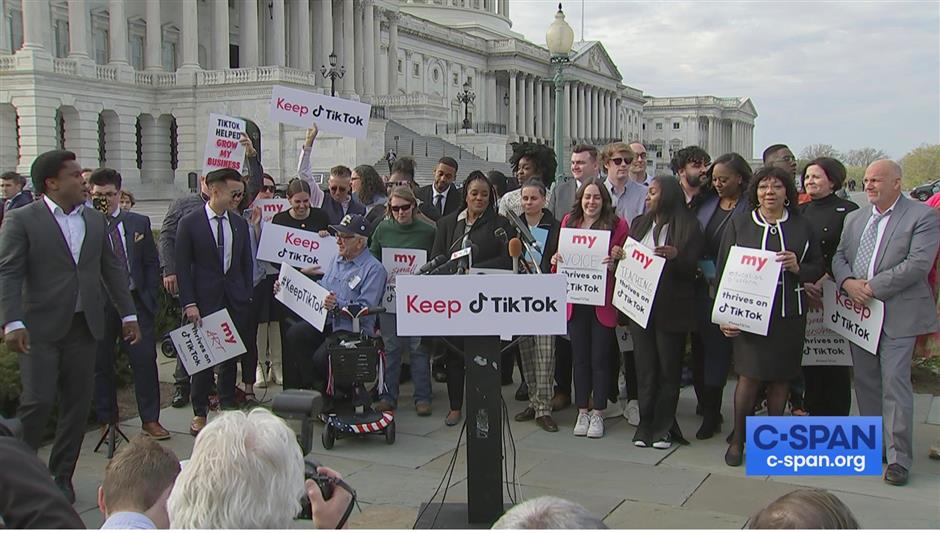 Ti Gong
Shares of TikTok's US competitors, including Snap and Meta, rose during Chew's testimony.

It is not clear how lawmakers will proceed after the hearing or how quickly they might move to pass legislation to strengthen the Biden administration's legal powers to ban TikTok.
Congress, the White House, the US armed forces and more than half of US states have already banned the use of the app from official devices.
Other countries including Denmark, Canada, the United Kingdom and New Zealand, along with the European Union, have already banned TikTok from government-issued devices.
China's commerce ministry said forcing the sale of TikTok merely on the basis of its investors' nationality, while ignoring the product and its service will seriously damage the confidence of investors from all over the world, including China, to invest in the United States, and that China would oppose any sale.
On Friday, the Chinese foreign ministry at a regular news briefing said it had never asked companies to collect or provide data from abroad to the Chinese government in a way that violated local laws.
Ti Gong
Source: SHINE Editor: Xu Qing Special Reports