'Parallel world:' plugging into the new craze at Shanghai auto show
20:52 UTC+8, 2023-04-21
0
Forget the trappings of the past, the buzz this time is the breathtaking rise of China's electric car industry.
20:52 UTC+8, 2023-04-21
0
Dong Jun / SHINE
It wasn't long ago when leggy fashion models, entertainment celebrities and fancy launches and concept cars from top foreign nameplates were the talk of the annual Auto Shanghai.

Not this year.
The show, which ends on April 27, has visitors stunned by the cutthroat competition among domestic manufacturers of electric vehicles to introduce new technologies, announce plans for expansion and engage in price-cutting.
Foreign auto executives from the likes of VW, BMW and Audi have elbowed fashion models aside with their omnipresence. They have come to observe first-hand the phenomenal ascent of Chinese brands such as BYD, NIO, Xpeng and Li Auto – domestic e-car companies that are making waves while many traditional auto manufacturers are still transitioning from gasoline to battery-run cars.
Tesla, which operates an electric-car plant in Shanghai and recently announced plans to build a new megafactory to produce super-size commercial energy storage batteries, skipped the flagship event this year.
Dong Jun / SHINE
"Three years and China's market has completely changed, so I came to see it with my own eyes," Ono, a Japanese engineer working for a traditional auto brand, told Shanghai Daily. "It feels like a parallel, a new world, after the COVID-19 pandemic. Some of the vehicles here really look so futuristic, with a lot of cool adds-on. It's just puzzling how they can make cars so cheap and maintain a reasonable quality."
BYD sold nearly 1.8 million battery electric vehicles and plug-in hybrids in China alone last year. Company net profit surged 446 percent from a year earlier to 16.62 billion yuan (US$2.4 billion).
Mat Watson, chief content officer at London-based online car-selling platform carwow, was overheard at the auto show telling an auto expert from Kazakhstan that the "problem with electric cars is that even the small ones are very expensive," and then going on to express amazement that BYD's new Seagull electric car costs only 10,000 pounds (US$12,435).
"That's what we need," he said.
At the same time, BYD, best known for its investment by US financier Warren Buffett and its low price, has launched its first 1-million-yuan electric vehicle, called Yangwang U8. The name translates as "look up to with admiration."
Overall, China's output of new-energy vehicles last year surged 91 percent over the previous year to surpass 7 million, according to the National Bureau of Statistics. Electric vehicles accounted for one in four cars sold in China, and production is expected to rise sharply again this year.
Watson, who has more than 8 million followers on carwow's YouTube channel, boldly declared in a video last year that "Chinese cars are going to rule the world!" There's no doubt that a certain craze surrounds the era of electric vehicles.
Ti Gong
Micah Toll, author of "DIY Lithium Batteries" and "The Ultimate DIY Ebike Guide," runs a weekly series called "Awesomely Weird Alibaba Electric Vehicle of the Week." Its aim is to find "the coolest and most fun electric vehicles from China that either drive, float or fly."
Some of his latest findings include a Pepto-Bismol pink electric car selling for US$5,000, an electric train set big enough to hold up to 500 kilograms and an inflatable electric jet ski.
"Once in a while a product is so interesting, or weird or awesome-looking that I want to buy it," he replied to Shanghai Daily in an e-mail.
"These articles have gotten millions of views from around the world, and I guess that over time, I've become a guru of Chinese electric vehicle imports," Toll added. "People often reach out to me asking for advice on different vehicles."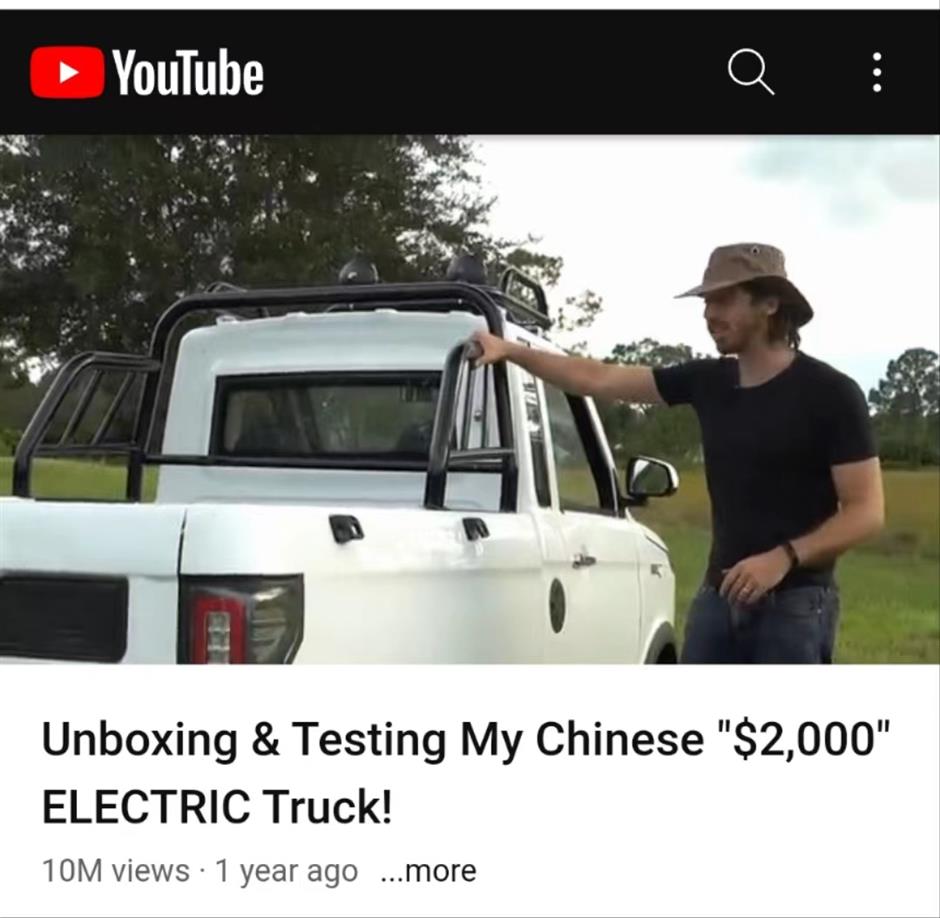 After writing the column for a time, Toll yielded to temptation last year, bought a US$2,000 electric minitruck and had shipped it half way around the world to Florida. His video of the experience on the ebikeschool YouTube channel attracted over 10 million views, with many netizens leaving comments asking how to buy one.
After 18 months, the truck is running very well, which surprised Toll given its cheap price. Actually, the cost was closer to US$8,000 when accessories, upgrades, shipping, customs and import taxes, and other fees were factored in.
"Even so, it was a great deal," he said. "There are almost zero electric minitrucks in the US, and the few I can think of cost closer to US$25,000. Same thing for electric boats. They are much more expensive in the US. Many of the interesting vehicles I find on Alibaba aren't even available in the US. Those that are, are much more expensive."
Ti Gong
That led Toll to purchase an electric boat and another mini car, or what Chinese often call a "happy grandpa" vehicle because they are favored by seniors.
Chinese manufacturers, who face fierce competition and a price war at home, have long set their eyes on overseas markets. In many respects, domestic electric carmakers have an edge abroad because of government development incentives, rapid technological advances and a well-established supply chain.
China's car exports grew 54.4 percent in 2022 to more than 3.1 million vehicles. However, the growth in exports is running the risk of inviting overseas protectionist policies.
"I'm confident in our quality, even more so when it comes to price-performance ratio," an electric-vehicle executive who asked to remain anonymous told Shanghai Daily.
"But it's not about price or quality in some countries," he lamented. "It could become a political issue. What I want to offer is simple ― the best vehicles for customers to choose from."
Dong Jun / SHINE
Dong Jun / SHINE
Source: SHINE Editor: Liu Qi Special Reports