Car-free and carefree: enhanced foot traffic in the city that never sleeps
16:41 UTC+8, 2023-05-19
0
Shanghai is replacing vehicular access on local streets with pedestrian-only zones on weekends to create a more vibrant urban environment.
16:41 UTC+8, 2023-05-19
0
Imaginechina
Famed Shanghai singer Chow Hsuan, in her classic 1940s song "Nighttime in Shanghai, portrayed the city as one that never sleeps. Eighty years on, that depiction endures.
The city is adding to the image by closing multiple downtown roads to traffic on weekends to make way for bazaars, al fresco dining, art exhibitions, music performances and other around-the-clock cultural activities.
At least five local roads in the districts of Huangpu, Changning and Jing'an have been converted into part-time pedestrian streets since 2019, providing space for recreation and entertainment, reducing car emissions and increasing foot traffic to nearby businesses.
The latest conversion is a 250-meter-long stretch of Daxue Road in Yangpu District, which has been turned over to pedestrians between midnight Friday and Sunday every week, beginning May 20.
It becomes the third part-time walking street after Maoming Road N. in Jing'an and Kaitian Road in Changning.
Imaginechina
Daxue Road's uniqueness is its "vertical business" model, with small canteens, teahouses, nail salons and other businesses upstairs from restaurants, bars and fashion stores at the street level.
The street, whose name translates as "University Road," is popular with young entrepreneurs and students from the nearby Fudan University, Shanghai University of Finance and Economics and the Knowledge Innovative Community park of the Shui On Group.
The newly launched car-free street will feature bookstores, al fresco dining and other leisure-time venues, according to the blueprint of the Yangpu government.
Yang Jian / SHINE
Daniel Serret, a college student from the island nation of Seychelles in the Indian Ocean, said he is thrilled that Daxue Road, one of his favorite hangouts in the city, has been pedestrianized.
Serret, a freshman at Shanghai Maritime University, said he particularly likes a music box store there because of its tranquil environment.
"The street is a very beautiful place," he told Shanghai Daily. "I was dazzled by all the neon lights there when I first arrived in the city. Making it a pedestrian street brings more expats here."
The World Health Organization said car-free zones in urban areas not only improves street safety but also contributes to lower noise and air pollution levels, creating a more livable environment.
In addition to human well-being, such urban fixtures also improve the economic health of an area. According to a study of over 100 cities globally, pedestrian-only streets increased retail sales by nearly half.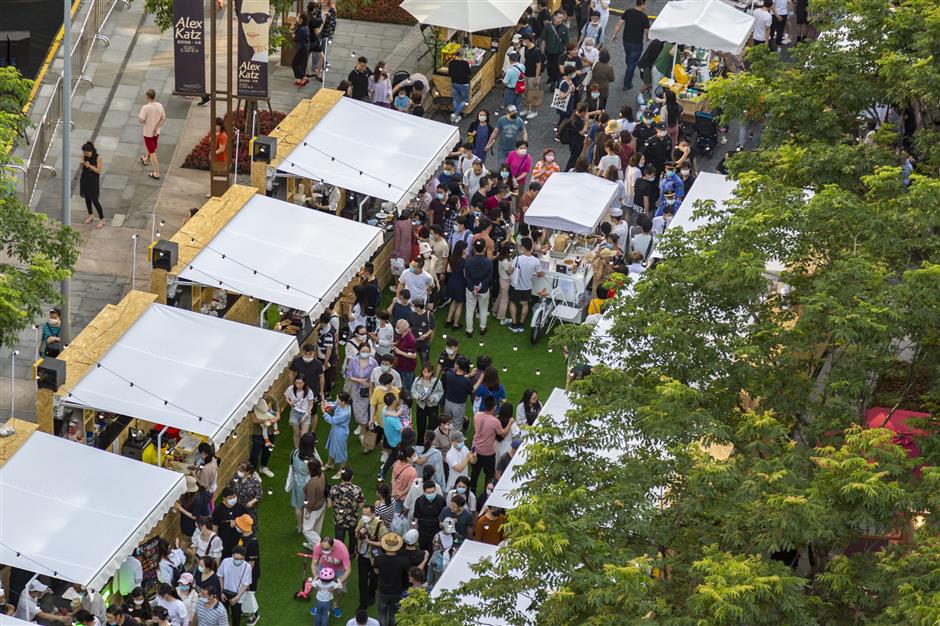 Imaginechina
Among well-known walking streets in the world are Newbury Street in Boston, Memorial Drive in Cambridge and Temple Street in Hong Kong.
In Shanghai, the weekend-only fair on Anyi Road in Jing'an – the city's first temporary pedestrian street – has been a magnet for trendy young people since its inception in 2019.
The street known as "the Green Escape" attracted over 400,000 customers in two months in 2020, with sales at about 50 stalls reaching 4.45 million yuan (US$632,158).
The subsequent weekend market in Fengjing Road on the Bund attracted nearly 600,000 people in a month in 2020, driving sales at the nearby Bund Finance Center mall to increase by 20 percent.
Maoming Road N., the weekend pedestrian street opened in 2022, brings locals and tourists to the nearby Zhangyuan, one of Shanghai's best-preserved shikumen (stone-gate) neighborhoods, which has been converted into a tourism and shopping complex.
Imaginechina
In another recent project, the 100-meter-long Kaitian Road, which once housed the legendary No.10 Shanghai Steel Co, has been converted into a pedestrian street every weekend, featuring entertainment, markets and food stalls.
More than 20 coffee brands, including Tim's and Peet's Coffee, vend there.
Another two roads along the Huangpu River – Fucheng and Jimo – in the Pudong New Area will become weekend pedestrian malls in June, according to the Pudong government.
Along Daxue Road, Cheng Haipeng, 31, manager of the new branch of iBarrel Bar & Lounge, said he and his staff have been busy arranging outdoor seating and posters in preparation for the opening of the new pedestrian street.
The bar-and-restaurant chain opened in April, reporting about 100 patrons on weekends. That's not as vibrant as its other outlets in downtown Jing'an, Huangpu and Xuhui districts, but Cheng said customers numbers are expected to improve with the opening of the new walking street.
"More customers are expected after 11pm on weekends, a time when trade normally tapers off," said Cheng.
To promote the new status, the venue offered customers wine tasting of 30 global labels for a flat 99-yuan fee.
Yang Jian / SHINE
Zhao Lun, founder of the Yujianmian satay noodles restaurant, also offered big discounts to mark the opening of the walking street.
"It will bring in more visitors and benefit all the shops and eateries in the area," Zhao told Shanghai Daily.
The concept of pedestrian streets originated in Europe and the United States in the 1960s to cope with increased vehicular traffic and its negative impact on human urban activities, said Wu Duan, an associate professor at Tongji University.
"When streets are restricted to pedestrians only for walking, sightseeing or shopping, they become safer, greener and more interesting urban spaces with more social interactivity," said Wu, who teaches at the College of Design and Innovation.
Ti Gong
Wu led the establishment of the Meet U Lab last year, a public innovation laboratory to encourage more social engagement within a community.
The lab initiated a "Drop Around" campaign on Daxue Road, inviting students, customers and entrepreneurs to visit various stores and eateries. Exhibitions, art installations and other events were organized along the road to promote the campaign.
"I am very much looking forward to the upcoming pedestrian street, which will raise the 'Drop Around' campaign to a higher level," Wu told Shanghai Daily.
Daxue Road was built around 2006, following the demolition of derelict old factories and a warehouse on nearby Zhengmin Road.
Wang Laidi, a senior who has been living on the road for nearly four decades, recalled that the road was once filled with logs, warehouses and abandoned rails.
"I am happy to see the road transformed, but I hope noise will be strictly controlled," Wang said.
Ti Gong
Source: SHINE Editor: Xu Qing Special Reports