Districts get into act to ensure expo success
01:26 UTC+8, 2019-09-05
0
Downtown governments are gearing up for the second China International Import Expo in November with optimized services and a number of sightseeing routes.
01:26 UTC+8, 2019-09-05
0
Imaginechina
Downtown district governments are gearing up for the second China International Import Expo in November with optimized services for foreign traders and well-planned sightseeing routes for delegations from across the world.
The second expo at the city's National Exhibition and Convention Center in Qingpu District is planning to be larger and of better quality.
To achieve that goal, downtown districts have been inviting companies and professional visitors, setting up exhibition platforms, organizing forums on the sidelines of the expo along with other activities to showcase their ecological environment, history and culture as well as time-honored brands.
Yangpu
As the birthplace of China's early industries, Yangpu District has hosted an economic and trade forum for European countries to get familiar with the business environment of the Chinese market ahead.

Over 500 European representatives attended the forum and signed deals with local companies in 60 cooperative projects. The district has also encouraged time-honored brands such as Warrior shoes, or Huili, China's first homegrown athletic shoes, to take part in the expo.
A large number of German companies are based in Yangpu and the district plans to invite participating enterprises and delegations from Germany to visit and seek cooperation.
The district has also released sightseeing routes for delegations that include the Changyang Campus, formerly Donghua Textile Factory, which is now a campus with 150 leading startups and small and medium-sized tech firms and the Huangpu River waterfront.
Yangpu in the city's northeast is Shanghai's biggest downtown district with the largest number of residents and the longest Huangpu River waterfront, featuring over a century of industrial heritage.
The district is rebuilding itself to be a pioneer in China's national strategy. It is listed as the city's first national demonstration zone for public innovation and business startups.
Imaginechina
Minhang
The preparation for China International Import Expo is in full swing in Minhang District.

The district has been working with the customs to provide consultation services and open green channels to better facilitate overseas exhibitors. The approval process will also be simplified so exhibits will arrive in Shanghai sooner.
Minhang has also issued new policies to invite more foreign companies to set headquarters or R&D centers. And so far, among the 100 major foreign companies in Minhang, 53 have confirmed they will bring their products to the CIIE. By the end of August, more than 70 companies have made over US$10 million budget on purchasing products at the CIIE.
Minhang has planned four route guides for the visitors to walk keen on culture, service, manufacturing and tourism. The guides, written in both Chinese and English, will be available at the CIIE venue.
A new bonded warehouse will be built in Hongqiao Import Commodity Exhibition and Trading Center at the junction of Shenkun and Ninghong roads, not far from NECC.
The exhibition and trading center opened after the first CIIE closed curtain. Over 400 brands from more than 50 countries has chosen the center to continue exhibiting their products.
Songjiang
Songjiang District has organized 15 companies from the G60 High-Tech Corridor, the Songjiang-initiated alliance of nine major cities in the delta region, to meet with representatives from over 200 companies attending the expo.

Intelligent equipment, artificial intelligence and robots were among the hottest industries. Local energy solution provider Chint Group said they were looking for suppliers of robots and intelligent equipment. The meeting helped Chint to sign a deal with Trumpf Group, a leading laser machine manufacturer. The two will publish new products jointly at the CIIE.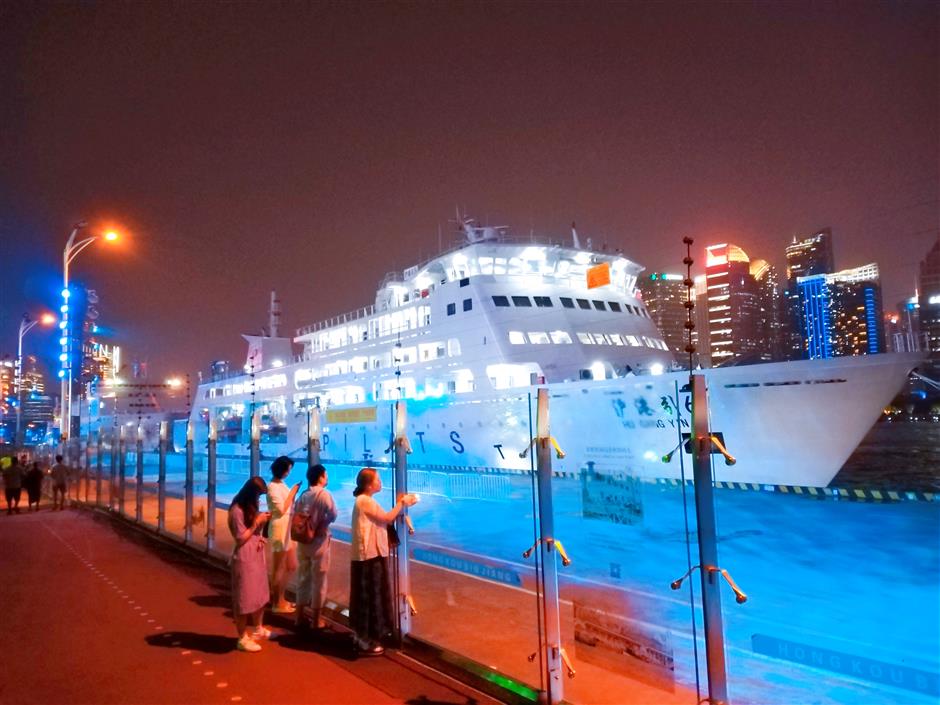 Imaginechina
Hongkou
Three sightseeing routes for trade delegations to the expo have been released in Hongkou District, mainly showcasing the city's waterfront culture and history.

The routes released by the Hongkou District government include visits to the North Bund waterfront along the Huangpu River, the Waibaidu Bridge, the historical Astor House Hotel and Broadway Mansions, along with new attractions such as the top floor of the 320-meter-high Sinar Mas Plaza, also known as the White Magnolia Plaza, the tallest building in Puxi.
Another route on Shanghai's unique haipai includes Duolun Road and celebrity street, the Shanghai Energy Saving Environmental Protection Industry Park and the Shanghai Landmark Center.
Delegations can learn about the city's shipping history through a third route featuring the Xiahai Temple, which was initially built during the reign of Emperor Qianlong (1736-1795) in the Qing Dynasty (1644-1911) for people to pray for sailors on a voyage, along with modern facilities such as the SIPG Cruise City, which was developed from Shanghai's earliest cargo docks.
The first import expo in November 2018 saw over 650 enterprises in Hongkou sign deals worth 400 million yuan (US$56 million) through over 20 trade negotiation activities.
The district aims to make the number of participating companies and purchase amount this year exceed that of last year. Nearly 400 Hongkou-based companies and 1,000 professional visitors have registered for this year's expo.
Xuhui
Over a dozen cultural sites in Xuhui District have been newly named as places where citizens can cultivate their moral character.

The latest 15 sites were unveiled at a citizen's cultivation carnival to celebrate the 70th anniversary of the founding of the People's Republic of China, as well as the approaching second China International Import Expo.
The sites include the Longhua Martyrs' Memorial Hall, Shanghai Film Museum, the Oriental Musical Instrument Museum at Shanghai Conservatory of Music, the newly opened Hengfu exhibition hall, as well as former residences and memorials for late Qing Dynasty (1644-1911) reformist Zou Rong, playwright Xia Yan and translator Cao Ying.
A number of activities, including guided walks, concerts and recitals will be held at these locations and most of the sites offer free admission.
Previously, over a dozen venues and museums had been listed as moral cultivation sites. They included the former residences of Soong Ching Ling, wife of Dr Sun Yat-sen, and luminaries such as writer Ba Jin, playwright Ke Ling and cartoonist Zhang Leping and Xuhui district library.
Source: SHINE Editor: Shen Ke Special Reports