Xuhui District brings events and activities for the Shanghai Tourism Festival
21:31 UTC+8, 2023-09-13
0
The Shanghai Tourism Festival is coming to the city, with Xuhui District holding a number of events and activities from arts festivals, musical performances, and markets.
21:31 UTC+8, 2023-09-13
0
From art festivals and city walk tours, to traditional Mid-Autumn Festival celebrations, Xuhui District is ready to welcome residents and tourists from home and abroad with a variety of splendid activities, at this year's Shanghai Tourism Festival.
There's nothing more pleasant than an autumn stroll under the trees, surrounded by historic villas at the Hengfu (Hengshan and Fuxing roads) Historic Protection Zone.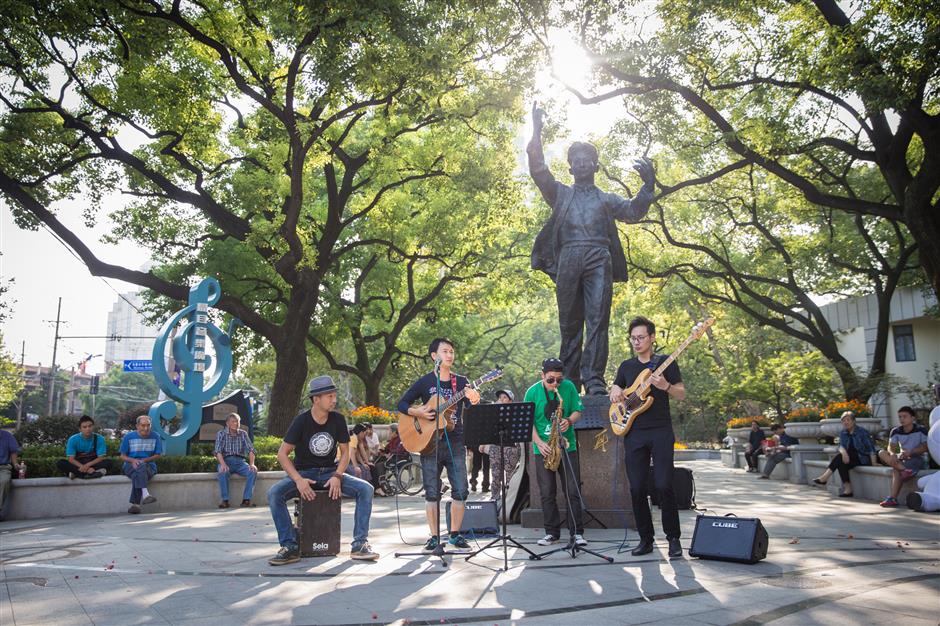 Ti Gong
A little bit of art also brings a festive atmosphere, with the Fuxing Art Festival returning for its 10th year, with a few fun upgrades.

The historic protection zone features a cluster of beautiful old villas, plane-lined sidewalks, chic cafes and restaurants, as well as a laid-back atmosphere.
A classic villa is presenting concerts, while over 40 pop-up performances bring lots to enjoy for families and tourists, together with interactive games with the Fuxing cat, the festival's mascot.
Two city walk tour routes focused on architecture and music will also be released during the festival.
There will also be a bazaar featuring vintage items from wine and shoes, to vinyl and ornaments.
Ti Gong
The West Bund Culture and Art Season will feature a number of heavyweight exhibitions such as a clock and watch exhibition at the West Bund Art Center, and choreographer Shen Wei's avant-garde multimedia production "Integrate" at the West Bund Dome. There will also be over 20 interactive art installations and scenes showcased along a 5-kilometer riverfront area of the Huangpu River, between Longyao Road and Dianpu River.
---
5 Photos | View Slide Show ›
LONGHUAHUI, a commercial block covering about 100,000 square meters next to the Longhua Temple and Longhua Pogoda, is scheduled to open to the public on September 26, while the north expansion project of the Shanghai Botanical Gardens will open to the public during the festival as well, with an autumn gardening culture exhibition set to open on September 28.

Basked in the full moon, people will enjoy a traditional Mid-Autumn Festival celebration at Guilin Park, LONGHUAHUI and Zikawei Library on September 28 and 29, with an upgraded version of the "Mid-Autumn Dream Gala," an iconic event at the festival.
Guilin Park, a Jiangnan-style classic garden built in 1931, is known for its dense woods with over 1,000 osmanthus trees.
Traditional Chinese opera performances, intangible cultural heritage, and bazaars with riddle activities will also be featured, bringing people the everlasting charm of traditional Chinese culture.
People are also invited to explore the district on foot, following seven walking tours.
Ti Gong
Some highlights in Xuhui District
Mid-Autumn Dream Gala


Venue: Guilin Park 桂林公园
Date: 10am-4pm, September 28 and 29
Venue: LONGHUAHUI 龙华会
Date: 6:45pm-8pm, September 29
Venue: Zikawei Library 徐家汇书院
Date: 10am-8pm, September 28 and 29
Old villa concert
Venue: Hengfu Art Center 衡复艺术中心
Date: 5pm-7pm, September 17
Music pop-up performance
Venue: 11 balconies, gardens, and squares at Hengfu (Hengshan and Fuxing roads) Historical Protection Zone 衡复风貌区露台、花园、广场等 11 处
Date: September 17, 30 and October 2
City walk tours celebrating the 10th anniversary of the Fuxing Art Festival
Venue: Hengfu Music Block, Wukang Road Historic Block, etc 衡复音乐街区、武康路历史人文街区等
Vintage Aesthetics Market
Venue: Jialanting Pocket Park 嘉澜庭
Date: September 22-24
Watches and Wonders
Venue: Pavilion A, West Bund Art Center 西岸艺术中心A馆
Date: September 13-17
"Integrate"
Venue: West Bund Dome 西岸穹顶艺术中心
Date: October 1-20
Friends in the Arts : Exhibition of Chinese Collectors' New Contemporaries
Venue: Tank Shanghai 油罐艺术中心
Date: September 16-January 28
Source: SHINE Editor: Wang Yanlin Special Reports