High-tech dining debuts in university canteen
10:55 UTC+8, 2018-03-02
0
A canteen in east China's Zhejiang Province has become popular online for offering high-tech dining experiences.
10:55 UTC+8, 2018-03-02
0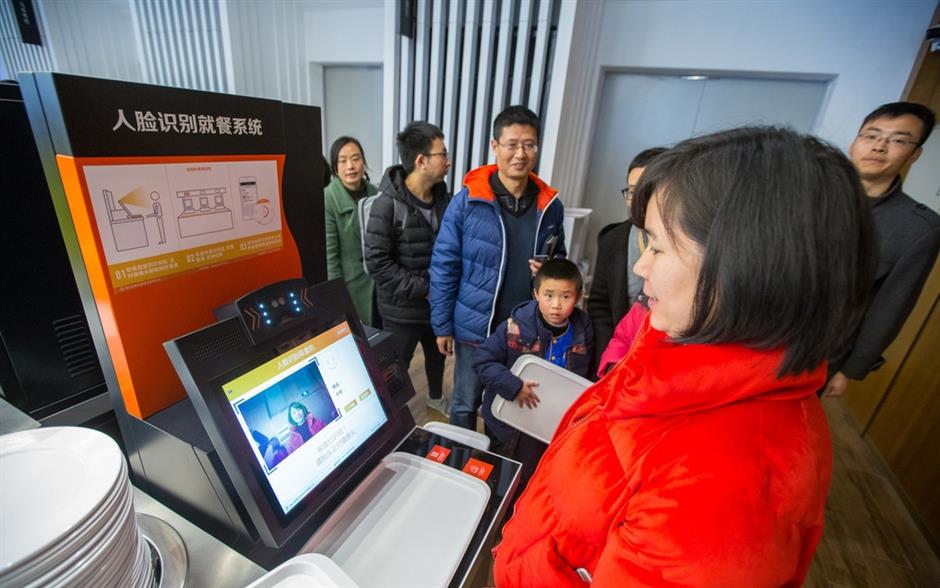 Zhejiang University
Zhejiang University
Zhejiang University
A canteen in east China's Zhejiang Province has become popular online for offering high-tech dining experiences.
Traditionally, students swipe cards to pay for food in university canteens, but the newly-opened dining hall in Zhejiang University offers a cardless dining experience.
Students and teachers at the university can register online with their personal information, mobile phone number, and a campus card used for payment.
Using a facial recognition scanner in the canteen, a diner is paired with a chip-embedded food tray and can start taking food from the buffet.
Each dish has a sensor recording the price, while the table the tray is placed on works as a scale. By walking through the buffet area, the price of the meal is calculated and money is automatically deducted from a corresponding campus card.
Once the meal is taken, a report specifying total calories and proportion of protein, carbohydrates and fat will be sent to the diner's mobile, to encourage them to eat a more balanced diet.
"It is very convenient and reminds us to save food and eat healthily," said Wang Kai, professor at the university. "The new technology has also improved the efficiency of dining."
"Going cardless is a trend in the Internet era. We hope the new technology can make a more pleasant campus life," said Li Liangliang at the university's food service center. "The flavor of the food and the nutrition are equally important," Li said.
The system was jointly developed by the center and the school of public health at the university. The service is currently only available at noon for students and employees at the university.
"The new system weighs food accurately and can help remind people to treasure food and reduce waste," said Xia Xuemin, a researcher with the Public Policy Research Institute of Zhejiang University.
Technology is reshaping life in China, with facial recognition, artificial intelligence (AI) and augmented and virtual reality (AR/VR) especially popular.
AI has been deeply integrated with manufacturing, AR/VR are applied in anti-drug education and rehabilitation training, while facial recognition technology has been used for entrance security systems, cash withdrawals, hotel reservations and even marriage registration, making life more convenient and comfortable.
Source: Xinhua Editor: Wang Qingchu Special Reports