Creating a strategic fulcrum for industrial transformation in Yangpu's waterfront area
09:00 UTC+8, 2023-05-27
0
Along the Huangpu River, Yangpu Binjiang is undergoing comprehensive development. The area is set to become an economic hub, gathering influential companies with global reach.
09:00 UTC+8, 2023-05-27
0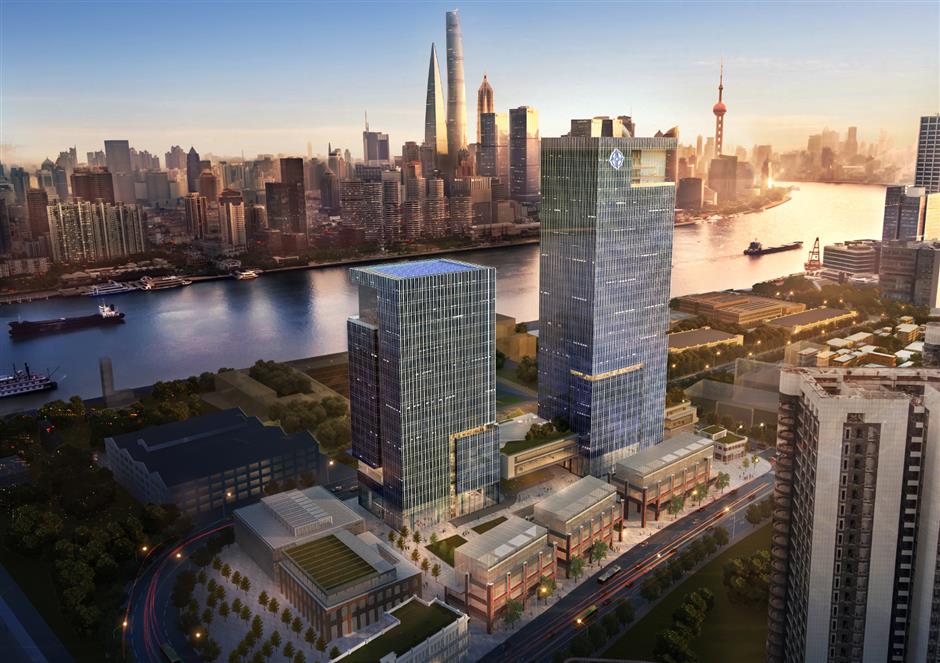 Ti Gong
In the northeast of Shanghai, the Huangpu River has drawn a beautiful "bow," with Yangpu standing alongside the river for 100 years.
In recent years, Yangpu Binjiang has been committed to "returning the river to the people, returning the shore to the people, and returning the scenery to the people."
Guided by the concept of a people's city, Yangpu Binjiang will build a "one island, two wings" spatial pattern with Fuxing Island as the core, and gradually expand from the north and south wings to the center.
"One island," or Fuxing Island, is clearly designated as a strategic reserved area in the Shanghai 2035 General Plan.
The "North Wing," the middle and northern sections of Yangpu Binjiang, will create a strategic fulcrum for industrial transformation of outstanding global cities, a charming display belt for historical and cultural convergence, and a riverside forest with ecological integration.
The "South Wing," the southern section of Yangpu Binjiang, will create a hub for the fusion of global innovative elements, a charming waterfront that blends history and future, and a Shanghai-style community where outstanding talent can reside.
Yangpu Binjiang will focus on launching two core functional areas, Badaitou and Daqiao East, as well as three major areas in Daqiao West, with a total land area of approximately 390,000 square meters and a planned construction area of about 1.39 million square meters.
Badaitou is at the core of the triangle functioning from the Bund to Lujiazui, to the North Bund. It's the gateway to Yangpu Binjiang and is only about a 15-minute drive from the Bund and Lujiazui areas.
It's a central activity area designated in the Shanghai 2035 General Plan. The area will focus on carrying out the core functions of a global city, focusing on building a highly functional business cluster. This area will fully inherit the historical resources and cultural heritage of the Badaitou area, incorporate landmark buildings, and shape a high-quality waterfront portal image.
Ti Gong
The Daqiao West area is within the Yangpu Binjiang section of the Inner Ring Road, close to Jiangpu Road, Yangpu Bridge, Metro Line 18, Green Hill and Daqiao Park.
The current traffic and supporting facilities are well-developed, suitable for use as an enterprise headquarters.
The Daqiao East area will rely on Metro stations to forming a group of high-rise buildings, fully reflecting the balance of work and living, and shaping a charming waterfront urban area that blends history and fashion.
In the south section of Yangpu Binjiang are office buildings for leading enterprises such as Douyin, Meituan and Bilibili.
China Communications Construction Co Ltd's Shanghai headquarters complex inherits the history of a century-old shipyard, and has now a 5A office building and a riverside business hall, with a 270-degree view of the city's skyline. The headquarters complex plans to introduce industries such as large-scale infrastructure and online new economy.
Douyin Group Shanghai Binjiang Center will become a globally influential online new economy R&D and innovation center, and a global leading online industry demonstration headquarters.
The center will play a leading role, empower the development of new economic industries with innovative thinking, and jointly integrate into the global industrial core supply chain by building an ecological partnership mechanism.
China Energy Conservation and Environmental Protection Group's office building project designed by Zaha Hadid Architects conveys the concepts of green, ecology, health, technology and sustainability.
It plans to introduce new energy, carbon sequestration trading, the Internet, cloud computing, circular economy, energy conservation, environmental protection and other related emerging industries in the future.
The iconic tower and industrial heritage sites of Yangpu Binjiang KIC Center are linearly distributed along the riverbank, forming a unique riverside urban landscape.
The center will focus on introducing regional well-known enterprise headquarters in the fields of technological innovation, cultural creativity and digital economy.
Ti Gong
The Meituan Shanghai Science and Technology Center is designed based on the concept of a "technology module." It incorporates functions such as office, sharing, and communication, and aims to inspire collaborative innovation between the city and the public.
The project will leverage Meituan's leading advantages in areas such as online local life, e-commerce retail, contactless delivery, mobile travel, community group buying, big data, AI technology research and development, and introduce a batch of online new economy industries to Yangpu Binjiang.
The Bilibili New Generation Industrial Park is centered around the Bilibili headquarters and ecological enterprises, and will become an economic center for the digital entertainment and cultural industry, creating a top-level cultural and entertainment IP trend, and a multicultural park for online and offline interaction.
The park plans to introduce high-quality creators and upstream and downstream enterprises for industrial ecological cooperation.
Yangpu Binjiang is at a critical stage of transformation from quantitative change to qualitative change.
A river, a city and people together are innovating Yangpu, and the future is coming.
Source: SHINE Editor: Su Yanxian Special Reports