Drama series shot in arms of fantasy genre
00:00 UTC+8, 2020-10-10
0
"Love and Redemption" has helped push the audience for the fantasy genre to new heights. Despite little early promotion, it has been an unexpected success on streaming websites. 
00:00 UTC+8, 2020-10-10
0
Chinese fantasy costume drama "Love and Redemption" has helped push the audience for the fantasy genre to new heights. Despite little early promotion, the series has been an unexpected success on streaming websites.
Produced by H&R Century Pictures, the series is an adaptation of the popular online novel "The Glass Maiden" by Shi Si Lang. Since its August debut on Youku and Mango TV, the 59-episode series has already been viewed close to 3 billion times. Topics related to its story and starring actors have been some of Weibo's most searched hashtags.
The story spans 10 reincarnated lives of the heroine Chu Xuanji — a cross between a demon and the god of war born into the human world lacking all her senses — in reverse chronological order. On an adventurous journey to recover her senses, memories and power, she falls in love with Yu Sifeng, a man who has accompanied and protected her through her previous nine reincarnation cycles. Overcoming challenges along the way, they uncover the secrets behind her real identity and the battle between good and evil fought a thousand years before.
The series features lavish action scenes with compelling stunts that depict a fantasy world of immortals, humans and demons. The battle of Fuyu Island between demons and humans with giant flying dragons, fireballs and magic is reminiscent of the renowned American series "Game of Thrones."
Traditional Chinese elements are featured in the series' exquisite costumes, props and scenes, blending ancient Chinese philosophies and legends — such as the principle of Wu Wei from Taoist scripture, meaning doing nothing that goes against nature — with mythical beasts from the "The Classic of Mountains and Seas," a compilation of mythical Chinese geography and stories.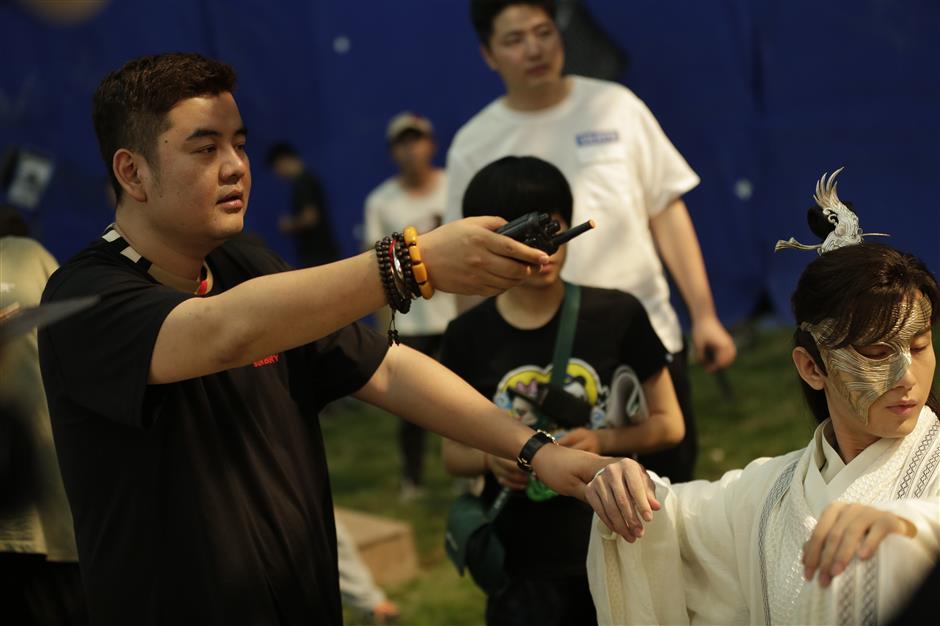 Ti Gong
"I never thought I would be enchanted by a fantasy drama at my age," said Celine Zhou, an engineer in her 40s. "I stayed up late on consecutive nights mesmerized by the series' intricate and imaginative stories. It was similar to how I felt when reading Jin Yong's martial arts novels all day long decades ago. A lot of scenes about love, growth and faith moved me to tears."
Zhou, like many viewers, was especially touched by Yu's devoted love to Chu no matter how difficult and painful it was. Because of Yu's patience, trust and sacrifice, Chu, whose glass heart once made her cold and cruel, grows new flesh, a tender heart and gradually learns to love like a real human.
"A man like Yu is almost extinct in the real world," Zhou said with a sigh. "He's like the pure and perfect dream of every woman but only exists in a fantasy world."
Many viewers have also been impressed by the drama's in-depth portrayal of humanity, brotherhood and family bonds, beckoning viewers to cherish every moment in life and become the masters of their own destinies.
The popularity of Chinese fantasy costume dramas dates back to 2005 when "Chinese Paladin" was released. The fantasy series based on a popular computer game launched actors like Hu Ge and Liu Yifei to overnight fame.
Later, several successful online novels with large fan bases appeared on the silver screen, including "Eternal Love" and "The Honey Sank Like Frost." However, with the release of an increasing number of fantasy dramas in recent years, viewers are becoming more discerning about the series' artistry.
Yin Tao, director of "Love and Redemption," said it's difficult to shoot a fantasy costume drama because it requires both boundless imagination and convincing logic rooted in real life.
Yin's experience shooting historical dramas, such as "Under the Power" and "The Glory of Tang Dynasty," has helped him move beyond the genre's common aesthetics.
Many of the series' most spectacular scenes were not shot at movie studios, which depend a lot on post-production effects. Instead they were filmed at real scenic spots like the top of the picturesque Tianzhu Mountain in Anhui Province.
Ti Gong
The series' leading roles are played by Cheng Yi and Yuan Bingyan, up-and-coming actors who deliver first-rate performances.
"Both of them have bright, clear eyes," said Yin. "While shooting, we talked a lot about love and feelings. They depicted their characters' growth and the different phases of a relationship very well."
Cheng's portrayal of Yu is particularly noteworthy due to the delicate emotional changes of his character. The 30-year-old actor, a graduate of the Central Academy of Drama, performed all his character's martial arts stunts.
Merchandising for the series is being developed, and like many successful Chinese costume dramas it's likely to be distributed overseas.
Over the years, several Chinese costume dramas have garnered international acclaim, including "The Longest Day in Chang'an," "The Untamed," "The Advisors Alliance" and "Nirvana in Fire."
These series feature both universal emotions and distinctive Chinese cultural and artistic elements, and have helped drive the global influence of Chinese productions.
Critics applaud the genre's — and the overall Chinese film and TV industry's — vastly improved storytelling and cinematography.
Professor Gu Xiaoming, a film and television critic with Fudan University, said costume dramas — especially fantasy costume dramas — have excellent growth potential as production technology continues to develop.
"China's long history and brilliant culture, as well as the excellence of online fantasy novels, provide an abundance of good content," Gu said. "However, these stories should not be told in a superficial way. They have the power to inspire people's philosophical thinking about the universe, life and humanity."
Source: SHINE Editor: Zhang Liuhao Special Reports