City decked up in bright lantern displays
13:29 UTC+8, 2023-02-06
0
A host of colorful lantern shows are being held across the city to celebrate the Lantern Festival.
13:29 UTC+8, 2023-02-06
0
A best way to celebrate the Lantern Festival in Shanghai could be dressing up in traditional clothing, wandering through the lantern show, guessing lantern riddles and trying festive food.
This year's Yuyuan Lantern Fair takes us to a fantasy world through a bright sea of lanterns. But if the bustling crowd at Shanghai's most popular lantern fair scares you, there are at least seven other alternative lantern shows in Shanghai to look out for on Sunday, the Lantern Festival.
Yuyuan Lantern Fair
Despite the crowds, the Yuyuan Lantern Fair is highly recommended for its lantern embellishments this year, which feature mythical creatures from "Shan Hai Jing" (Classic of Mountains and Seas). The fair has the richest vibe of the Chinese New Year in Shanghai. Imagine yourself wearing a hanfu robe and carrying a tiny flower-shaped lantern; the experience might even make Euphrosyne, the Goddess of Happiness, jealous. It will run through February 15.
---
5 Photos | View Slide Show ›
Admission: Free (except January 22-28 and February 1-5)

Tickets: 50 yuan for adults and 30 yuan for children (80 yuan for adults and 50 yuan for children on February 5)
279 Yuyuan Old Street, Huangpu District

黄浦区豫园老街279号
Luodian Ancient Town Lantern Fair
A 50-minute drive from downtown Shanghai will bring you to the Baoshan Temple in Baoshan District, where the Luodian Ancient Town Lantern Fair is being held. The Luodian colored lantern is one of Shanghai's intangible cultural heritage items. This year's lantern fair is centered on the Huashen Square, a few blocks away from the Baoshan Temple. Lord Rabbit, at the entrance of the temple, is waiting to bless you. The lantern hours are from 5pm to 9pm.
---
3 Photos | View Slide Show ›
Admission: Free

Address: Near Baoshan Temple, Baoshan District
宝山区宝山寺附近
Guyi Garden Lantern Festival
This year, the Guyi Garden, which is about 500 years old, is celebrating the festival with thousands of Chinese New Year's lanterns. The park is open from 7am to 7pm. It roughly takes around 40 minutes to drive to the Guyi Garden in Jiading District from downtown Shanghai.
---
3 Photos | View Slide Show ›
Admission: 12 yuan

Address: 218 Huyi Highway, Jiading District

嘉定区沪宜公路218号
Xinzhuang Lantern Show
For 15 years, the Xinzhuang Lantern Show has been enjoying enormous success. The lanterns are spread out over various commercial complexes in Xinzhuang. It allows visitors to enjoy a visual feast while dining and shopping in the district of Minhang. The lanterns are lit between 6-9pm.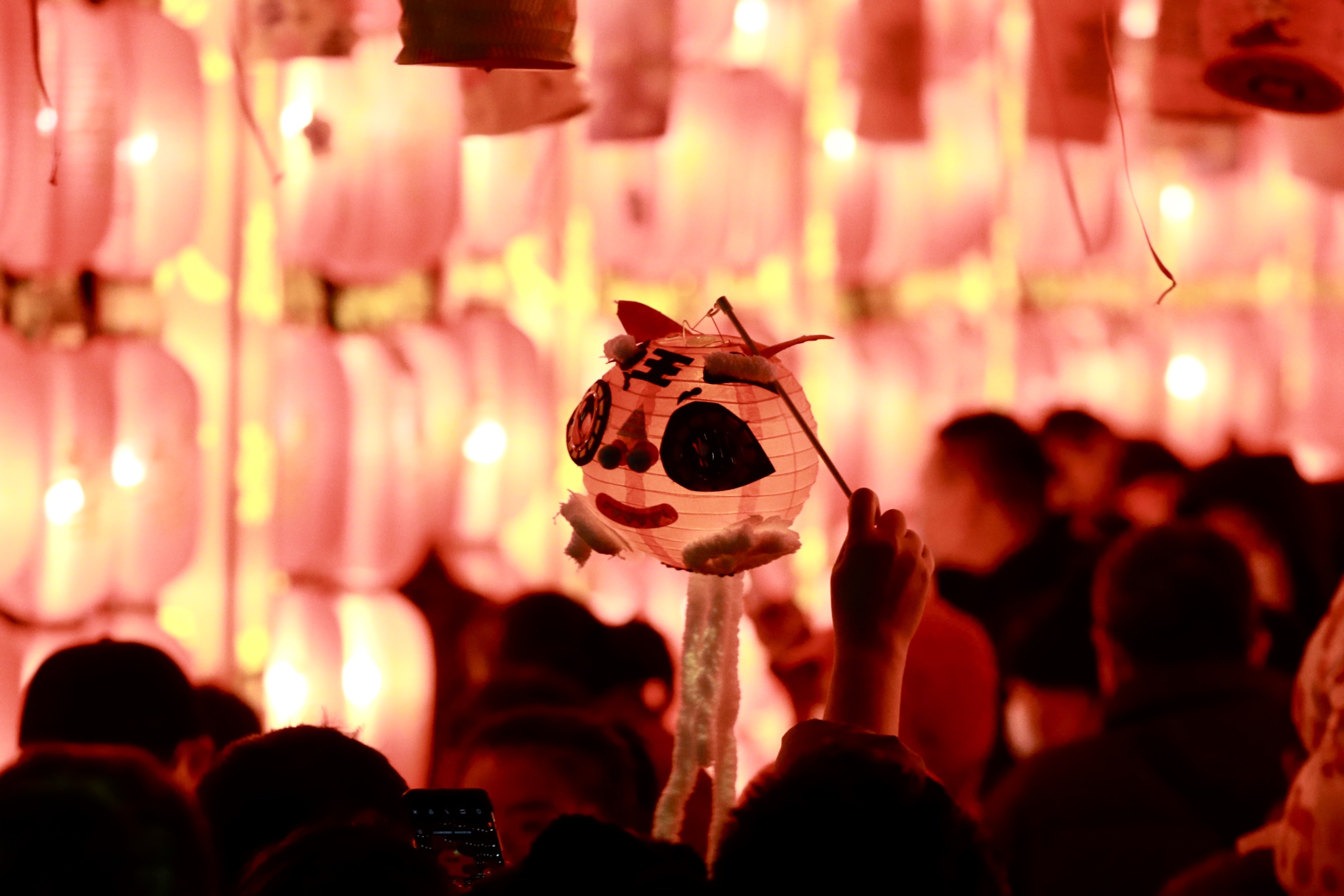 ---
4 Photos | View Slide Show ›
Admission: Free

Address: Chunshen Lake Square (major venue), Xinzhuang Business Zone, Minhang District
闵行区莘庄商务区春申湖广场
Fengjing Ancient Town Lantern Show
The Fengjing Ancient Town in Jinshan District promises you another annual colored lantern exhibition. A large rabbit lantern installation awaits you at Sanqiao Square. It takes approximately one hour to reach the venue from downtown.
---
2 Photos | View Slide Show ›
Admission: Free

Address: Fengjing Ancient Town, Jinshan District
金山区枫泾古镇
The Oriental Pearl White Rabbit Garden Party
The Oriental Pearl TV Tower has teamed up with White Rabbit Creamy Candy, a time-honored Shanghai brand, to launch their 1,000-square-meter White Rabbit Garden Party. The highlight here is the Peking Opera White Rabbit art installation. A variety of interactive games will keep you entertained.
Admission: Free

Address: Oriental Pearl TV Tower, Pudong New Area
浦东新区东方明珠电视塔前
Jinjiang Amusement Park Prosperity and Happiness Lantern Night
Minhang residents may choose to ride the Ferris wheel at Jinjiang Amusement Park to celebrate the new year. Consider the Ferris wheel with thousands of twinkling lights. The park has also organized a food bazaar for visitors.
---
2 Photos | View Slide Show ›
Admission: 90 yuan

Address: 201 Hongmei Rd, Jinjiang Amusement Park, Minhang District
闵行区虹梅路201号锦江乐园
The INLET's Year of the Rabbit Lantern Fair
Longtang, or alleys, were once home to millions of Shanghai residents. This Chinese New Year, the INLET, a new Shanghai-style landmark renovated from a former longtang block, is hosting a lantern fair. Eighteen sets of trendy rabbit-shaped lanterns, in various postures and brilliant costumes, are hidden among the INLET's eight alleys and 66 historic buildings. Spend time tracking them down.
---
6 Photos | View Slide Show ›
Admission: Free

Address: The INLET, Hongkou Districtt
虹口区今潮8弄
Source: SHINE Editor: Su Yanxian Special Reports