A cozy abode filled with prints and bright colors
14:08 UTC+8, 2023-08-29
0
The apartment where Olivia Mok lives is the fifth she has rented in Shanghai and brings her comfort and facilitates her desire to entertain.
14:08 UTC+8, 2023-08-29
0
The apartment where Olivia Mok resides brings her comfort and facilitates her desire to entertain.
Hidden inside a building at the end of a lane on Fuxing Road M., it is the fifth apartment Mok has rented in Shanghai and the one she likes the most.
Originally from Hong Kong, where she was born and which she still calls home, Mok has lived in Vancouver, Los Angeles, and Tokyo before coming to Shanghai. She came to the city while she was working in fashion retail with American Apparel, but eventually shifted careers to marketing and hospitality. Mok started her first business, SOCIAL SUPPLY, and restaurant, La Maison, in 2016, and then La Matcha in 2020.
Dong Jun
"Having lived in five apartments in the city, I didn't love any of them except for the one I'm in now," she said. "My home searching experience has been more like a soul searching experience where I've learned a lot about myself and what I like and don't like."
She said she needs to be surrounded by the city's amazing vibes and dynamics. "There were a few things that were non-negotiable and that's the convenience (it has to be walking distance to my daily destinations), as well as abundant natural light."
Mok has since enjoyed this geographically perfect location right in the heart of the city, yet so tranquil inside. The windows bring in plenty of sunshine and the simple yet functional decor leaves her space to express itself.
Dong Jun
It was partially furnished with beds, closet, shelves and some appliances when she moved in. After three years of living here, Mok has added furniture pieces, plants, and soft decor and approached her decorating in a very informal way.
She purchased object by object and never planned a full look. The individual items all come together in a very pleasing way. She doesn't have a particular rule for mixing different styles but she loves to try different combinations and her home is a project of her taste.
"I love prints and bright colors," she said. Some of the highlights include a salmon pink wall, Jayde Cardinalli wallpaper, an orange day bed, and a Bage & Soner alarm clock.
"One will get a hint of my affinity for nature and preference for comfort once walking in," she said. "You'll quickly realize I love color, flowers and fauna. I prefer to be casual over formal."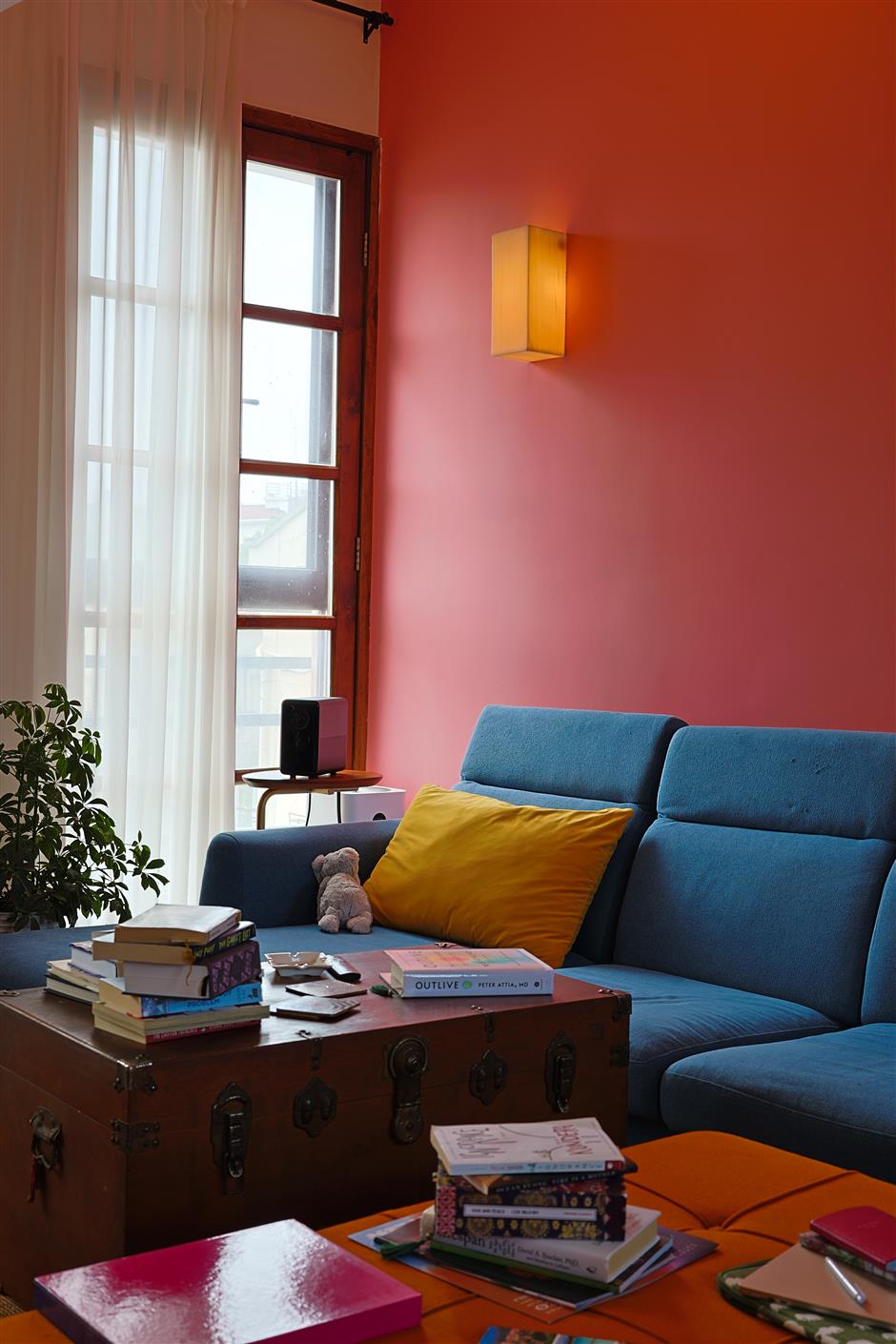 Dong Jun
The living, dining and kitchen areas are one room – which Mok loves, because she likes to cook, eat, and entertain all in the same room. "I wanted this space to be bright with pops of color to warm it up. I like it to feel cozy so I have a low blue couch and I wanted the living space to be lounge-y."
She said the blue couch has been with her since 2017 and it used to have legs. "I tore them off when I moved into this flat to lower the couch and to make the space feel more cozy . I can't imagine owning another couch just yet."
Jayde Cardinalli wallpaper adds a splash of fun to the hallway. "This part of the space gets the least amount of light so the wallpaper really helped make it more playful. I love walking into my home each time because the salmon pink wall and the wallpaper go so well together!"
Dong Jun
For the master bedroom, Mok kept it simple. "It's simplistic, roomy and just needed a carpet to make it feel warm. I placed small decor and objects dear to me to animate the space. I love my bed. It's so important to have a comfortable bed," she said.
Objects dear to her heart are always what makes the apartment a home. She treasures her Bage & Soner alarm clock that was hand-made in Sweden, and her mother's knock-off Nara painting. "She painted while she was drunk with friends, hence the additional cigar and bloodshot eyes on the Nara figure," Mok added.
"Home is the most important place to me because I spend so much time here. It's my sanctuary. Life is good and you will always feel happier when you live in a place which you love, feel cozy and can't wait to get back to."
Source: SHINE Editor: Chen Jie Special Reports