Dumplings, a dish on the to-do list
12:15 UTC+8, 2017-08-25
0
Xiaolongbao, the small mouthwatering soup dumplings, has become more popular than ever according to a recent survey.
12:15 UTC+8, 2017-08-25
0
Xiaolongbao, the small mouthwatering soup dumplings, has become more popular than ever according to a recent survey. In July, Business Insider selected 25 snack foods to represent 25 countries.
For China, xiaolongbao prevailed: "Also known as soup dumplings, the steamed buns are traditionally filled with pork and broth, and served in a bamboo steaming basket."
And in the latest Shanghai Map created by Shanghai Surveying and Mapping Institute this month, xiaolongbao was featured alongside hairy crabs and braised pork in soy sauce.
Xiaolongbao and shengjian (pan-fried dumplings) are two symbols of Shanghainese cuisine. For anyone travelling to Shanghai, tasting fresh, authentic dumplings is a must on the to-do list.
Li Anlan / SHINE
The soup dumplings
Xiaolongbao is also called xiaolong mantou, as the Shanghainese dialect calls steamed buns with fillings with the same word that refers to a plain steamed bun in northern China.
The xiaolongbao we know today originated in Changzhou, Jiangsu Province, which evolved from the guantangbao (soup-filled dumplings/buns) in Kaifeng, Henan Province, the capital city of Northern Song Dynasty (AD 960–1127).
The difference between xiaolongbao and guantangbao is the flavor of the filling and broth, as xiaolongbao is sweeter in taste. The shape is also different as guantangbao is larger, flatter and resembles the famous chrysanthemum flower in Kaifeng.
The different kinds of soup dumplings across China taste different, of course. The Changzhou xiaolongbao is quite fresh while the Wuxi style is the sweetest, and the Shanghai xiaolongbao can suit all tastes with the slight sweetness and umami flavors.
But what they all have in common is the thin skin, rich flavored broth and tender pork fillings.
In 1871, Huang Mingxian from Shanghai's Nanxiang Town created Nanxiang xiaolong mantou, which has since become a leading name in the Shanghai xiaolongbao scene. The Nanxiang xiaolongbao is very small in size.
The Shanghai style xiaolongbao uses leavened dough, lean pork and pork skin broth.
Wrapping the soup dumplings is almost an art. The skin must be super thin, as 10 dumplings are made from only 50 grams of flour, and each dumpling must possess at least 14 folds.
The light flavored pork filling is made of lean pork and a hint of ginger. No scallion or garlic should be added to disrupt the original flavor. The pork skin broth is what gives xiaolongbao its hot, sizzling soup.
In autumn, the hairy crab meat and roe are added into the pork meat to make the ultimate xiaolongbao filling. The freshwater crab is known for its unique intensely rich flavors, and the roe also makes the soup in the dumplings golden in color and buttery in taste.
In the meantime, shrimp and pork are also very popular as the bouncy shrimp meat enhances the texture, and shiitake mushrooms can also be incorporated in the recipes.
Because xiaolongbao is quite rich, it's often paired with vinegar or vinegar with infused thin ginger slices. Ginger is highly recommended when enjoying the crab roe xiaolongbao as it not only balances the flavors but also neutralizes the "cold property" of the crab in the sense of traditional Chinese medicine.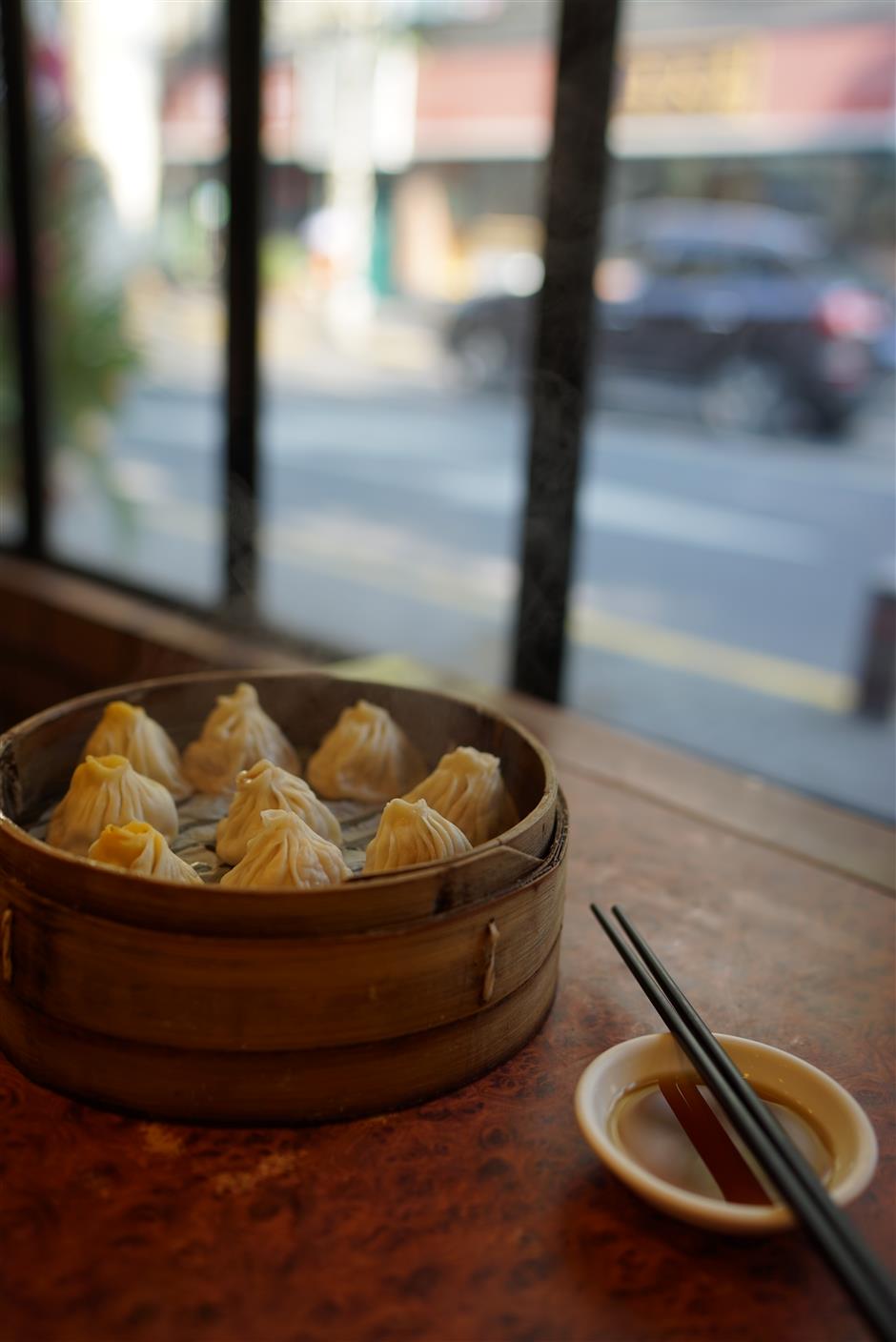 Li Anlan / SHINE
Xiaolongbao eateries
The Michelin Guide chose the easy way last year with the xiaolongbao recommendation in the Bib Gourmand selection. Out of all the soup dumpling shops in the city, they featured Nanxiang Xiaolongbao in Cheng Huang Miao (City God Temple) and Din Tai Fung in Shanghai Center, two of the very well-known, yet more tourist-oriented establishments. Nanxiang Xiaolongbao is praised for its history and time-honored status, while Din Tai Fung is celebrated for its precision and consistent quality.
But for the Shanghai locals, those are not ideal destinations to have a bamboo steamer of good, hot xiaolongbao.
Here are two of the local's go-to favorites.
Fuchun Xiaolong 富春小笼
Li Anlan / SHINE
Back in 2010, Fuchun was recommended by CNN as the place to get authentic xiaolongbao, and they were right.
The xiaolongbao at Fuchun has a richer and fattier broth and filling. For each soup dumpling, there's about a spoonful of delicious broth. The crab roe xiaolongbao has very clear taste of the crustacean.
Try and finish them while they are still hot, as the broth can become thicker when cooled and the flavor also fades. Eating them with a spoon also makes it a lot easier.
But navigating yourself in the time-honored restaurant on Yuyuan Road can be a little bit overwhelming. The restaurant is always full from morning to midnight and still operates in its efficient yet very old ordering system.
Once you are in the restaurant, place the orders with the cashier by the door and pay to get a receipt. Then once you find yourself a table or share with other diners, give the receipt to one of the waitresses and she'll take a wood clip from the bowl on that table. When the food is ready, she will bring it along with a small plate and a pair of chopsticks. Vinegar is available on every table.
And you'll also need to be prepared with some hard cash when choosing to dine at Fuchun. Even in the digital payment era when the vegetable and breakfast vendors are giving you QR codes for WeChat and Alipay, Fuchun remains old-fashioned with their cash-only tradition.
Fuchun also have many other branches across the city, some are located in food courts in malls.
Price: 11 yuan (US$1.6) for 6 plain xiaolongbao, 20 yuan for 6 shrimp xiaolongbao and 26 yuan for 6 crab roe xiaolongbao. A combo featuring three of each kind is 26 yuan.
Opening hours: 6am-midnight
Address: 650 Yuyuan Rd
Jiajia Tangbao 佳家汤包
Li Anlan / SHINE
Jiajia Tangbao is known for their soup dumplings with crab meat and roe filling. Their xiaolongbao is smaller, more delicate and has very fresh broth that's not greasy at all.
The shiitake and pork soup dumpling is an interesting creation that highlights the unique fragrance of the mushroom. The shrimp xiaolongbao has a whole shelled shrimp in each dumpling.
The soup dumplings at Jiajia is not as sweet as other brands and an order of 12 is ideal for one person.
You might need to wait for a while at Jiajia since the soup dumplings are made to order. The shrimp and pork wonton soup or nori and egg drop soup are also recommended to pair with the soup dumplings.
The ginger slice is 2 yuan per serving and is perfect to pair with the crab xiaolongbao together with vinegar.
Price: 15 yuan for 12 pork xiaolongbao, 30 yuan for 12 crab xiaolongbao.
Opening hours: 7am-7:30pm
Address: 62 Liyuan Rd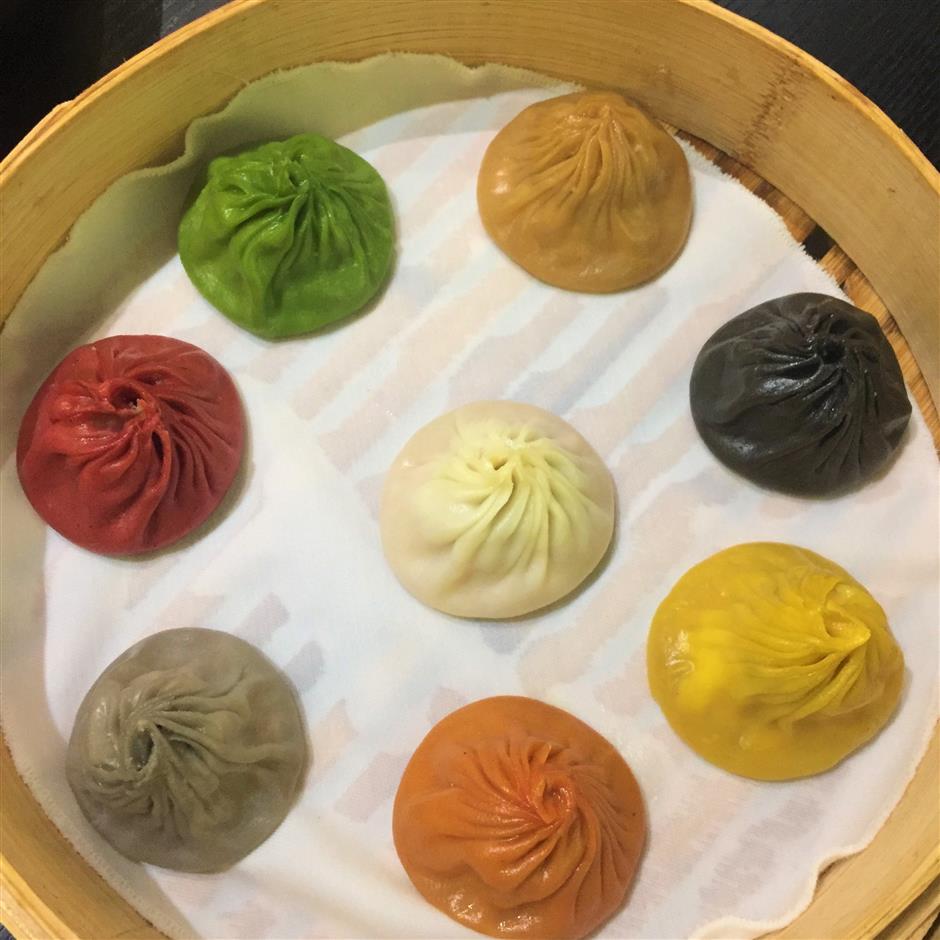 Li Anlan / SHINE
Other xiaolongbao eateries to try
Lao Sheng Chang 老盛昌
A time-honored Shanghainese franchise specializing in Suzhou-style soup dumplings and Shanghai-style noodles.
Address: 335 Fujian Rd M.
Lailai Xiaolong 莱莱小笼
A small eatery dedicated to the Shanghai-style xiaolongbao. The crab roe soup dumplings and original pork soup dumplings are popular.
Address: 504 Tianjin Rd
De Xing Guan 德兴馆
De Xing Guan is a famous Shanghainese restaurant with more than 100 years of history, their xiaolongbao is less sweet and juicier.
Address: 471 Guangdong Rd
Paradise Dynasty 乐忻皇朝
If you are looking for something more creative than the traditional xiaolongbao, Paradise Dynasty offers a unique combo of eight differently colored soup dumplings with interesting fillings such as: foie gras, cheese, garlic and even black truffle.
Address: 3F, IFC mall, 8 Century Ave
Source: SHINE Editor: Fu Rong Special Reports