Hot green snack worth the wait
15:16 UTC+8, 2019-04-02
0
Qingtuan is the hottest food in town these days, and there are good reasons to stand for hours in long lines to buy this freshly made seasonal treat.
15:16 UTC+8, 2019-04-02
0
Qingtuan is the hottest food in town these days, and there are good reasons to stand for hours in long lines to buy this freshly made seasonal treat.
Qingtuan is a traditional snack usually eaten around Qingming Festival or Tomb-Sweeping Day. Its glutinous rice wrapper is made with the juice of wormwood leaves, to present a highly saturated green color, and sweet or savory fillings such as red bean paste or malantou, a spring herb that's also known as kalimeris.
HelloRF
It's a food where people with different tastes can find something to their liking, and its small size makes qingtuan a great snack or quick breakfast. It can be paired with tea (preferably green or oolong tea), soy milk and even coffee for a balance of flavors.
Shanghai locals tend to choose classic, time-honored brands when they buy festival-related and authentic regional specialties, like mooncakes from Guangming Village, butterfly pastries from the Park Hotel and nut bars from Harbin Food Factory.
It's difficult for new brands to find a place in the business of traditional Chinese delicacies — the market is fiercely competitive and "old school" brands are doing even better and perform more aggressively in the creativity and innovation department.
HelloRF
Qingtuan became a wanghong (Internet celebrity) favorite in 2016 when Xing Hua Lou, the famous Shanghai time-honored brand, created a new flavor that combined two of the crowd's favorite guilty pleasures — salted egg yolk and dried meat floss.
Xing Hua Lou's tradition-meets-creativity concept has inspired more time-honored brands to follow, and many decided to put it into practice in qingtuan season for good reasons: The recipe is simple so there's more room for improvization, and the glutinous rice wrapper has a lovable texture but little flavor of its own.
After three years, Xing Hua Lou's strategy has proved to be wise and profitable. The brand has led a revolution among time-honored brands to seek out new opportunities and work with popular concepts and ingredients that were previously considered bizarre.
It's a challenging path, though, because the popularity of creative foods can only last so long before the public moves onto the next big idea. The solution is to stay at the top of the game by working harder on innovation.
To triumph over the salted egg yolk and dried meat floss, fillings like yanduxian, a classic Jiangnan-style (a region south of the lower reaches of the Yangtze River) soup in spring that's composed of cured pork, fresh pork and spring bamboo shoots, as well as spicy crayfish were created by various brands. The goal here is no longer about making foods that taste good, but to stand out in the market with eye-catching and mind-blowing combinations.
While the ideas may be unstrained, the classics are still there, and wanghong qingtuan is just an interesting episode in the spring food scene.
What's new
If you are interested in creative qingtuan, here's a guide to some of the most popular products in Shanghai this year.

Start with Xing Hua Lou, the king of wanghong qingtuan. For the traditional wormwood qingtuan, its salted egg yolk and meat floss remains very popular, while those who like sweet snacks would go for the classic red bean paste filling.
Xing Hua Lou's creative flavor this year is a chicken and bacon qingtuan, a box of six retails for 45 yuan (US$6.7) but it's difficult to buy with limited quantities and endless waiting lines.
The combination sounds very rich and even unappetizing — greasy bacon wrapped inside glutinous rice? But this recipe has a more complicated filling composed of mushrooms, chicken shreds, bacon bits, onion and bamboo shoots, which all together creates a feeling of eating a creamy and savory mushroom soup.
It received mixed reviews. Some people love the innovation, while others find it ridiculous.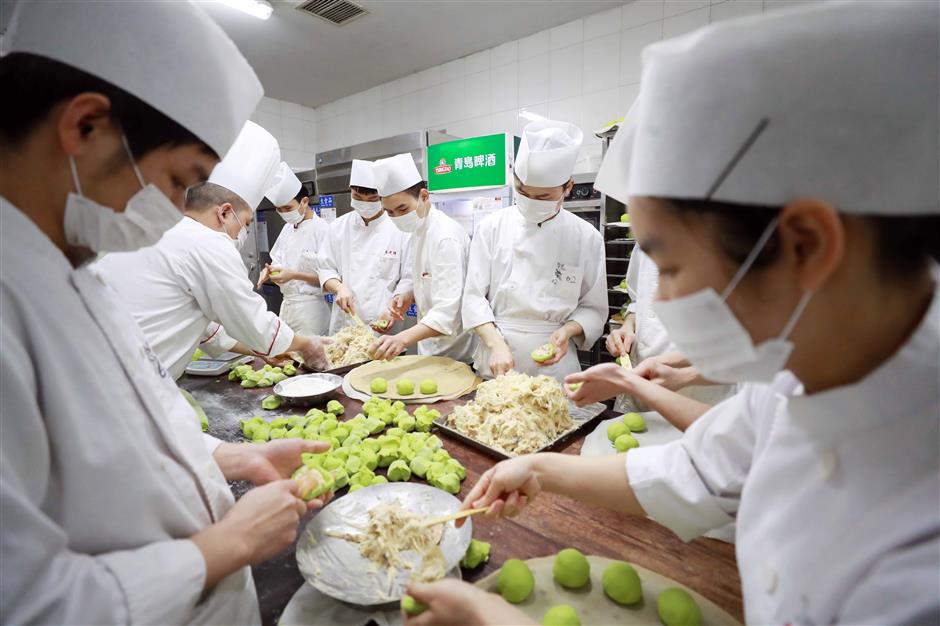 Imaginechina
And if mixing out the fillings is not enough to keep Xing Hua Lou's leading position, the brand has introduced two qingtuan that are not even green.
Pink qingtuan, or pink balls to be exact, is a sweet dessert with a strawberry-flavored, pink-colored glutinous rice wrapper and fluffy cream filling. Purple balls have a purple sweet potato-flavored and colored wrapper with red bean paste filling.
They are tasty, but are they still qualified to be called qingtuan when neither wormwood leaves nor green coloring is used?
Jing'an Bakery, a Shanghai brand established in 1985, is known for its mochi qingtuan, a modern adaptation of the classic snack. Instead of using juice of wormwood leaves, the mochi version uses wheatgrass powder as a natural food coloring, which is kneaded with glutinous rice dough to make the wrapper. Well, at least they are green.
While qingtuan is normally steamed and the wrapper is quite wet and sticky, the bakery bakes the balls so the texture is dry and chewy, which is less messy to eat.
And while the mochi qingtuan is still a local favorite, Jing'an Bakery launched two new flavors this year that both have runny fillings — cheese and red bean paste with cream. With Western pastry influences, these two qingtuan products are more like desserts.
And as always, freshly made qingtuan has a better flavor and texture than those that come from bags and boxes in supermarkets, though there's one exception: the matcha and milk "ice cream" qingtuan from Shen Da Cheng, another big name in Shanghai.
It's a sweet green ball, yes, but that's all it is. Without the juices of wormwood leaves and rich fillings, it's more of modern dessert with just a little qingtuan spirit. But the taste is spot on: fresh, airy, not so sweet. It's a great alternative for people who don't like the stickiness of traditional wrappers.
Li Anlan / SHINE
Shen Da Cheng came headstrong into this year's game with crayfish qingtuan, black sesame and wormwood qingtuan in addition to previous favorites like salted egg yolk with meat floss and malantou with pork or dried tofu.
To build up its influence, the brand even launched a crowdfunding campaign on Taobao for its spicy crayfish qingtuan with the goal of raising 10,000 yuan. The target can be met easily.
Alibaba's Hema Fresh Market is anxiously joining the competition with several creative qingtuan products.
The most interesting one is no doubt the suancaiyu filling, which is taken from the classic Chongqing dish, fish boiled with sour pickled cabbage and chili.
Suancaiyu was a trend in the summer of 2018 when the homestyle Chinese dish suddenly became popular. The waiting time in some of the restaurants was more than two hours and it's still a crowd favourite today.
Li Anlan / SHINE
But Hema's idea of putting spicy and sour fish and pickles inside glutinous rice wrapper is odd. For starters, both the fish and wrapper have the same soft texture, so the contrast only comes from the crunchier pickled cabbage. Then, it's overly spicy and salty.
The suancaiyu qingtuan is also messy to eat because the broth keeps dripping down. The good thing about this creation is that it's not intimidating or greasy, and hardcore fans of suancaiyu may find it exciting.
A more reasonable qingtuan from Hema is the pork and dried bamboo shoot qingtuan. The filling is drier and richer, yet not overwhelmingly seasoned, so the hint of sweetness of the glutinous rice still remains. But it's a snack that easily fills the stomach.
For sweet qingtuan, the retailer has combined two popular elements — blueberry pearls and runny salted egg yolk sauce.
And if you just want the original qingtuan without all the wanghong elements, Wang Jia Sha's savory qingtuan with a shepherd's purse or malantou filling is highly sought after by locals — the lines are always long in front of the Wang Jia Sha restaurant on Nanjing Road W.
Source: SHINE Editor: Fu Rong Special Reports