Water town seeks individuality by tapping history
10:30 UTC+8, 2017-10-18
0
Sijing is exploring its roots to ensure that its development as a water town in suburban Shanghai is unique and faithful to the town's rich mercantile heritage.
10:30 UTC+8, 2017-10-18
0
Ti Gong
Ti Gong
When a ramshackle old riverside house in the water town of Sijing in suburban Shanghai's Songjiang District underwent rehabilitation, dismantled brick walls revealed layers of different structures built over hundreds of years. Could this house possibly have once been a shop owned by a wealthy merchant?
The wall bricks, each numbered, are now piled on the ground, waiting to be used in the reconstruction. Two older carpenters wielding axes nearby are hewing a pole from a tree brought down from the local mountains. The pole will be used in the hall of the house, replacing one that was beyond repair.
"Nobody under the age of 50 knows how to do this sort of reconstruction work," says Jiang Lei, deputy head of Sijing. "It would have been much cheaper and faster to do the work with machines, but we are determined to restore the house, and later, the entire town, as it was, in the most careful way."
The restoration of this one house, which started in May, will take about seven months — a shockingly slow speed for construction work in China. It is the first house to be restored under a Sijing redevelopment plan that emphasizes cultural protection and preservation.
Many obstacles, such as illegal vendors, unauthorized structures and haphazard renovations, now mar what was once a vibrant but tranquil town of rivers, canals, temples and bridges 500 years ago. It may take up to 10 years to restore the historic beauty.
"It will not look like other water towns when we finish," Jiang tells Shanghai Daily.
Houses built in the 1970s and 1980s won't be demolished or restyled in more traditional architecture, he says, because the integrity of all decades must be preserved as part of a timeline of history.
Sijing, which dates back to the Song Dynasty (960-1279), was one of the first five towns listed by Shanghai on the first Traditional Chinese Villages Catalogue in 2012. It has taken the town years to draw up a redevelopment plan that balances heritage protection and economic growth.
"We have been very careful in every step, including choosing partners and investors who share similar values," Jiang says. "The priority is on protection, not profit. To some extent, it works to our benefit to be developing so late because we can learn from the mistakes of other places."
He says creating a unique look instead of just copying the timeworn traditional "water town" scenario now so common in China will help Sijing attract visitors and boost its tourism income.
"Senior citizens, when they visit someday, will say, 'This is exactly how I remember the town used to be.' With that, I will consider my mission accomplished," he adds.
Ti Gong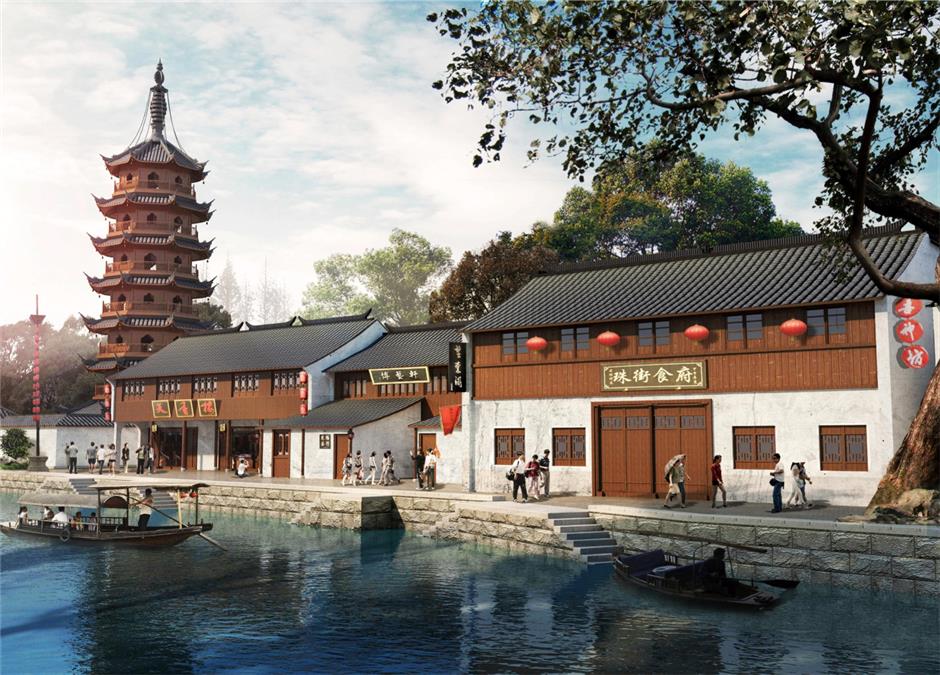 Ti Gong
The redevelopment plan is financed by government and corporate funds, a partnership that is expected to avoid the sorts of conflicts between residents and developers that have marred similar plans in other traditional villages.
Zhang Ye, who oversees cultural aspects for Sijing, says his office team has been delving into the town's history in order to identify its unique cultural roots.
Fortunately, for Zhang, it is not a difficult task. The town was once an important mercantile center based on abundant waterways that connected to the sea. It became a popular retreat for intellectuals and craftsmen, who left behind their legacies.
One of the redevelopment highlights is a 200-meter corridor to be built along the main river. That strip was once a vibrant marketplace and rest area for merchants passing through the town. Over decades, the corridor has become blocked by house expansions and illegal construction.
The mansions behind the corridor, including the one now under restoration, mostly originated in the Ming (1368-1644) and Qing (1644-1911) dynasties. Shops along the canals did brisk business because of the waterway access.
Buildings with historic and cultural value will be restored, each with a tailor-made plan. The restored venues will host both cultural and commercial activities in the future.
A few buildings were restored even before redevelopment started this year, including the former residences of renowned educator Ma Xiangbo (1840-1939) and newspaper tycoon Shi Liangcai (1880-1934).
Ti Gong
Ma founded Fudan University in 1905 and became its first president. He influenced education long after his death and mentored a long line of distinguished protégées, including Cai Yuanpei, one of the most respected and innovative presidents of Peking University.
Shi, a Sijing native, was one of the best-known journalists in China, who famously said, "You have a gun, I have a pen." Shi took over ownership of Shen Bao (Shun Pao), a highly influential liberal Shanghai newspaper that openly criticized Kuomintang government's policies. He was later assassinated.
"These cultural figures are not only important for our town, but they also are part of the broader history of China," Zhang says. "Their legacies must be preserved for future generations."
Sijing has other traditional heritage worth highlighting, including the local shadow play, special varieties of dumplings and tofu, and the shi jin xi luo, a distinctive Chinese gong recognized as part of the nation's intangible cultural heritage.
"For years, we have just hung around practicing privately and enjoying ourselves," says gong player Tang Jiachang. "We didn't fully realize our cultural responsibility to pass this art form to the next generation."
Tang has been hired by the town government to conduct weekly rehearsals and workshops on his unique form of folk music.
"I would love to see this town return to the tranquil setting I remember from my childhood," he says.
If you go:
How to get there: The ancient town of Sijing is in southwest Shanghai's Songjiang District, about 30 kilometers from the city center. Take Metro Line 9 and get off at Sijing Station.

Ti Gong
Source: SHINE Editor: Liu Qi Special Reports