New and improved electric buses for route 26
17:10 UTC+8, 2019-09-27
0
The super-capacitor buses boast more power, faster charging times and improved accessibility for passengers.
17:10 UTC+8, 2019-09-27
0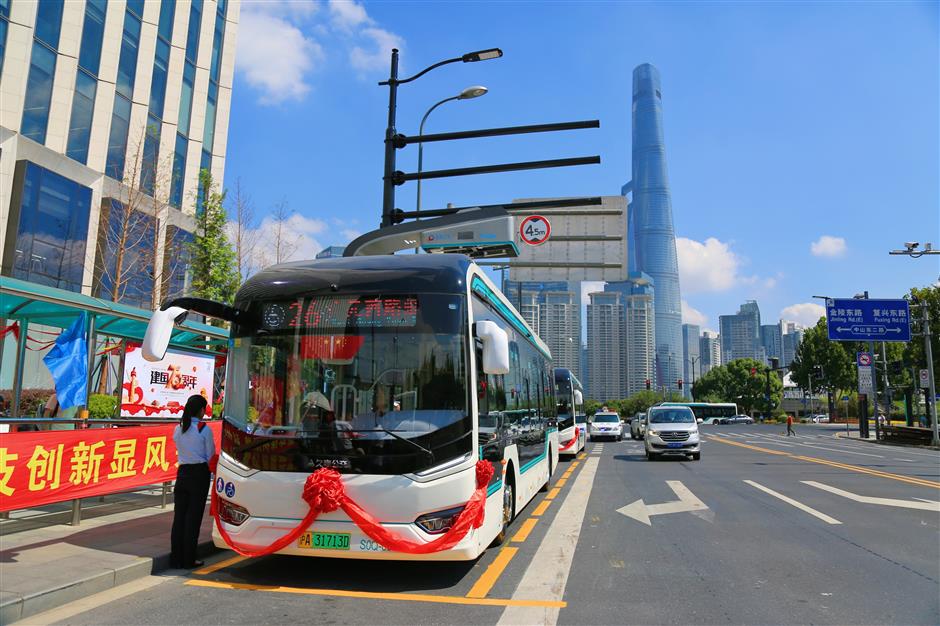 Wang Yuqing / Ti Gong
A batch of 10 new super-capacitor buses started operating on bus route 26 on Friday. These buses can travel between the two destination stops with only three minutes of recharging, said Shanghai Jiushi Group.
Bus route 26 shuttles between the junction of Xinkaihe and Zhongshan roads in Huangpu District and the junction of Guangyuan and Hongqiao roads in Xuhui District.
The buses, manufactured by Shanghai Sunwin Bus Corporation, are equipped with new model super-capacitors which improve battery life and cruising range by more than 10 times compared with older models.
The previous super-capacitor buses were often criticized for their poor heat resistance. And since the batteries of the old models were installed at the bottom of the bus, accessible facilities for elderly and disabled people couldn't be used.
"This is the first time we equipped the capacitors with a liquid cooling system so that they won't overheat in summer," said Kan Weifeng, chief engineer from Sunwin. "This time the battery is installed on top of the bus so that we can make the chassis lower to install accessible facilities."
At the terminal station Xinkaihe Road of bus route 26, Shanghai Daily saw four chargers for the buses. According to the bus company, when a bus is properly parked under the charger, the driver only has to push a button and a charger will automatically reach out and start charging.
An Zhongxun, chief engineer of Aowei Technology, the manufacturer of the capacitors, said a single trip between the two destinations of route 26 is 8.85 kilometers, and a fully charged bus will still have about 40 percent power left after a round trip.
"We have already included the power consumption of the air-conditioning and time when the bus is stuck in heavy traffic," An said.
The old-type capacitor buses would need at least three hours to charge, which means a designated charging area was necessary.

"Sometimes I had to stop the bus even if no one was getting on or off," said Cai Tianning, a driver for bus route 26. "A single charge wasn't enough to support a single trip."
With the new buses, Cai said he no longer needs to worry about running out of power.
"We have seen significant growth of capacitor buses in the city," An told Shanghai Daily.

When the first capacitor bus hit the route in 2006, it could only store 5-kilowatt-hours of power. Now the storage capacity of the new buses is eight times that of the original model.
Wang Yuqing / Ti Gong
Wang Yuqing / Ti Gong
Source: SHINE Editor: Cai Wenjun Special Reports