Online tomb-sweeping set to prevent gatherings
18:51 UTC+8, 2020-03-21
0
As Qingming Festival approaches, "cloud tomb-sweeping" is gaining popularity. The festival falls on April 4 this year.
18:51 UTC+8, 2020-03-21
0
Ti Gong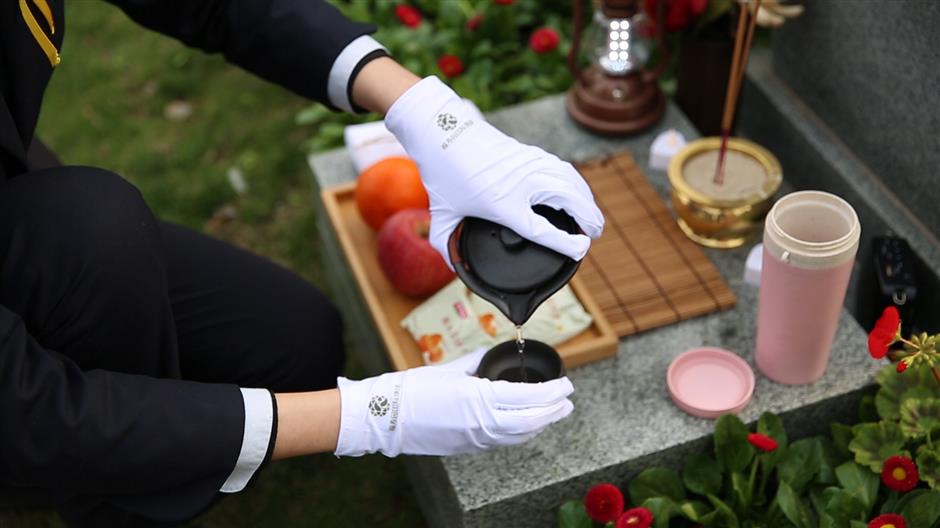 Ti Gong
Typing in the names of his grandparents, Andrew Chen sees their tomb at Fushouyuan Cemetery in Qingpu District. He uploads an old photo of them smiling brightly and chooses paper cranes as virtual commemorative item. He then leaves a message and forwards the link to his sister. A "cloud tomb-sweeping" only takes a few minutes.
With the approach of Qingming Festival, "cloud tomb-sweeping" is gaining popularity. The festival, when Chinese people traditionally sweep family tombs and pay tribute to their deceased ancestors, falls on April 4 this year.
"Family love is not separated nor cut by the barriers of space and time," Chen said. "When the coronavirus is over and cemeteries reopen, I will offer my tribute in person."
Cemeteries operated by Fu Shou Yuan Group in around 30 Chinese cities have online sweeping channels.
Over 400,000 people have visited the platforms to pay tribute to their deceased family. Only those with urgent demands like burials are received at cemeteries.
Online tomb-sweepers are able to edit the biographical information of their relatives, upload photos and videos, and offer virtual sacrifices and commemorative items.
"My dear parents, we have stayed at home for over a month, and we echo the call of the government and not visit tombs to prevent gatherings. We meet you via the 'cloud,' and hope you rest in peace in the heaven," one wrote.
"Because of the coronavirus, we cannot be there in person. We hope you are well, dear dad and mom. I will visit you once the coronavirus epidemic ends," another message read.
"Time and boundaries can not divide love, and this is a special way of conveying loneliness and love," another writes.
Another service attempts to meet the needs of people who cannot visit cemeteries but still want to follow tradition. Staff will sweep tombs for them and host a live broadcast of the proceedings. Videos and photographs will be available on request.
So far, Fu Shou Yuan has acted for 1,500 households, including about 800 in Shanghai. It manages two cemeteries in Shanghai, the Fushouyuan Cemetery in Qingpu District and Haigang Lingyuan Cemetery in the Pudong New Area.
"It is a special Qingming Festival, and we fully understand the practice which is out of health concerns," said Pu Zhizhen, a local resident who chose the service for her deceased husband.
Individual requests, like the sacrifice of favorite dish, are also met.
"Internet plus service will be promoted in the long term even after the epidemic," said Zhao Yu, assistant manager at Fu Shou Yuan.
Cemeteries also plan to introduce AI, VR, 5G and the Internet of Things to funeral industry.
A reservation system in Shanghai during this year's festival has been encouraged to prevent large gatherings by the city civil affairs authorities. Those who wish to inter urns or sweep tombs in person between March 28 and April 12 are required to make reservations in advance, from March 26.
Only a few visitors will be allowed and others are advised not to make unauthorized visits, said Zeng Qun, deputy director of Shanghai Civil Affairs Bureau.
A maximum of 10 participants will be allowed at interments from each household. Sweepers are limited to five per tomb and are required to visit at their reserved time.
"People are advised not to visit cemeteries and columbariums until the epidemic ends," said Zeng.
Shanghai's 54 cemeteries and columbariums received 2.2 million tomb-sweepers on last year's Qingming Festival. Authorities also reported severe congestion on roads and expressways.
About 6.3 million visits were paid to the city's cemeteries and columbariums during the sweeping peak from March 30 to April 7 last year, bringing an extra 850,000 vehicles onto the roads.
Source: SHINE Editor: Cai Wenjun Special Reports