Putuo District expands night-time scenes with 'exquisite charm and quality'
09:45 UTC+8, 2023-06-29
0
Putuo District is developing its night-time economy with series of events, activities and consumption initiatives built around the Suzhou Creek.
09:45 UTC+8, 2023-06-29
0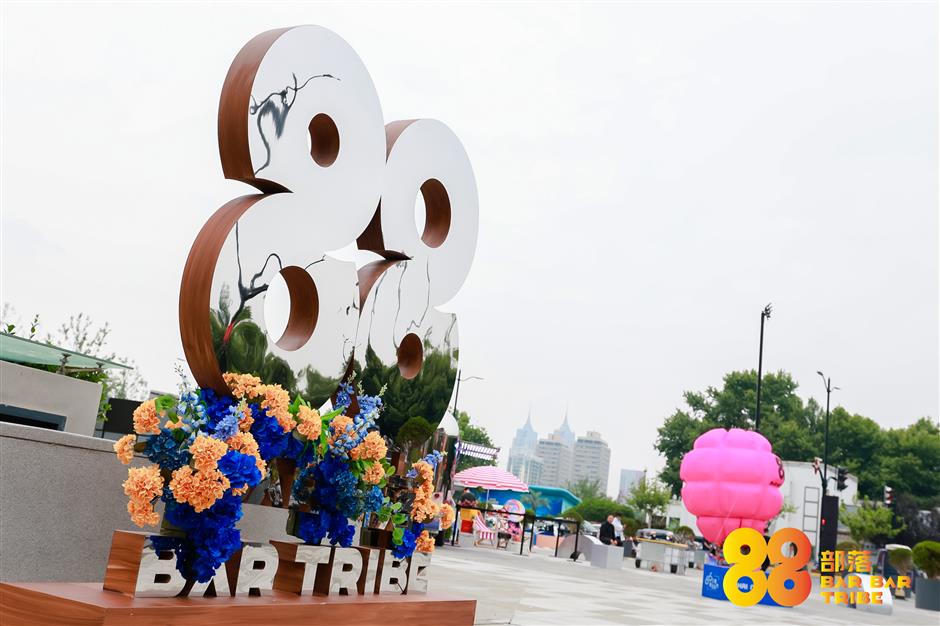 Ti Gong
Putuo District is creating new evening consumer events and boosting its distinctive "Half Marathon Suzhou Creek" to enhance Shanghai's consumer landmarks.
The "88 Tribe" was officially launched on the evening of June 16, coinciding with the opening ceremony of the Putuo Double Six Nightlife Festival with the theme of "Night Together, Future Trend."
The "88 Tribe" is a novel consumer event that combines outdoor activities with a trendy lifestyle, according to the district government.
It offers a comprehensive nightlife experience, catering to various social interactions through open bars, personalized food trucks, relaxation areas, outdoor seating, decorations and stages. It allows consumers to enjoy a vibrant and trendy party with music and food, offering a fresh perspective on the city's charm, Putuo government revealed.
Ti Gong
In addition to the "88 Tribe," Putuo's nightlife festival includes a series of other activities, focusing on seven themes with shopping, dining, tourism, shows, entertainment and sports. By emphasizing three key sites – waterfront, street and community – the festival connects various commercial districts and shopping areas.
Over 20 themed night-time events will be held across the district.
The festival will incorporate elements from the "Half Marathon Suzhou Creek" night-time economic vitality and other emerging trends, aiming to create new landmarks and scenes for the night-time economy and offer consumers a new experiences with "exquisite charm and quality in Putuo."
The "Half Marathon Suzhou Creek" showcases the vitality of both Putuo and Shanghai, according to Putuo government. The district plans to host a series of shopping, dining and recreational activities along the river.
The 125-kilometer creek, which flows from suburban Qingpu District to downtown Waibaidu Bridge in Huangpu District, is the Huangpu River's biggest tributary.
The longest part of the creek is in Putuo, accounting for half of its downtown section.
The "Half Marathon Suzhou Creek" has been mapped out on the 21-kilometer-long riverside section in Putuo, equaling the length of a half marathon. The waterfront aims to become the "sitting room" for the Yangtze River Delta.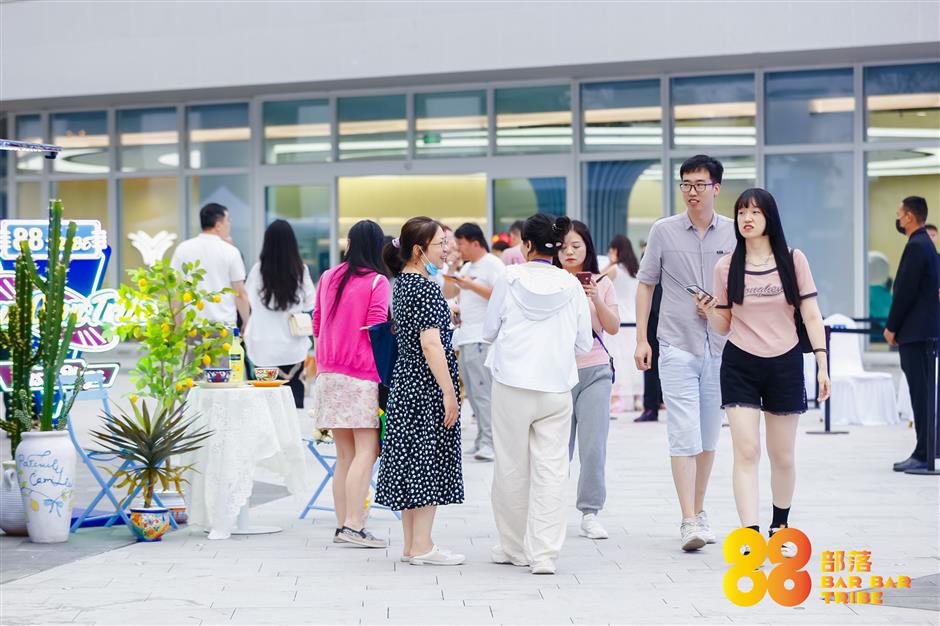 Ti Gong
As a key site along the riverside section, the Push Plaza at 88 Yunling Road E. in the Changfeng business district launched the "88 Tribe" as a top destination for evening outdoor activities.
As Putuo's new financial hub, the Push Plaza mainly accommodates technology and finance companies. It aims to become the bridgehead for Shanghai's finance sectors.
The newly unveiled "88 Tribe" aims to create a new market life, enhancing the quality of life and happiness for white-collar workers in the surrounding financial and business areas.
The unique and innovative tribe consists of various stylish food trucks, flavorsome cuisine from around the world, exquisite camping areas and exciting performances, according to the district government.
It forms a refined and vibrant atmosphere along with a new consumer experience that combines outdoor activities and trendy lifestyles, catering to different social needs. The logo of the tribe combines the shape of vinyl records and tent camps.
Ti Gong
Public living room
The tribe further optimizes the outdoor space in Putuo, creating a cultural and public living room for urban residents.

People can gather in the exquisite camping area, chat and enjoy food from colorful food trucks, while the nearby stage presents various exciting performances.
As night falls, the "Half Marathon Suzhou Creek" ushers in the melody of early summer. Here, one can feel the charm of the city by enjoying the evening breeze and immersing in a vibrant and trendy party, Putuo government said.
Currently, 18 popular brands and companies have settled in the "88 Tribe," operating from 4pm to 10pm to boost the nightlife vibe of the creekside region.
Nightlife activities are also flourishing in other commercial landmarks in Putuo.
The Tian An 1000 Trees shopping mall, dubbed the city's "Hanging Garden of Babylon," gathers numerous merchants along the Suzhou Creek, offering a variety of food, handicrafts, cultural and artistic experiences. The mall aims to create a waterfront nightlife destination that blends dining, art, entertainment, culture and commerce.
The Yuexing Furnishing Mall creates a "starry garden," a rooftop commercial leisure garden, showcasing the trendy lifestyle.
It resonates with the surrounding artistic and cultural atmosphere, becoming another popular night-time destination along the Suzhou Creek.
The X-Tower innovation park provides services such as barbecue, hot pot and cultural and creative products along the Suzhou Creek waterfront, allowing consumers to enjoy the beauty of the Suzhou Creek while indulging in delicious food.
Various commercial hubs are encouraged to innovate and host cross-border themed consumer activities at night, offering diverse immersive experiences.
The Global Harbor, known as the largest shopping complex in Shanghai's downtown, has launched the Global Food Festival, introducing high-quality niche cuisines from Southeast Asia, Europe and America, integrating food, entertainment and sports.
Taoyuan Pai shopping mall focuses on night shopping, dining, tourism and entertainment, combining popular check-in spots and weekend performances to create large-scale activities centered around trendy dining, creative accessories and interactive family experiences.
NGS 118 Square strives to create the high-quality and high-style "118 Dream Collection," collaborating with the popular Boshi Road, to showcase colorful nightlife, including popular dining, leisure and entertainment brands.
Ti Gong
Ti Gong
'15-minute life circle'
Changshou Xuhuili presents activities such as "Night Never Ends" and "Night Food Diary," featuring a cyber metropolis vibe, encompassing delicacies, trendy games, exquisite jewelry, collaborating with popular dining brands in the area to extend operating hours until 2am.

Under the national campaign to build a "15-minute life circle," Putuo is also striving to strengthen the interaction between communities and residents, while adding vibrancy to the night-time economy. The concept implies that within a 15-minute walk, residents can have access to various services related to living, working, studying, traveling and elderly care.
Vanguard Mart, for instance, offers a variety of summer special products to enrich the needs of neighborhood life.
FamilyMart launches the "Family Colorful Season," where its sub-brand, the Late-Night Canteen, provides super discounts. Customers can get another two products free by buying barbecue, side dishes and beverage products. VIP members can enjoy additional discounts.
Shiquan Road Subdistrict will host the "Tsingdao Beer Festival," featuring night-time delicacies, music parties, and other unique activities.
By tapping into the demand for "instant night-time consumption," Ele.me, a popular online food delivery platform, will distribute dining vouchers worth of over 20 million yuan (US$2.77 million).
The campaign aims to foster an integrated online and offline nightlife atmosphere and leverage retail innovation to revitalize related industry chains.
Ti Gong
Ti Gong
As a highlight of Putuo's nightlife festival, Hozon Auto unveiled its brand-new Nezha S, a new-generation sporty tech coupe, and Nezha GT, China's only four-seat pure electric sports coupe.
"The Shanghai-based leading auto tech company decided to participate in the nightlife festival of Putuo, because an event that combines nightlife and fashion aligns perfectly with Hozon's stylish and technologically advanced electric vehicles," an official with Hozon Auto said.
The new-energy car startup is operating at the International Innovation Center of Tsinghua University Shanghai, a national-level innovation and incubation platform in Putuo. The area around the center was once a polluted industrial park. It's now being developed into Taopu Smart City.
The innovation center is one of the four key scientific innovation hubs of Putuo, along with the China Israel Innovation Hub, the Wuning Innovation Community and Haina Town, a pilot zone for Shanghai's digital transformation campaign.
Hozon Auto showcased its products at the nightlife festival to provide accessible high-quality smart electric cars to consumers, and support the city government's call for high-quality economic development and social responsibility, the official added.
The company has hosted an event, titled "Night with Trends and Future," at the Push Plaza, which has attracted great attention during key festivals in June, such as the mid-year 618 Shopping Gala, Father's Day and Dragon Boat Festival.
Apart from the nightlife festival, a variety of sports competitions and cultural activities will be held along the "Half Marathon Suzhou Creek" through the end of 2023 to boost the city's "riverside economy."
More than 1,000 sports, cultural and tourism events have been announced along the riverside section in Putuo, such as the 2023 Shanghai Elite 10K Race and Half Marathon Suzhou Creek Culture and Art Festival.
Other public sports competitions, including paddle boarding, frisbee, rugby and drone flying will invite citizens to compete along the creek through December.
Source: SHINE Editor: Su Yanxian Special Reports