Mooncake sales surge ahead of Mid-Autumn Festival
16:04 UTC+8, 2023-09-15
0
With two weeks before the Mid-Autumn Festival on September 29, mooncakes stuffed with pork by time-honored brands in the city have proved highly popular.
16:04 UTC+8, 2023-09-15
0
With two weeks before the Mid-Autumn Festival, mooncakes stuffed with pork by time-honored brands in the city have proved highly popular.
This year's Mid-Autumn Festival falls on September 29, a time to get celebrated with family reunions and appreciation of the full moon and mooncakes.
At the 97-year-old Sunya Cantonese Restaurant at Nanjing Road Pedestrian Mall, xianrou yuebing, or mooncake with pork filling, has attracted long queues these days.
The classic savory seasonal delicacy features a rich ground pork filling and a crispy and flaky outer pastry.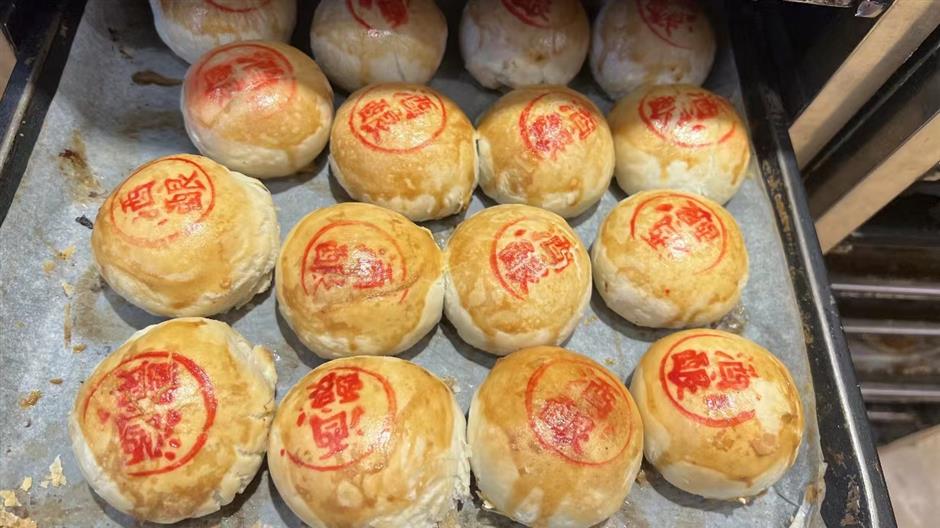 Ti Gong
"When I sink my teeth into the mooncake, the combination of its crispy skin and juicy minced meat offers a real delight to the taste buds," said a Shanghai customer Liang Jing. "It must be eaten hot."
The secret lies in being handmade, said executive chef Huang Renkang of Sunya.
"The crispy pastry is the result of an accurate ratio of dough, lard and water, as well as the repeated kneading of veteran chefs," he added. "The ingredients are strictly selected giving consideration to the proper balance between fat and lean, and the strength of kneading will decide whether the pork is tender and juicy."
Ti Gong
The fragrance of the mooncakes lingers in the air when they are taken hot from the stove.
For the first time, the restaurant is serving a renewed version this year of mooncakes with wuren, a five-nut filling.
Weighing 750 grams, the mooncake is stuffed with ham and barbecued pork. Chefs at the restaurant spent two years developing the recipe based on a manuscript by mooncake master Song Tailai.
New flavors such as spicy beef, xiefen, or crab powder and shelled fresh shrimp, and osmanthus and fermented glutinous rice are served by the eatery as well this year.
Ti Gong
It is estimated that the production and sales volume of this year's mooncake market in China will both grow about 5 percent from last year, according to a report by China Association of Bakery and Confectionery Industry.
The Taikang Food Store, another time-honored brand of the city, launched two new flavors of traditional pork-stuffed mooncakes – the crown jewel of Fujian cuisine, fotiaoqiang ("Buddha jumps over the wall" or "Buddha's temptation") and morels, to refresh the classic tastes.
Dexingguan Restaurant blended fermented bean curd into its mooncakes.
"The mooncake recipe is the original one, while a certain proportion of bean curd is added into the pork, making the seasonal delicacy bear a unique fragrance and taste more juicy," said Zhang Jian, an intangible cultural heritage inheritor of the restaurant.
Source: SHINE Editor: Wang Yanlin Special Reports