Smaller, low-calorie mooncakes popular as Chinese avoid extravagance, overweight
21:16 UTC+8, 2017-10-04
0
To find balance between treating yourself and maintaining good health, many brands have started selling smaller mooncakes this year.
21:16 UTC+8, 2017-10-04
0
Mid-Autumn Festival falls on Wednesday this year. For Chinese, the day may not be complete without eating a mooncake with family while gazing at the full moon.
However, mooncakes are high in sugar and fat, not ideal for anyone wanting to loose weight. One mooncake can have over 450 calories - the equivalent of about three bowls of rice.
To find balance between treating yourself and maintaining good health, many brands have started selling smaller mooncakes this year.
Traditionally, a mooncake weighs about 120 to 150 grams, but in the online store of Daoxiangcun, a traditional Beijing-based brand, the biggest mooncake on sale is just 110 grams. Most of its mooncakes are below 85 grams and cost about seven to 10 yuan each (about 1 to 1.5 U.S. dollars).
"We can try more flavors if the cakes are smaller," said a Beijing customer.
Imaginechina
Thinner outside
Not only is the size of the mooncakes decreasing, but the packaging is also "shrinking."

About a decade ago, mooncakes were seen as luxury items. Their packaging was like that of high-end jewelry, some even had jade embedded on the boxes. Many were sold together with expensive liquors.
Expensive gift boxes of the small round pastries with, in most cases, sweet filling, became associated with corruption, subtle bribery and extravagance as companies and individuals exchanged them with customers and business partners to build relationships.
In 2005 and 2008 respectively, the central government issued two documents, prohibiting overpackaging of mooncakes. The documents demanded the packaging of the cakes be no more than three layers, and should make up less than 12 percent of the total price.
Five years after the Chinese government established a frugality code rejecting extravagance and excessive formalities among Communist Party members and government workers, lavish mooncake gift sets began to disappear from the market. Mooncakes started to return to their origin as an affordable dessert for family gatherings.
Statistics from Suning.com, an e-commerce platform, showed that the sales volume of mooncake gift sets priced from 200 to 300 yuan (30 to 45 U.S. dollars) declined by 17 percent this year, while that for cheaper mooncakes surged by 25 percent.
JD.com, another leading e-commerce company, said that its sales volume of luxury mooncake sets is down 75 percent from last year, while that of regular boxes rose by 21 percent.
At Guangzhou Friendship Store, a salesperson said that many customers prefer to buy mooncakes in bulk, which costs much less than purchasing gift sets.
Wang Fen from Qiaojiashan Bakery, the largest mooncake producer in Jiangxi Province, said that upscale mooncake gift sets priced over 300 yuan contributed less than one percent of their total sales this year.
"As mooncakes are no longer public expenses, there is no market for luxury mooncake gift sets," said Xu Hang from Tianjin-based Nankai University.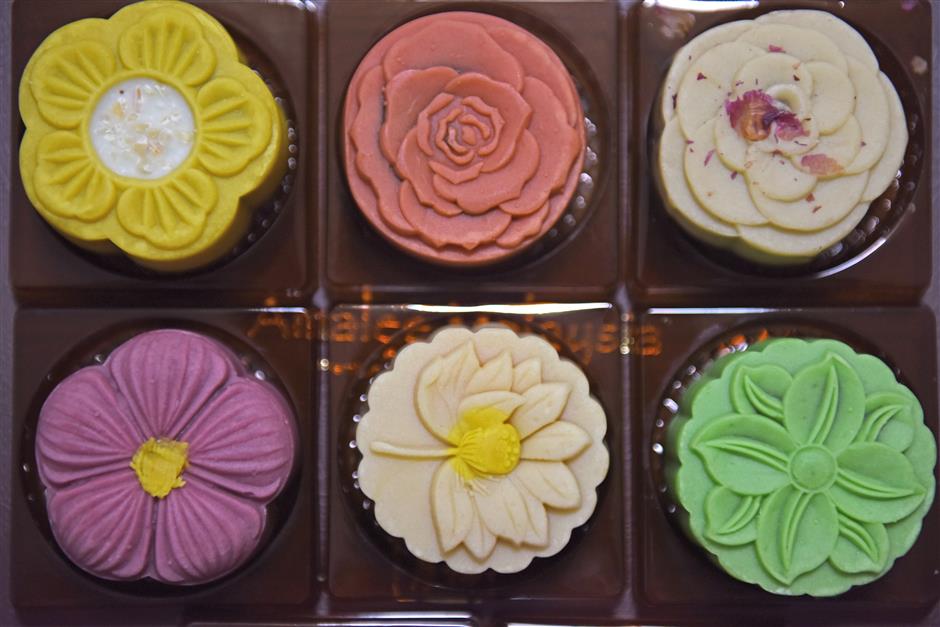 Imaginechina
Richer inside
Less packaging has not stopped mooncakes filling from becoming richer and diversified. Creative, sometimes unconventional, flavors have appeared in recent years to woo curious young customers.

This year, some brands are selling mooncakes that contain crawfish, pickled Chinese cabbage with bullfrog, or beef with Chinese chili pepper.
Quanjude Fangshan Food Company, a subsidiary of the famous peking duck company China Quanjude Group, put 35 different mooncake sets on the market this year, with duck-meat mooncakes costing 86 yuan per box, according to marketing supervisor Tian Wenhua.
Even home-made mooncakes from a hospital canteen in southwest China's Guizhou Province have attracted huge crowds -- delivery services are waiting at the canteen door to collect freshly-baked mooncakes for passionate food-lovers.
Apart from traditional brands such as Beijing's Daoxiangcun, Xinghualou in Shanghai, and Zhiweiguan in Hangzhou, a Hong Kong brand, Meixin, has won the hearts of young Chinese with its signature salted egg custard mooncakes. Foreign companies, including Oreo, Starbucks and Haagen-Dazs, have also joined the market with their unique mooncake flavors.
Industry insiders said the domestic mooncake market has been in doldrums during the past two years. Major mooncake makers must change their product strategy to supply more high quality and affordable mooncakes in order to sustain their business.
Healthier mooncakes are also gaining popularity. Those that use xylitol instead of sugar are enjoyed by people with diabetes, and many bakeries have started accepting orders to tailor-make mooncakes for customers.
A graduate of Shanghai Jiao Tong University, ordered a box of mooncakes with the school emblem pressed into the mold. Mr. Liu in Hefei, capital of east China's Anhui Province, ordered buckwheat mooncakes for his father who suffers from hyperglycemia.
"Our life is getting richer and more colorful, just like the diverse flavors of the mooncakes," said Liu.
Source: Xinhua Editor: Shen Ke Special Reports