All aboard! Cruise line industry returning to Shanghai
20:37 UTC+8, 2023-05-31
0
Amid the rising demand on tours in China, the cruise industry has confirmed its confidence in the Chinese market with cruises scheduled.
20:37 UTC+8, 2023-05-31
0
Amid the rising demand on tours in China, the cruise industry has been the last to resume services due to a number of factors. However, major moves from cruise line heavyweights have presented their confidence in the Chinese market, shedding light on the rebound of the industry.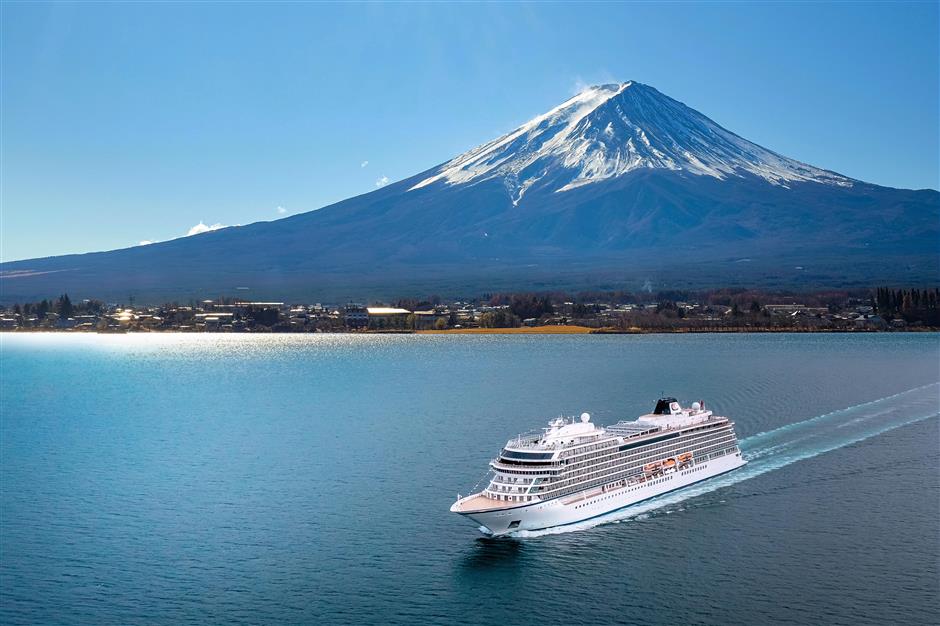 Ti Gong
Preparation in full swing for the rebound of cruise tourism
Luxury cruise liner CM-Yidun of China Merchants Viking Cruises will set sail from the Shanghai Port International Cruise Terminal on June 18 for a 15-day round-trip cruise to Japan, marking the resumption of international cruise operations in China.

Ticket sales started in late April, and nearly 70 percent of cabins on the inaugural sailing had been reserved within half a month, according to the cruise company.
Bookings are still on a steady rise, reflecting the robust demand of Chinese tourists for high-end outbound tourism, it said.
The outbound cruise route will include several popular tourist destinations in Japan, including Osaka, Nagasaki, Nagoya, Kagoshima and Hiroshima.
"Preparation is well underway, involving adjustment of the health and safety program, on-shore excursion development, cruise experience design, and port berth coordination," Tan Wee-Hoon, senior vice-president of product development and marketing of Viking Cruises Asian Markets, told Shanghai Daily.
"Amid the growing consumption power of Chinese outbound travelers, an increasing number of tourists are looking for in-depth tour experience, and there is growing demand on the flexibility and comfort of trips," she said.
The judgement is made on the basis that Shanghai is Asia's largest cruise home port and the world's fourth-largest.
Between 2008 and 2020, Shanghai received around 3,000 cruise liners, resulting in 15 million trips from domestic and international tourists, according to the Shanghai Administration of Culture and Tourism.
In late March, the China Ministry of Transport approved the restart of international cruise operations in Shanghai and Shenzhen on a trial basis.
Ti Gong
"We firmly believe in the long-term upward trend of the cruise industry as the impact of the COVID pandemic is periodical," she said. "Statistics have shown that China's cruise market will very likely surpass that of the United States, becoming No.1 by 2035.
"It is also believed small and medium-sized cruise liners highlighting in-depth and slow-paced culture tours have huge market potential," she added.
The cruise operator said it might explore other popular destinations in Southeast Asia in its design of routes based on the market demands of Chinese tourists.
Viking Cruises launched outbound river cruise tours for Chinese travelers from January, which have shown a strong rebound.
The Viking Eistla and Viking Bestla river cruise ships will welcome Chinese passengers from June.
Zu Weihong, 67, booked the "11-day Charm of the Rhine Itinerary" with departure scheduled in June.
"I booked the tour to celebrate my husband's birthday, and I can not wait to start the journey as I have not traveled abroad for three years," Zu said. "We are eager for the voyage.
"It is not that smooth to travel overseas at the current stage, but we are relaxed and have already been considering the choice of clothing for photos," she added.
There is a strong demand on outbound tourism products among Chinese travelers, and a Chinese guest booked 28 tickets for the European river cruise journey recently, said Viking Cruises.
However, given consideration to factors such as visa issuance and the resumption of international flights, the decision-making period is longer compared with before the pandemic.
"The bookings of Viking Cruises in the European and American market have mostly rebounded to pre-COVID level," Tan said. "The China market was one of the fastest growing cruise markets in the world before the pandemic. We believe it will rebound to pre-COVID levels soon."
Ti Gong
Return of luxury cruise liners
Spectrum of the Seas, a Quantum Ultra Class flagship of Royal Caribbean International, will return to Shanghai in April 2024, the international cruise giant announced recently.

During the May Day holiday next year, Spectrum of the Seas will embark on cruise vacations ranging from four to seven nights, departing from Shanghai, which also serves as the ship's home port. The destinations will cover popular tourist destinations in northeast Asia including Tokyo, Yokohama, Osaka, Fukuoka and Nagasaki.
Royal Caribbean will open route inquiries and bookings from July.
Spectrum made its inaugural voyage from Shanghai in 2019 and has successfully completed 48 sailings, carrying more than 230,000 guests.
"In the 10 years before the pandemic, we collaborated closely with major international cruise companies to transform Shanghai into the largest cruise home port in Asia and the fourth-largest in the world," said Gu Huiquan, general manager of the Shanghai Wusongkou International Cruise Terminal.
"The return of international cruises not only contributes to revitalizing China's position in the Asian and global cruise industry but also serves as a symbol of Shanghai's commitment to advancing high-level opening up."
"Since the ship left Shanghai in January 2020 due to the pandemic, the 1,600 crew members from over 70 countries onboard have been eagerly awaiting the day of returning to China and serving Chinese and international tourists," said captain Wu Huimin.
"Since January this year, our official website, social media platforms, and call centers have received a tremendous amount of inquiries from consumers, asking when Spectrum of the Seas will resume itineraries departing from China," said Liu Zinan, senior vice-president at Royal Caribbean Group.
Ti Gong
Meanwhile, China's first domestically built cruise ship, "Adora Magic City," is expected to hit the waters by the end of 2023 to create another landmark of China's cruise industry.
The 135,500-ton ship has a capacity of 5,246 passengers and a length of 323.6 meters.
Its sailing routes will include ports in Japan and Southeast Asian countries, as well as along the Maritime Silk Road, providing tourists with a variety of possibilities.
The ship's name corresponds to Shanghai's nickname "modu", or the "magic city."
"We have great expectations as the public is keen on high-quality cruise tourism, and now we have a domestically built ship," said Fang Shizhong, director general of the Shanghai Administration of Culture and Tourism.
"We expect it to become a 'living parlor of haipai culture' floating at sea," Fang said.
The ship is scheduled to take visitors on an inventive cultural adventure journey at sea.
The interior décor and rigorous testing of the ship, which is being built at the Shanghai Waigaoqiao Shipyard, are nearing completion. It will sail from Shanghai as its home port after it is delivered by the end of this year.
The ship will have the largest shopping center at sea under a strategic alliance with duty-free behemoth the China Duty Free Group, and it will be the first cruise ship to be covered by a 5G network.
In addition, the ship will have the first live comedy theater at sea in conjunction with Mahua FunAge, a prominent Chinese comedy film and stage play production firm.
A brand-new song and dance spectacle offered by Selection International Entertainment, "Marco Polo: An Enchanted Love Tale," is expected to enrich the experience of guests.
Ti Gong
Challenges remain
Challenges remain at present, however, cruise operators said.

"The confidence of Chinese tourists on cruise tours is not fully recovered yet, requiring cruise operators to take active measures such as enhanced health management and more flexible and considerate service and products to restore the confidence of consumers," Tan said.
The full recovery of the tourism service of international cruise operators also requires relevant policy support, such as route operation support, inbound and outbound tourism policies for tour groups and the full resumption of tourism visas, she said.
Moreover, the return of talent in the cruise industry still requires time, putting pressure on labor resources.
Ti Gong
Source: SHINE Editor: Wang Yanlin Special Reports