Hats doffed to this delightful exhibition
09:00 UTC+8, 2020-04-16
0
Australian entrepreneur Barbara Park's collection of hats on display at the China National Silk Museum in Hangzhou charts the history and inventiveness of Asian hatmakers. 
09:00 UTC+8, 2020-04-16
0
Four years ago, the China National Silk Museum in Hangzhou received a donation of 128 hats from Barbara Park, an Australian entrepreneur who has lived in Hong Kong for over 50 years and has been collecting hats in Asia for more than 30 years.
The museum is displaying 66 hats from his collection through May 5.
China National Silk Museum / Ti Gong
Natural materials are used to make clothes and hats, and in tropical areas, the rainforest provides an abundance of ideal materials.
In the Philippines, the fiber from pineapple leaves, which is called pina, has a silk-like texture and is often embroidered with auspicious patterns.
Palm and vine leaves and grasses are common materials for the Southeast Asian-style hats.
China National Silk Museum / Ti Gong
The coconut palm is known as the "tree of life" in these regions, and apart from juice and flesh, it provides coir and leaves used for rope and hats.
The way coconut leaves grow makes them ideal for interlacing. One coconut leaf-plaited hat on show is from Park's visit to the Philippines in 1978. The hat was given as a gift along with a reminder to shade herself from the burning sunshine.
Buri palm is another common tree variety used for thatching and weaving. The strong ribs of the leaves are turned into brooms and brushes; seeds are polished into accessories; the fine and soft stalks of the leaves are plaited into the famous buntal hats which are considered as Asian version of Panama hats.
China National Silk Museum / Ti Gong
Softened buri palm fibers are woven into a form resembling the fedora, characterized by durable, yet light properties and with a silkier texture than Panama hats. They are popular with tourists.
In their domestic market, buri palm leaves are traditionally woven into wide-brimmed farmers' hats. They can also be interlaced into women's wide-brimmed sun hats known as baliwag hats.
China National Silk Museum / Ti Gong
The hot and stuffy tropical climate makes hats different from other Asian areas. People give priority to breathability rather than other properties.
The flattop ngob hat, a traditional hat worn by vendors in the floating markets in Bangkok, is the epitome of breathable hats in Southeast Asia.
More complex in design than other conical hats, the ngob hat has palm leaves woven on a bamboo-strip frame. The frame includes an inner band, which fits around the wearer's head, and the high flattop allows air to circulate between the hat and the head, a design to keep the head cool.
Other common materials in Asia's hat-making history are bamboo and rice straw. They are omnipresent in China and found favor with Chinese people by virtue of their availability and light weight.
Rice is a staple for most Asian people. Every year after harvest, tons of dry stalks are left in the fields after the grain and chaff have been removed. Usually, Chinese farmers use the straw as fuel, livestock bedding and fodder, or for thatching.
In order to make the hats look good, every straw is carefully selected. The speckled and ruptured ones are discarded, and the flawless ones are kept. The stalks are trimmed and stained using different colors.
Craftspeople first flatten the tube-shaped stalks, then weave the hats by hand. Weaving methods for making wheat-straw hats are diverse. In China, these hats are often worn by farmers in the fields.
China National Silk Museum / Ti Gong
Bhutan is another country with a long history of weaving bamboo strips.
A Bhutan hat on display presents the style of Himalayan areas. A pointed spike adorns the small conical bamboo hat, and colorful beadwork consisting of about 30 or more strands decorates the rim.
Bhutan boasts many different bamboo varieties. They are used in daily life as building material and to make baskets and sporting goods including bows and arrows. Women weave bamboo strips into hats, which have developed into a part of their traditional costumes.
In Asia, hats are not merely used as shade from the sun, but are also endowed with social meanings.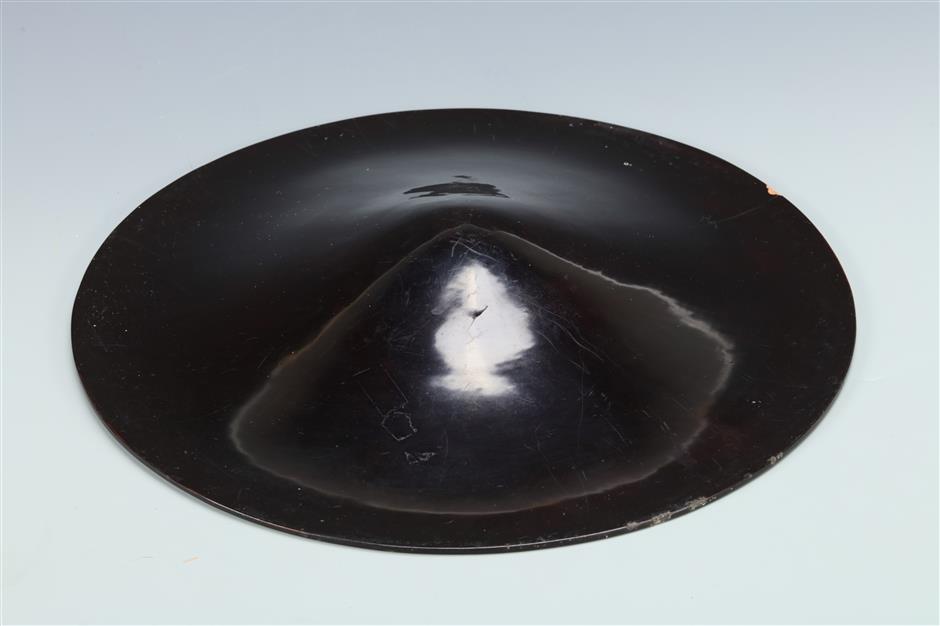 China National Silk Museum / Ti Gong
In ancient Japan, people were inspired by Chinese culture to create lacquered wooden hats with a shining finish and waterproof properties. The Japanese called them jingasa, and they were often worn by the samurai (the hereditary military nobility) class in feudal Japan, as well as their footsoldiers.
Among the Iban people of Malaysia, hats adorn with the feathers of pheasants and other birds are only for leaders in rituals.
China National Silk Museum
Date: Through May 5 (closed on Mondays)
Admission: Free (visitor numbers limited to 800 a day due to COVID-19)
Address: 73-1 Yuhuangshan Rd
玉皇山路73-1
Source: SHINE Editor: Su Yanxian Special Reports