Hot drama, music and theater for February
18:39 UTC+8, 2018-02-02
0
February may be the coldest month of the whole year but, fear not, Shanghai Daily has a red hot new guide to chase away those winter blues.
18:39 UTC+8, 2018-02-02
0
February may be the coldest month of the whole year but, fear not, Shanghai Daily has a red hot new guide to chase away those winter blues. A memorial display from a Spanish artist, a meaningful cultural exhibition of heritages, a music concert of classic film and several fascinating kids' shows await you. So don't sit around feeling glum, get out and feast on February with some chums.
Blissful Land: Into the Depth of Statues & Murals
★ Highlights: a number of World cultural heritages come to Shanghai
A cultural exhibition entitled "Blissful land: Into the Depth of Statues & Murals" has been launched at Shanghai Himalayas Museum and runs through May 28.
In coorperation with the Qiuci Institute of Xinjiang Uygur Autonomous Region, Art Institute of Maijishan Cave — Temple Complex, together with Shanghai International Culture Association, this exhibition will present a large number of world cultural heritages for local enthusiasts. Highlights include murals of Qiuci, Xinjiang, and murals and statues of the Maijishan cave, one of the four largest grottoes in china. they are all displayed for the first time.
Date: Through May 28
Venue: Shanghai Himalayas Museum
Address: 869 Yinghua Rd
Admission: 50 yuan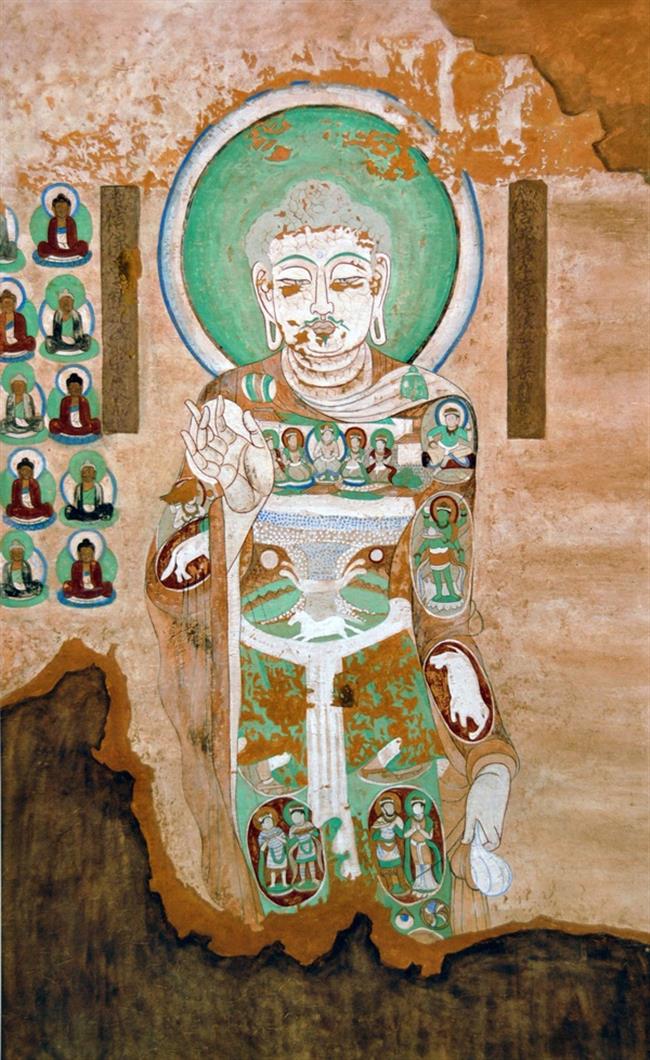 Joan Brossa in Shanghai
★ Highlights: a memorial exhibition of Spanish artist Joan Brossa
Joan Brossa, a renowned Spanish poet, graphic designer and visual artist, exhibits a series of his visual work at the Instituto Cervantes, offering a wonderful art experience for Chinese fans.
This exhibition features not only individual works of Brossa, but also joint works of Spanish artists Antoni Tapies and Joan Miro. Both of them are avant-garde artists in Spain.
Through these creative and abstract artworks, audiences will have a chance to challenge their abstract cognitive ability and also get closer to the art maestro.
Date: Through March 24
Venue: Instituto Cervantes
Address: 208 Anfu Rd
Admission: Free
New Year event for kids — PAW Patrol adventure
★ Highlights: a wonderful adventure with PAW Patrol
This February, kids and parents can celebrate the Chinese New Year with "PAW Patrol" at the Place. It is a Canadian CGI-animated television series telling a story of a boy who leads a pack of search and rescue dogs known as the PAW Patrol. u
Led by 10-year-old Ryder, people can work together on missions to protect the Shoreside Community of Adventure Bay with six plucky pups. Each pup is inspired by a real-world job like firefighter, police officer and construction worker.
A large "rescuing site" in the movie has been created in life-size models at the central area of the mall. The huge sea ball pool, with swings and slides, mini beach, VR flight games and fire stations offer lots of fun for kids. When a mission completes, go and get your awards with limited edition books and toys from the movie. It is a fun way to learn bravery and heroism, with exciting games that never get too scary.
There are also a number of painting and papercutting classes and interactive activities, making it an opportune moment to spend for a family.
Date: Through April 15
Venue: The Place
Address: 100 Zunyi Rd
Admission: Free
Immersive theater performance 'Sleep No More'
★ Highlights: famed immersive theater performance "Sleep No More" is coming back.
Adapted from Shakespeare's magnum opus "Macbeth," famed immersive theater performance "Sleep no More" is back in town with this year's tour at the McKinnon Hotel Shanghai.
A tragic story is told about desire, jealousy and truth, at a newly opened luxury hotel called "McKinnon Hotel" in New York in 1939.
With a series of strange incidents, McKinnon Hotel became an imprecatory place where no one dares to go. This is where the actual story begins.
The production will be staged in various styles with mysterious scenes and music.
Audiences will be required to put white masks on their faces and go on their own journey in an unsearchable maze.
You can feel, touch and experience the story by yourself. This adds to the charm of the performance instead of just sitting watching the show.
Date: Through March 31
Venue: The McKinnon Hotel Shanghai
Address: 1013 Beijing Rd W.
Ticket: 653-1,050 yuan
Classic film concert
★ Highlights: reminding you about memories of classic films with music
Chinese pianist Tan Xiaotang, violinist Liu Xiao and cellist Zhu Mu will present a wonderful concert of classic movies for local fans at Shanghai Concert Hall this month.
The concert takes the local audience back in time, on a nostalgic trip through the classic films of the time and play a beautiful selection of songs, including the music from "the legend of 1900," a famous Italian film directed by Giuseppe Tornatore, the classic gangster film "the Godfather," suspense film "Hannibal" and Oscar winning movie "Schindler's list."
Three music masters — combing piano, violin and cello — will bring you back into the old times of film.
Date: February 17
Venue: Shanghai Concert Hall
Address: 523 Yan'an Rd E.
Ticket: 80-718 yuan
Julie Byrne – The 2018 Asian Tour
★ Highlights: the American singer-songwriter promises to warm Shanghai hearts.
American singer Julie Byrne will hit the Yuyingtang Livehouse stage, with her new music album "not Even Happiness" on February 7.
With an exquisite voice and excellent music talent, Byrne has won wide acclaim from music critics and fans alike since her first music album "rooms With Walls and Windows" was released in 2014.
This time, the American songstress will present a medley of songs from her latest album for Chinese music fans. The 28-year-old singer-songwriter reveals her inner feelings and experience from traveling and covers world-wide important issues such as the environment, which takes her audience on musical journey of discovery.
Date: February 7
Venue: Yuyingtang Livehouse
Address: 851 Kaixuan Rd
Ticket: 100 yuan
Children's Symphonic musical 'Wolfgang Drops in For a Visit'
★ Highlights: Israel musical "Wolfgang Drops in For a Visit" will hit Shanghai.
Children's Symphonic musical "Wolfgang Drops in For a Visit" will hit Shanghai at Huangpu theater on February 7.
Inspired by a classic dramatic concert from Israel, the original version is conducted by Israeli maestro Roni Porat with the Israel Philharmonic Orchestra. Over the past 20 years, the musical has become well-known among the parents, schools and kids.
This year, the Chinese version aims to present the classical music of Mozart so children can learn and experience the sound of arguably the world's greatest composer. In this concert, a number of Mozart's masterpieces will be played including the "Marriage of Figaro," "Serenade no. 13 for Strings in G major, K. 525" and "Piano concerto no. 9, K. 271."
Date: February 7, 3pm, 7pm
Venue: Huangpu Theater
Address: 780 Beijing Rd E.
Ticket: 80-380 yuan
Swedish artist celebrates Chinese New Year at IFC mall
★ Highlights: a bunch of golden dog sculptures, created by Swedish artist Agnetha Sjogren, make a guest appearance in the city.
This Chinese New Year, IFC mall is celebrating the holiday with a bunch of golden dog sculptures, created by Swedish artist Agnetha Sjogren, who is inviting the local residents to be part of her delightful show.
The exhibition is split into four main attractions, the lucky dog garden, plum blossom garden, peach flower gallery, the interactive game and photo painting area.
At the entrance gate of the mall, you will be welcomed by a 2-meter tall double arch with plum blossom, predicting the happiness and luck for the coming new Year.
When walking to the LG2 floor, you can take photos in front of a 3-meter traditional Chinese treasure bowl representing the prosperity, affluence and good luck. the interactive games will offer you and your family lots of fun and you will get a chance to take the printed photos home.
Date: Through March 2
Venue: IFC mall
Address: 8 Century Ave
Admission: Free
Source: SHINE Editor: Wang Haoling Special Reports