Vintage HK sanctuary full of character, history and stories
14:51 UTC+8, 2020-06-10
0
Frenchman Arnault Castel's story with Hong Kong started 24 years ago, from the moment he saw a Wong Kar-Wai movie – "Chungking Express."
14:51 UTC+8, 2020-06-10
0
Frenchman Arnault Castel's story with Hong Kong started 24 years ago, from the moment he saw a Wong Kar-Wai movie — "Chungking Express."
Inspired by the 1994 movie, he left the Ferrals-les-Corbieres region in the south of France two years later and embarked on an exciting journey to the Asian city. After several different jobs he decided to open a lifestyle store "Kapok" in 2006 with a goal to discover and bring "future classics" to Asia. It has grown from the first lifestyle select store in Hong Kong into a renowned brand thanks to its authentic yet approachable take on fashion and design.
"As a kid my dream was to run a candy store, then a bookstore when I grew up — so it's quite fitting that I end up creating my own shop," the 46-year-old said.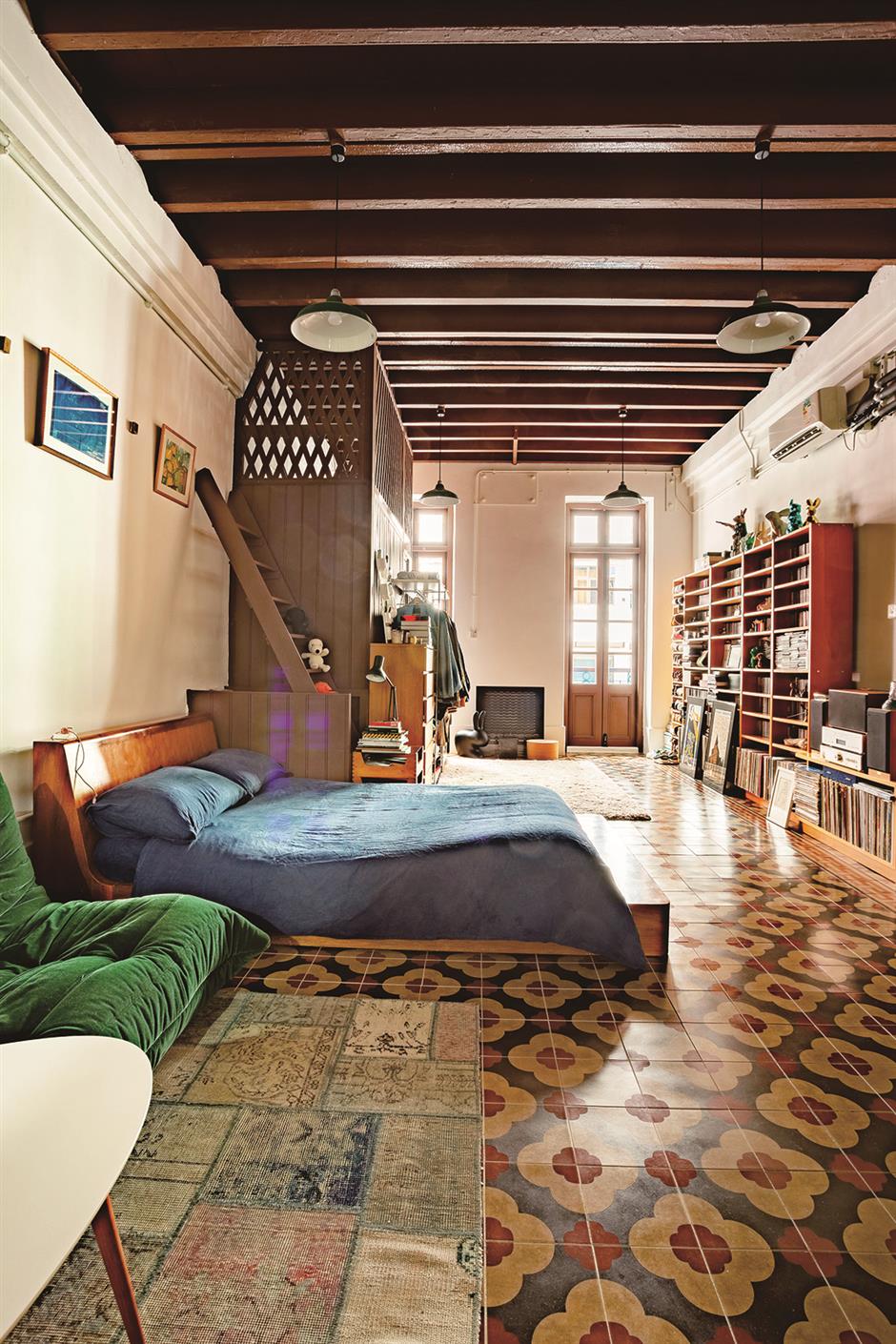 Courtesy of Daniel Murray / Ti Gong
Castel has a well-trained eye for exploring newness, a passion for discovery and above all, a taste for the unpretentious. These aesthetics apply to his home.
"I'm not a huge fan of looking for flats. It can be a very frustrating experience. Luckily, it's my best friend's favorite hobby. He loves moving and upgrading, and when he doesn't need to look for a place for himself, he looks for me," he said.
Castel's criteria is older buildings that have a good layout and more character.
"It shouldn't be too far from my store as I like to walk to work. Also, the neighborhood should be very lively with a lot of small local stores," he said.
The current flat was love at first sight.
"It has so much character and history and feels full of stories. The large open balcony is perfect for my first cup of coffee every morning. And the beautiful historical details are irresistible from the vintage tiles and the super high ceiling with wooden beams," Castel said. "I was always talking about this neighborhood as my perfect neighborhood, around St James' Settlement in Wanchai. It has some nice places but it isn't fully gentrified. It's got a soul and feels like a real community. I hope it stays that way."

Courtesy of Danile Murray / Ti Gong
The historic building was painted blue because the government owned it for a while in the 1970s and they spruced up the building with leftover blue paint from the Water Supplies Department. It was renovated three years ago with a newly added footbridge at the back where all the flats connect.
A scaffolding-like system of outdoor staircases was built to link each flat to a lift, without disrupting the historic architecture.
"It's the first time since I moved to Hong Kong that I really know my neighbors. Because it's a historical building, I cannot make any structural changes, neither drill any holes. So I focused on furniture, lighting and carpets, to make my home feel much warmer," Castel said.
The 56-square-meter flat is a perfect size for Castel and his cat Solange. He loves to live in a loft-style place, with only one room. It gives him a sense of space and freedom. The Frenchman wanted to create a lazy mood — a great bed in the middle for maximum comfort and a beautiful carpet.
"The house is an invitation to spend your days horizontally," he said. "To match the blue exterior walls, I have a lot of colors inside. It gives me such energy every day."

Courtesy of Daniel Murray / Ti Gong
With a big collection of records, CDs and other objects, Castel likes the accumulation so it feels personal. But it also has to be tidy and organized so he never feels overwhelmed. He added vintage lights to brighten the space and match the vintage mood of the building.
"This is why I focused on finding vintage furniture from the 1950s to the 1970s," he said. "I always feel furniture is very emotional. We live with them for such a long time that is always worth investing."
The bed, where he spends most of the time at home, is a unique piece designed by his friend Jackie Fung, close to 20 years ago.
"It is very comfortable and I can do pretty much anything from my bed: take a nap, read or listen to music and even work. The only thing that is forbidden is eating," he said. "The sofa was designed in 1973 so we are the same age. My parents' friends had this design, the Ligne Roset Togo, and I was completely in love with this sofa as a kid. I found one in good condition on a vintage online webshop."

Courtesy of Daniel Murray / Ti Gong
Castel is also fond of utilitarian design so he found the table and chairs from industrial French brand Tolix and painted the chairs a blue-grey shade. Now he has his eyes on some Vitra chairs and shelves to make the home even more livable. Since Castel opened Kapok 14 years ago, he has regularly organized exhibitions for local and international designers, artists or photographers.
"We are often surrounded by great artworks at the store. Sometimes I fall in love with art pieces and I cannot bear to say goodbye at the end of an exhibition. So I have regularly purchased my favorites and kept them at home. It's a great reminder of artists I met, sometimes became my friends and also the history of Kapok," he said.
A home for him is feeling the personality and taste of the person that lives here.
"It could be super minimal or maximal and messy, but most importantly it should match the mood of the people living there. I don't really understand why people would outsource the decoration of their home. For me, it's so personal and fun," he said.
Courtesy of Daniel Murray / Ti Gong
Ask The Owner
Q: What's the best thing about living in Hong Kong?
A: There's so much to love about the city. It's compact with a sense of surprise and it's such a dense city that is so close to nature. The people of Hong Kong make it a great city and there's a real sense of solidarity and care for each other that feels good in these modern times.
Q: Describe your home in three words.
A: Full of memories, lazy and colorful.
Q: What's the first thing you do when you get home?
A: Two things at the same time. Switch my music on (I cannot live without music) and play with my cat Solange.
Q: How do you unwind?
A: I love my job at Kapok but my days can be consuming so it's super important to unwind to keep me energetic, sane and creative. The most effective ways would be to cook a simple meal, play a game of tennis or watch a good movie.
Q: Where do you spend most of time at home?
A: It's for sure, on my bed.
Q: What's the view outside your window?
A: I have views on my district, Wanchai. It's not a very open view but I like the vibe here. The mix of restaurants, houses and shops still remain old-school and open to the outside. And one of the best features of my flat is its beautiful balcony and I'm adding a new plant every other week here.
Q: What's your favorite object in your home?
A: It's my collection of bunnies. I started collecting when I found a nice metallic one in a Paul Smith store in Tokyo. And the collection has never stopped growing. My friends now know my love of bunnies and I have received quite a few as gifts. My cat is co-existing very happily with the bunnies and she never kicked any of them from the shelves.
Source: SHINE Editor: Fu Rong Special Reports