Enjoy some A-rated culture and scenery
17:06 UTC+8, 2017-12-06
0
Hangzhou Tourism Commission has a new list of attractions and Shanghai Daily looks at some of the best.
17:06 UTC+8, 2017-12-06
0
Hangzhou, a popular getaway from the hustle and bustle of Shanghai, recently updated its list of tourist attractions with one four-A and nine three-A destinations.
The number of As awarded to an attraction indicates the level of fame, infrastructure and other positives.
Five As are the tourist destination equivalent of a five-star hotel.
Shanghai Daily takes a look at the Hangzhou Tourism Commission's new list and recommends some of the best.
Some are selected because of their cultural value or craftsmanship, others because of their modern development and role in the new economy.
Qinchuan Village 芹川村
The village is about an hour from Qiandao Lake. The road linking the village and the lake is the charming Qianfen Road, which enchants a cavalcade of cyclists and runners every year.

The local government has built traditional-style houses where riders can rest and replenish their energy. And dozens of cheery farmhouses offer authentic cuisine and freshly picked seasonal fruit along the road.
As a stream zigzags through the village, nearly every building has a natural fishing pond and waterside pavilions.
In summer, visitors can wade barefoot in the water or try their hand at catching fish.
Traditional gray-tiled, white-walled Hui-style buildings with upturned eaves, carved beams and painted rafters flank the stream. Almost two-thirds of them were built during the Ming (1368-1644) and Qing (1644-1911) dynasties.
Stone bridges cross the creek, and thriving willows and camphor trees grow along the banks. The oldest camphor tree is 800 years old. Natives call it "Mother camphor" and believe it protects the village.
Like many small, old hamlets in Zhejiang Province, young villagers work in big cities and only the elders stay on.
They live as they have, for years, chatted beneath the camphor trees, washed clothes in the creek and soaked up the sun on sunny days.
How to get there via car: Shanghai-Kunming Expressway — Hangzhou-Jinhua-Quzhou Expressway — Changchun-Shenzhen Expressway — Hangzhou-Xin'anjiang-Jingdezheng Expressway — get off at the Qiandao Lake Exit

E'shan 莪山
E'shan Town in Hangzhou's Tonglu County is home to thousands of She ethnic minority people. It is the only minority region in Hangzhou.

Five hundred years ago, the She moved from their homeland in Fujian Province and settled in the mountainous area of Zhejiang Province.
Since the late Qing Dynasty when E'shan was established, they have retained their distinctive culture and folklore.
The area also boasts some great mountain scenery, tasty local cuisine and interesting customs. During festivals and ritual ceremonies, women wear ornately embroidered clothes. Sometimes they coil their hair and tie it with red wool thread.
Most of their elaborate, colorful costumes are hand-made.
In addition to weaving clothes, the She are also expert at bamboo strip knitting — E'shan Town is nestled among rich bamboo forests.
Bamboo has also influenced their entertainment. People lay bamboo poles across each other and dance among them, or women dance with a bamboo stick while men do She kungfu with a bamboo stool.
Today, this unique town lures visitors in droves. Shanghai Daily recommends visiting on the third day of the third lunar month, a major ancestor-worship day for the She people.
In recent years, locals have built family-run guesthouses offering homey accommodation and authentic She food, including local poultry and colorful rice dyed with herbal juice.
The surrounding rolling mountains and lush vegetation make the town a great weekend getaway that offers fresh mountain air and a glimpse into folk life.
How to get there via car: Hangzhou-Xin'anjiang-Jingdezhen Expressway — get off at Tonglu Exit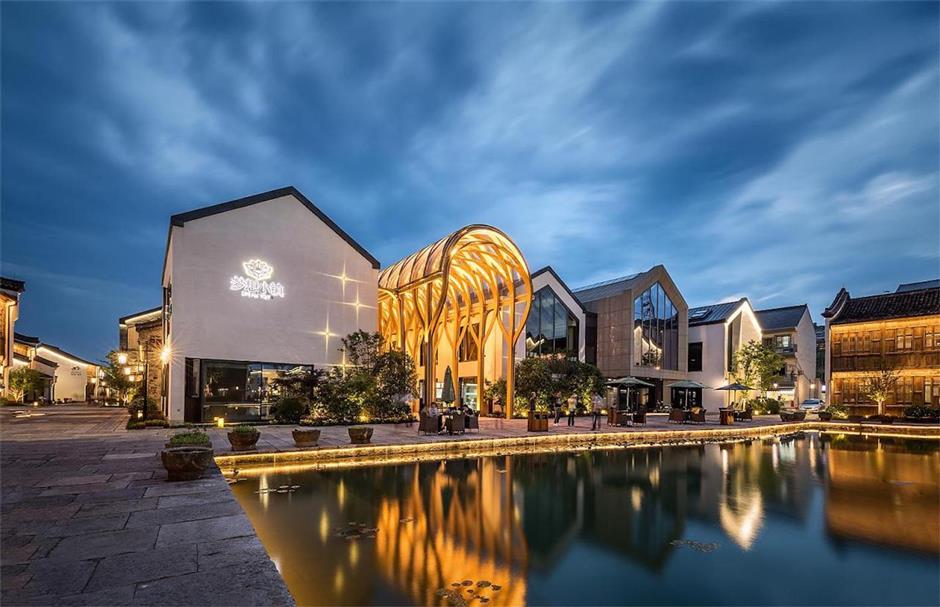 Dream Town 梦想小镇
At Dream Town in Yuhang District, there are 750 companies with 170 billion yuan (US$25.7 billion) of venture capital and 3 square kilometers of modern offices.

Founded two years ago, Dream Town is a business hub which also has more than 1,100 tech start-ups and 10,600 technology professionals and is known as "Hangzhou's Silicon Valley."
It was created for entrepreneurs and innovators brimming with ideas and businesses that want to be at the cutting edge of Internet technology.
Dream Town isn't only about ideas and work. It is a full-service community that includes apartments, gyms, karaoke bars, cafes, shops and a large canteen. It also hosts 14 "incubators" that were created to nurture start-ups.
To attract projects and teams, local authorities provide preferential policies including financial incentives and rent subsidies.
Every worker gets a 10-square-meter office rent-free for the first three years and companies get up to 150 square meters.
The town is alive with an air of achievement and potential, but it also embraces cultural heritage, such as the former residence of language expert and revolutionary Zhang Taiyan and old warehouses along the Grand Canal.
How to get there via car: Hushu Road — Moganshan Road — Yuhangtang Road — Huajiang Road — Wenyi Road W. — Liangmu Road

Source: SHINE Editor: Su Yanxian Special Reports