Been there, done that? Not at these quirky sites
13:03 UTC+8, 2020-03-31
0
Hebei Province, which surrounds Beijing on three sides, is not normally a hot spot on the tourist circuit. But a vlogger sees Hebei as a treasure trove, albeit an often quirky one.
13:03 UTC+8, 2020-03-31
0
Hebei Province, which surrounds Beijing on three sides, is not normally a hot spot on the tourist circuit. Its northern plains are considered, well, pretty dull.
True, there is Chengde Mountain Resort, the former summer refuge for the Qing Dynasty (1644-1911) royals escaping the heat. And yes, the province is home to the most popular sections of the Great Wall and was the excavation site of Peking Man. But beyond those distinctions, it's hard for most people to think of reasons to visit the province.
But an online vlogger called Shilifen, 27, sees Hebei as a treasure trove, albeit an often quirky one. For the past two years, he has uploaded more than 20 videos about the "scenic areas" in the province.
It all started with the south campus of the Hebei Academy of Fine Arts. At first glance, the campus in Zhengding resembles a grand, lakeside Gothic-style castle, or the Hogwarts School of Witchcraft and Wizardry in the "Harry Potter" series, he says.
But walking further inside the campus, Shilifen found even more.
"Behind the castle," he says, "there is a street in ancient Chinese style and on its back hill there is a typical Chinese-style pagoda."
Imaginechina
One of Shilifen's videos is entitled "A Trip to Hogwarts Hebei Campus." The comical narration he gave to the footage added a touch of parody to the video, which went viral overnight and turned him into one of China's most popular vloggers.
"Today I'm going to take you all to a high-end place," the video starts out, in Shilifen's narration.
Then, the exterior and interior of buildings start to spread before the audience. The interior of the buildings are in simplified Baroque style, with print versions of world-famous paintings hanging all over the place. A ceiling fresco is so brightly colored that it resembles a Sistine Chapel. And a huge pirate ship replica — replete with cannons and half-lidded treasure chests, sits in the center of the canteen.
Meanwhile, a "Tower Bridge" — much larger and more ornate than the real one in London — crosses a river, with many newly-weds taking wedding photos. And walking past the village brings the viewer to a Chinese-style street.
"Looking through the window, you can see the street and the castle altogether, with boats in the lake," Shilifen says. "The academy could absolutely sell 'theme park' tickets, though I'm not quite sure what the theme is."
The video has attracted more than 6.75 million clicks and Shilifen now has nearly 2.5 million followers on various online platforms.
"I receive quite a lot of feedback from teachers and students with the academy," he says. "They like the video. I remember one teacher who messaged me said that she worked in the tower of that 'Tower Bridge' and had always wanted a spoof of her workplace. She thanked me for doing it."
After that success, Shilifen became a full-time, sightseeing vlogger. The sites he shows in the videos are often jaw-dropping, such as an Eiffel Tower replica in Hangzhou and a copy of the Great Sphinx in Chongqing.
One video is about the Wencheng Castle in the middle of nowhere in Penglai, Shandong Province. The owner claims that he spent 30 million yuan (US$4.2 million) on the Baroque-style ceiling frescoes. But unlike the print version in Hebei, these frescoes were actually painted by artists from the Imperial Academy of Arts in Russia.
Imaginechina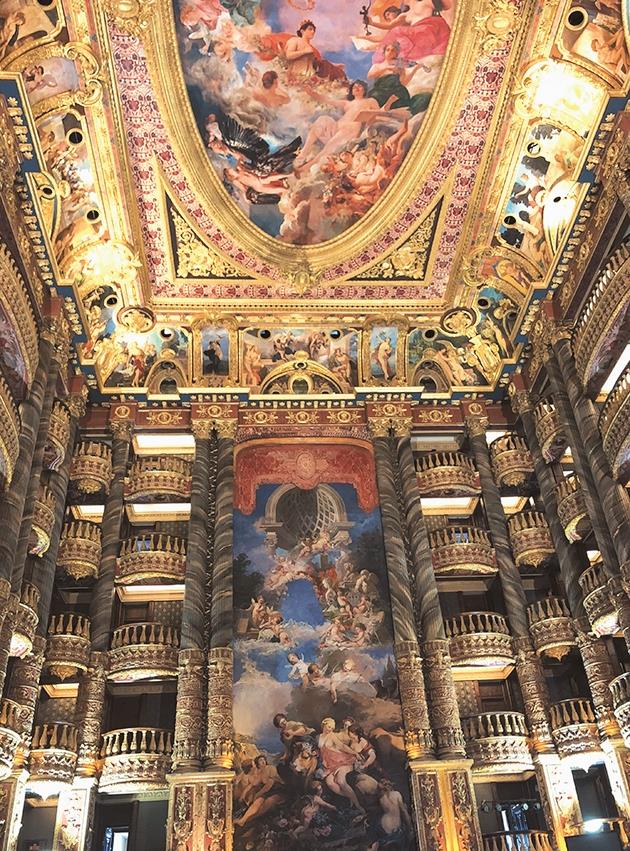 Imaginechina
However, the castle, which mainly functions as a hotel, has hardly any guests and is often used to hold local senior talent shows.
"I think if foreign visitors go to such places, they might have a different feeling from us when they see the icons of their own culture on a different land," Shilifen says. "These are the legacy of all those years when Chinese people were eager to connect with the outside world. And with the reemerging emphasis on traditional Chinese culture in recent years, such 'wonderous sites' might not be so frequently seen in the future."
However, no matter how many provinces and cities Shilifen visits around the country, there is no place providing such a wealth of material for him like Hebei does.
In Baoding, an aquarium in the shape of a giant turtle stands proudly at a lotus garden. In Xingtai, a spot called Wanhe Palace has statues of Mussolini and Buddha in one place to warn people not to do evil things. A shopping mall in the Hebei capital of Shijiazhuang resembles the Venetian resort in Las Vegas, only it serves popular Chinese cuisine like spicy hotpot and boiled chicken with sauce.
"There is this electric gondola running in a narrow waterway covered in mosaics," Shilifen says. "And when I asked the boatman about the ride, he looked at me in confusion, as if he never thought there would actually be anyone who wanted a ride."
Soon he realized why. When the gondola started, the stereo tied to one end of the boat began to play old pop songs so loudly that people on the banks turned to stare at it.
Imaginechina
Shilifen says that he didn't particularly single out Hebei. The province, in his words, was just "kind of there."
He goes through long preparation for each vlog. He says he found Hebei, Baoding and Shijiazhuang especially, had more things to talk about than everywhere else in China combined. He even once wore a cap with the slogan "Make Hebei Great Again" to promote his videos.
"It is not that I want to provoke regional discrimination or make fun of local culture," he says. "My wife is from Hebei, and I do think the province has its own charm."
Mainstream esthetics don't seem to affect Hebei a lot, he explains.
"If you go to the province, you will find that much of the northern plain has a lot of cities, but they are not completely urbanized," he says. "You'll see that people there love pickup trucks and are pretty self-sufficient. Figuratively speaking, Hebei is like what Texas is to the United States."
What impresses Shilifen most are not the sights but the people.
He remembers once visiting a sightseeing complex developed by Sun Dawu, a local Baoding entrepreneur, but forgot to book a taxi back. So he had to call a cab to pick him up from the complex, which includes several parks with grotesque sculptures and a zoo.
"I thought no one would come because the place is really far from downtown and there are hardly any visitors — not only that day, but ever," he says. "But soon a cabbie took the order and drove for two hours to pick me up."
He went on: "He told me that Sun is a candid and kind man, highly respected by the locals. So if people visit Sun's complex, a cabbie won't ever hesitate to make the long trip to pick them up."
Before becoming a vlogger, Shilifen, who majored in the Chinese language at university, worked in the media for a while. The new career he has chosen for himself allows him to see more of the country outside of just big cities like Shanghai, Beijing and Shenzhen.
"The sole fact of people using their hard earnings to create something according to their own taste is respectable," he says. "The esthetics might not be that important."
Imaginechina
Source: SHINE Editor: Zhang Liuhao Special Reports