City waves goodbye to its largest downtown flower market
02:01 UTC+8, 2017-08-14
0
The Caojiadu Flower Market, located on Wanhangdu Road opposite the Caojiadu Catholic Church, is scheduled to shut by the end of this year. Get a grab on closeout sale!
02:01 UTC+8, 2017-08-14
0
Covered wholesale markets selling meat, produce, fish and flowers are slowly disappearing from Shanghai as the old way of shopping succumbs to modern-day commercial trends.
The doomed markets just can't keep up with contemporary hygiene and fire safety standards, and with changing ideas about merchandise presentation in the era of online shopping.
The city's largest downtown fruit and seafood markets have already been closed, and the Caojiadu Flower Market, the largest of its kind downtown, is scheduled to shut by the end of this year.
Dong Jun / SHINE
Jiang Xiaowei / SHINE
Located on Wanhangdu Road opposite the Caojiadu Catholic Church of Saint Michael, the flower market is one of the largest and liveliest of its kind in the entire Yangtze River Delta. It opened in 2006.
Jiang Xiaowei / SHINE
Customers start filling the market at 10am Saturday morning, treating it like a bit of a stroll through a park. They touch the leaves of plants and inhale the scent of flower petals.
Jiang Xiaowei / SHINE
The wide variety of floral displays is eye-catching in the multistory market. Roses, orchids, hydrangea, carnations, sunflowers and other blooms are arranged in bouquets, sitting in buckets of water. There are also silk flowers, potted houseplants and items of garden decor.
Jiang Xiaowei / SHINE
In addition, the market also sells songbirds and parrots, pet fish and small turtles.
But despite so much to entice visitors, parts of the market look a bit tatty. Some stall areas inside are somewhat shabby, and public safety standards aren't always met. Nearby residents have complained of unhygienic conditions and the noise of early morning delivery trucks.
Putuo District government decided the market has to go. Although some sellers and customers have moaned about the decision, there is no indication that the market will be moved to a new location.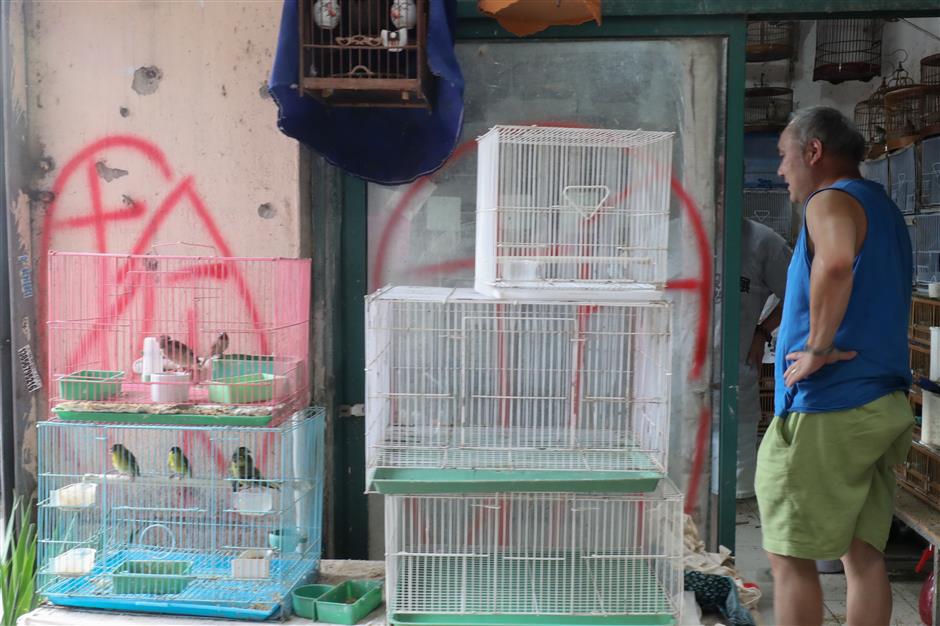 Dong Jun / SHINE
Yang Zaixing, 44, a flower trader who has been in the business for about 20 years, said it would be impossible to find such another ideal site for a large flower market in Shanghai.
"The large number of businesses here probably will have to relocate to smaller, more outlying markets," he said. "More markets mean more competition and less profit."
Some of his fellow traders speculate that new, improved locations will drive up prices.
Some vendors already are easing up on inventories ahead of this year's closure, but customers continue to come. It's much cheaper to shop here than in downtown florist shops.
Jiang Xiaowei / SHINE
Customers who love the market say it represents a disappearing lifestyle.
A Shanghai Daily reporter wandered through the market on Saturday to talk to sellers and buyers.
A man surnamed Zhang, who lives nearby, said he came in with his wife to buy a bouquet of roses for their son to give to his girlfriend when he proposes marriage. They said they have been coming here for years to buy flowers for various family occasions.
"Talking to a flower seller is a nice way to shop," Zhang said. "You don't get that kind of experience shopping online. And the market has a certain sense of nature about it."
An older man surnamed Chen, who keeps a dozen pet fish at home, came to the market to buy a small packet of fish food. It's harder and harder to find, he said.
"I don't know how to buy things on the Internet," he said, "and when I asked my son to help me with that, he bought a very large package of a fish food that wasn't what I wanted."
Jiang Xiaowei / SHINE
The flower market has long been a haven for shutterbugs. Two girls who said they just moved to Shanghai said they came to take photos after reading on a blog that the market is one of the eight nicest places downtown to take snapshots.
Many shops in the market have already started offering discounts. A final closeout sale will probably be held sometime before the end of November, when most leases for stallholders expire, one trader told Shanghai Daily.
Source: SHINE Editor: Chen Jie Special Reports