City's annual termite battle flares up again
16:13 UTC+8, 2020-06-01
0
Hot and humid weather allows the destructive pests to thrive, creating risks for Shanghai's many old wooden structures. Experts predict peak infestation to hit during plum rains.
16:13 UTC+8, 2020-06-01
0
Bai Kelin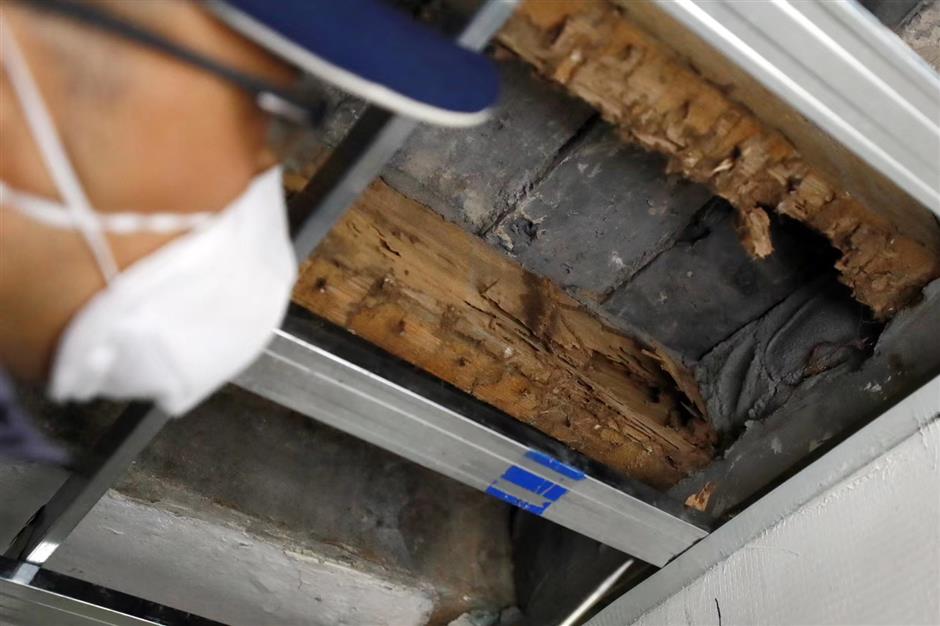 Bai Kelin
A wave of termite infestations is impending as the current humid and sultry weather provides a perfect catalyst for their proliferation, exterminators warn.
"The termite invasion outbreak started in late May and will last until around July 10," said Zhang Shengqi, director of the Xufang Greenery and Termite Control Center in Xuhui District.
"The extreme peak is due around the plum rain season, a period known for damp, sultry weather, as the pest favors a humid environment," he told Shanghai Daily.
The number of pest-control requests from frightened residents now amounts to more than 10 per day, and may surge to 40 to 50 daily soon around the plum rain season, he said.
The annual battle between local residents and the destructive pests started as early as March and the bugs have been spotted in huge numbers in old wooden buildings across the city.
In March, the city's property management authorities released a list of 54 professional termite prevention and control agencies which residents can turn to for help.
Yongjia Road, Anfu Road and Huaihai Road M., which are home to large numbers of old wooden structures, are some of the worst-hit neighborhoods, according to the center.
"The area we cover has a lot of old villas featuring wood-and-brick structures, and they are the favorite habitat of the pest," said Zhang.
"We also received some requests from expats who live inside these villas and asked their landlords to call us, and most callers did not know how to handle the situation," he said.

"Some termites spotted in old houses are flying in from streetside trees, parks, gardens and greenery," said Zhang. "They establish colonies."
Zhang and his colleagues recently received an assignment to take precautions against termite invasion at an old villa built in the 1930s in Hunan Road Subdistrict.
"We found that the wooden beam was gnawed to rotten at the villa," said Zhang.

Along with their experience, exterminators also use high-tech equipment to help capture signs of termites.
They use chemicals and sprays to keep the bugs at bay.

"If residents spot large numbers of flying termites at home, it means the bugs have established colonies there," Zhang said.
The tiny insects thrive in humid conditions, and precautions are recommended for old houses which are particularly vulnerable, said another exterminator surnamed Zhang with the Nanfang Greenery and Termite Control Service Center in Huangpu District.
In March, destructive bugs were spotted at Guyi Garden in Jiading District, a classical Jiangnan-style garden dating back to the Ming Dynasty (1368-1644). Chemical sprays and powder were applied to about 20 ancient buildings and 30 trees.
Bait is buried underground to attract termites as well.
"Some old houses inside the garden are of brick-and-wooden structures, and they are close to water," said Sun Jia, an employee at the garden. "The lush greenery shades light, providing perfect catalyst for termites."
"Some greenery was seriously damaged by the bugs, and they fly into architecture with lights," she added.
The garden is conducting a three-year prevention campaign against termites to root out their nests, and control measures will continue over the long term, she said.
The Shanghai Greenery Management Station said it is spraying for termites on roadside trees, experimenting with chemicals and other agents to control termites, and also using technology to track their nests.
The Shanghai Housing Management Bureau has reminded residents to keep indoor areas dry via ventilation and to clean frequently.

They should also remove garbage that attracts termites and avoid piling items on stairs and dark corners, the bureau said.
Wood and wooden items at home should be checked for infestation, and people can install screen windows as a precaution, it said.
Residents spotting termite movements at home can dial 962121 for assistance, the bureau said.
Termites prefer humid, warm and quiet places, and the best way to avoid an infestation is to keep windows closed, experts said.
Barrier strips can be installed on the cracks of doors and walls, and wood and packaging brought outside should be checked closely.

People should not move or destroy termite nests themselves, but instead should ask professional agencies for help.
Bai Kelin
Source: SHINE Editor: Cai Wenjun Special Reports