Swiss firm Sonova invests long-term in Chinese hearing health market
09:00 UTC+8, 2023-05-09
0
Leading hearing care solution provider demystifies processes for hearing-impaired and families as it expands in Chinese market.
09:00 UTC+8, 2023-05-09
0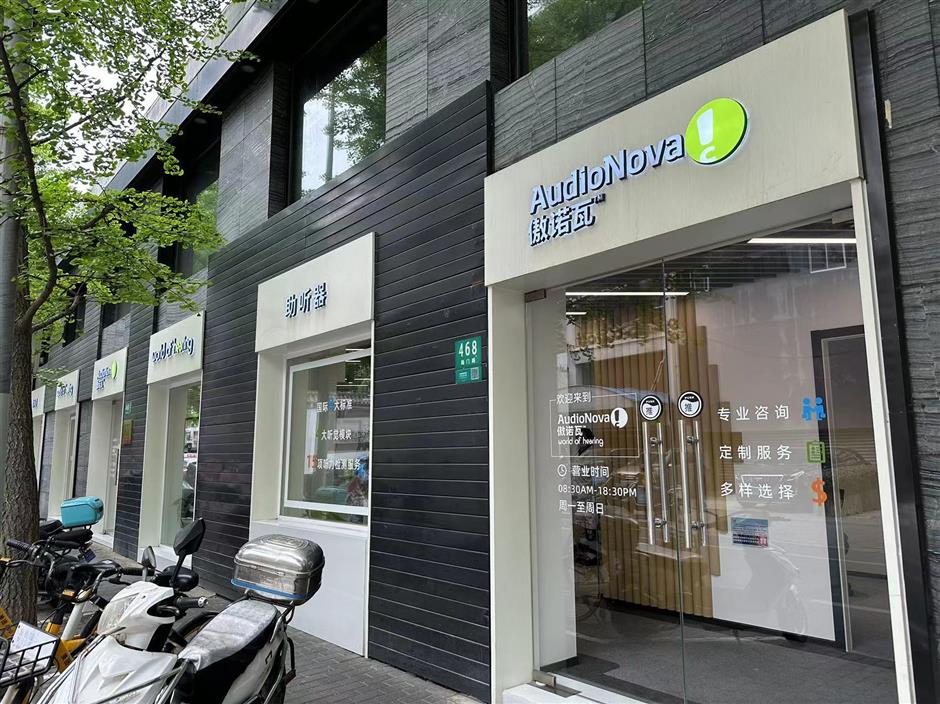 An elegant store on Shanghai's downtown Jumen Road in Huangpu District stands out to passers-by with its fresh color palette of bright green, muted black and crisp white.
Under the brand AudioNova, the business is a flagship store for Swiss firm Sonova, the world's leading hearing care solution provider.
The store offers full access to Sonova's audiological care services, including but not limited to post-sales service, automatic reminders of hearing instrument maintenance and visual user guides on how to wear hearing aids.
"It makes people comfortable," Christophe Fond, Group Vice President Audiological Care of Sonova, told Shanghai Daily at the store.
"We are in the medical care category, and people are usually afraid to get into the medical world," Fond said. "So we created this store that is totally open, and we offer a lot of information for consumers to understand what we do."
In addition to professional services for patients, the store also presents a home-like space that allows the families of hearing-impaired people to experience the world as they do, which is unique in the industry. Family members, whether they be a parent, child, spouse or sibling, can experience a simulation of what life is like with hearing impairment. Most are surprised to experience what everyday life is like for their loved ones who cannot hear well, and start to understand how difficult being hearing-impaired can be.
"Some are crying after they get this awareness, realizing that when their partners are not answering it is not because of a lack of interest, but lack of hearing, and then, they feel empathy," Fond said.
The store concept has been successful in all of Sonova's other key markets, so the company decided to introduce it to the Chinese market about two years ago. The Jumen Road flagship store opened in 2021, and the results have been "better than expected," Fond said. So far, 10 such stores have opened in Shanghai as a pilot to test how they were accepted by Chinese consumers.
"We have a long-term strategy for China," Fond said. "The Chinese market is young and, as a global leader in the industry, we are responsible for contributing to its growth and bringing our expertise here."
Fond stressed that such growth should be of high quality, and not compromised by rapid commercialization.
That long-term strategy included the acquisition of the HYSOUND Group in December last year, which has brought Sonova around 200 audiological care clinics in China in a network covering more than 70 cities in 20 provinces. That move is expected to "significantly enlarge Sonova's store footprint and direct consumer access, in this fast-growing market," Fond said.
Sonova China also restructured its organization to put all relevant business units, including hearing instruments, audiological care, cochlear implants and its consumer hearing business, under one leadership team based in China. Being China-led, instead of under horizontal management from the global parent, allows the Chinese team more freedom to coordinate and act.
All the moves point to the long-term strategy and high expectations of Sonova for quality growth in the Chinese market, Fond said.
This is sponsored content.
Source: SHINE Editor: Cao Qian Special Reports