Building an endless new economy platform
20:02 UTC+8, 2018-05-17
0
As the capital of Sichuan Province, Chengdu, a pioneer in innovation, kicks off the 2018 Chengdu Global Innovation and Entrepreneurship Fair tomorrow. 
20:02 UTC+8, 2018-05-17
0
Imaginechina
"Develop a new economy and cultivate new growth engines" is the latest strategy to make Chengdu a pioneer in innovation — as the capital of Sichuan Province kicks off the 2018 Chengdu Global Innovation and Entrepreneurship Fair tomorrow.
The three-day fair, which also has a digital platform to allow a year-round showcase of new technologies, will focus on presenting an authoritative voice and high-quality forums.
Dozens of special events looking at entrepreneurship, technology and in- vestment will be held.
It is the biggest annual innovation fair in western China, reflecting not only China's own achievements but the global trend of innovation and entrepreneurship as well.
The fair will showcase the most up- to-date technology trends and products to boost cross-border cooperation and attract top talent to Chengdu.
Focusing on the key tasks identified by the Chengdu National Center City Industrial Development Conference and the New economy Development Conference, the integration of offline activities and online platforms will be achieved through high-end forums and index releases at this year's fair.
So far, more than 60 VIP guests have confirmed they will take part, half of whom are from 41 sister cities in 32 countries.
The guests also include a Nobel laureate and executives from leading new businesses such as Alibaba Group, Mobike and Sogou.com.
"Chengdu will make 'the development of a new economy and cultivation of new growth engines' a major strategy to realize the city's economic restructuring and gear-shifting of growth to represent our ideologies in urban development," said Zhang Xinyu, director of the Chengdu New economy Commission.
"The fair is a perfect platform to gather resources and attract attention to create an ecosystem for Chengdu to develop a new economy, accelerating the city's pace in becoming an opinion leader, a cultivator, a magnet and an innovator in the sector," Zhang said.
According to China's Innovation and entrepreneurship Indexes, Chengdu's innovation index rose from 203 in 2016 to 220 in 2017. That made the city 7.39 points higher than the national average.
The indexes, based on measures ranging from business to investment, environment and talent, were released in Chengdu after premier Li Keqiang visited Jingrong Town, a well-known incubator for technology startups.
last year, Chengdu carried out a comprehensive strategy matrix to facilitate an innovation-driven economy with the focus on upgrading industries.
According to the Chengdu Administration for Industry and Commerce, more than 464,000 new businesses were registered in 2017, a sharp increase of 42 percent from a year earlier. Among them, 20,000 were technology companies, up 55 percent from 2016.
About 260 innovation hubs were established last year with a combined area of 16.54 million square meters, ideal for many tech companies in their infancy.
Also, the output of Chengdu's high technology sector amounted to 937.48 billion yuan (US$147.79 billion) last year, taking its share of the city's gross domestic product to 1.38 trillion yuan, 8.1 percent up from a year earlier. That growth was 1.2 percentage points faster than the national average. on the side of attracting talent, more than 120,000 young people with a bach- elor's degree or above chose to work in Chengdu after it launched more fa- vorable incentives and 38 of China's top one Thousand experts decided to settle here. During this year's fair, there will be a high-level summit on collaboration between universities, companies and think tanks, which will recommend a "Chengdu model" to encourage such collaboration, said Chen Gang, deputy director of the Chengdu Science and Technology Bureau.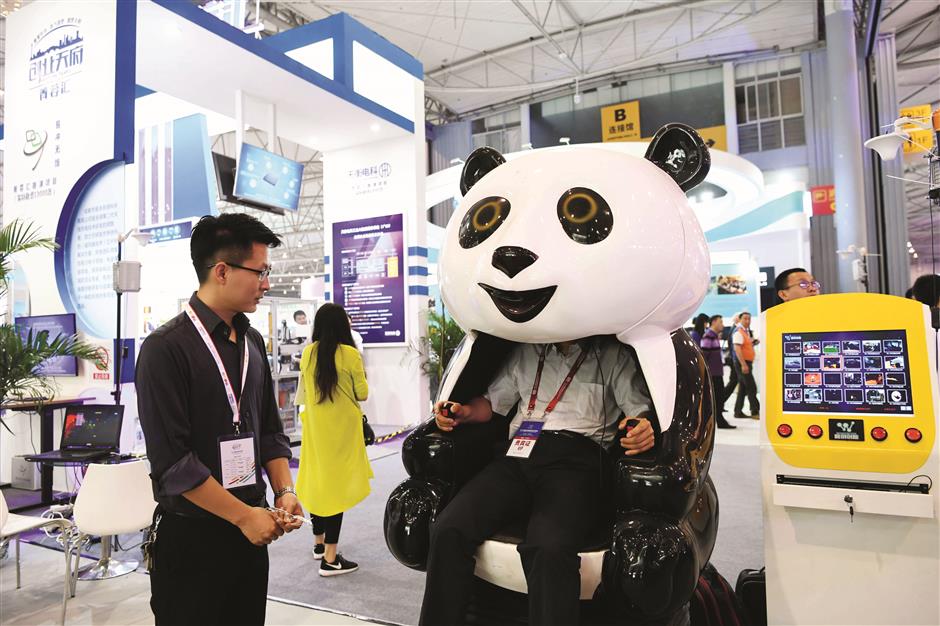 An Yuan
The goal of the "Chengdu model" is to create innovative industrial parks, cultivate cutting-edge industry groups, and holistically raise the developmental capability of industrial parks and the companies within them.

On March 13, 15 projects worth 26.8 billion yuan began in the High-Tech Industrial Development Zone.
They centered on the construction of a complete production chain for information technology in Chengdu to bolster its IT sector to a market worth more than 1 trillion yuan by 2020.
"Chengdu has built up a strong infra- structure for the development of its IT sector," said Che Zhou, deputy director of the Chengdu Commission of econo- my and Information Technology.
"We focus on both software and hard- ware and expect to make it our mission to overcome bottlenecks in developing chips and screens."
At this year's fair, Chengdu will release China's index for the new economy, an index for innovation and entrepreneurship in finance, and a list of its most valuable listed companies.
In 2017, the output of Chengdu's information technology sector surged 20.8 percent, way faster than the aver- age growth for the industrial sector.
Bio-technology is another core sector. on March 14, the Chengdu International Bio-Town celebrated its second anniversary.
In the two years, it has attracted investment of more than 90 billion yuan, with a total of 84 projects involving teams of high-level talent, including three led by Nobel laureates.
"To establish a matrix of modern industries is the top priority of Chengdu," Che said. "The potential for development in Chengdu's electronic information sector is huge."
In the realm of high-level breakthroughs, Chengdu carries great responsibility. These responsibilities include but are not limited to actions such as targeting industry bottlenecking and promoting steady, consistent market growth. Che added.
Thus the annual Chengdu Global Innovation and entrepreneurship Fair serves as a key platform for this mission.
More than 2,800 deals were signed for projects, with an estimated total value of over 24 billion yuan, during last year's fair, which attracted 11,000 foreign and domestic investors as well as entrepreneurs. The fair has also served as a channel for overseas entrepreneurial organizations.
Source: SHINE Editor: Su Yanxian Special Reports