A blooming snapper's summer vista
13:40 UTC+8, 2017-08-09
0
The intersection of Dingqiao and Linding roads in Jianggan District is covered with sunflowers now. The field of flowers attracts swarms of neighboring residents and shutterbugs.  
13:40 UTC+8, 2017-08-09
0
The intersection of Dingqiao and Linding roads in Jianggan District is covered with vibrant sunflowers at present. The large field of flowers attracts swarms of neighboring residents and shutterbugs, who often enjoy snapping such summer vistas.
The 40,000-square-meter field is ablaze with more than 60,000 sunflowers, which give off hope and vigor to the neighborhood. Now, the second batch of flower seeds is planted in order to retain the view in autumn.
Sunflowers bloom from June to October and spread across the city's scenic spots, parks and villages. According to the different florescence, the first crop of sunflowers blossomed in Eight Diagram Field in June.
Surrounded by mountains and pools, the field is a scenic spot, as well as farmland, dotted with peach and pear trees. The 10-hectare field is octagon-shaped, divided into eight parts with a tai chi symbol in the center.
Sunflowers gave a makeover to the field, creating a carpet of vibrant yellow. However, the flowers withered in early July because of the low rainfall this summer.
Luckily, still many locations are in bloom with gold sunflowers and some of them would continue to autumn. Shanghai Daily recommends several places in Zhejiang Province where sunflowers paint the fields yellow.
Hong Pavilion 洪园
The pavilion boasts 15,000 sunflowers with an area of 5,000 square meters. The flowers are averaged at 1.8 meters tall, which makes people immerse in the flower sea when they step into the field.

In addition to sunflowers, the pavilion is known for its kaleidoscope of colors. Rapeseed flowers, maple, cornflowers, and persimmon fruit paint the park a mix of yellow, orange, red and gold over four seasons. The sight of the colorful leaves and flowers against a clear blue sky is one of great charms in Hangzhou.
The pavilion is a part of Xixi Wetland. In history, the Hong family lived here since the Song Dynasty (960-1279) and flourished in the Ming Dynasty (1368-1644). Many court officials came from this prestigious family. Today the pavilion still remains the family's ancestral halls and palaces.
After viewing the floral vista, visitors usually visit the retained Hui-style buildings and neighboring Wuchang Village, which features temples, a traditional Chinese opera theater and celebrities' memorial halls.
How to get there: Take Bus No. 83 and get off at Wuchang stop.
Xianju County 仙居县
Starting from mid-July, the county is covered with yellow flowers. Photography contests will be held during the festival and they are expected to attract shutterbugs from Zhejiang and other provinces.

The 320 hectares of flowers distribute across four main areas, namely: Xinlu, Xiahua, Xilu and Yangfutou. To develop the county's agricultural tourism, the local government began organizing an annual sunflower festival years ago. They are expected to bring more than 3 million yuan (US$447,185) revenue to locals. Xianju, in Chinese, literally means "a place where immortals reside." The name reflects the picturesque scenery and heavenly beauty of this famous county in southeast Zhejiang.
Its rural charm and natural vegetation prompted the central government to list it in 2015 as site for a pilot national park construction program.
How to get there: Shanghai-Kunming Expressway — Changzhou-Taizhou Expressway — Shaoxing-Zhuji Expressway — Zhuji-Yongjia Expressway — Get off at Xianju Exit.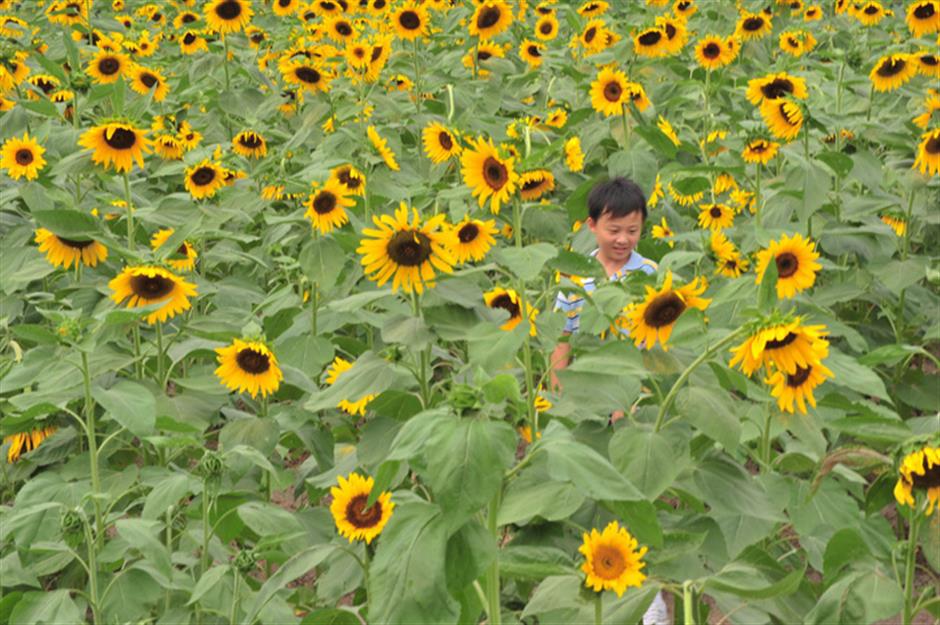 Daijia Village 戴家村
Daijia Village is located on the border of Jiande and Chun'an counties. Villagers have cultivated sunflowers for years. Except for ordinary sunflowers, the villagers also plant unique sunflower variety featuring colorful petals.

Since more people are attracted to the village in the summer to see the sunflowers, residents have started developing nongjiale, which provide simple food and homey accommodation.
Visitors can also pick their own fruits and vegetables, and even cook it themselves in village-style kitchen stoves.
The village is situated nearby Thousand Islands Lake. Visitors could head to the bluish-green lakes when finish viewing the floral scenery.
How to get there: Changchun-Shenzheng Expressway— Hangzhou-Xin'anjiang-Jingdezheng
Source: SHINE Editor: Su Yanxian Special Reports