Indulge in the culinary delights of Suzhou just like the natives do!
21:57 UTC+8, 2023-06-22
0
Thousands of Shanghai residents travel to Suzhou not only to see the classical gardens and museums, but also to enjoy a bowl of glorious sanxiamian.
21:57 UTC+8, 2023-06-22
0
In his celebrated work "My Country and My People" (吾国与吾民), the two-time nominee for the Nobel Prize in Literature Lin Yutang (林语堂) identifies two characteristics that distinguish Chinese cuisine from European cuisine: Texture, or "the elastic or crisp effect it has on our teeth," is as essential to Chinese cuisine as aroma, flavor and color. Then there is the importance of flavors.
"No one knows how cabbage tastes until he has tasted it properly cooked with chicken so that the chicken flavor has gone into the cabbage and the cabbage flavor has gone into the chicken," according to Lin.
What could be more enjoyable than discovering these two ideas the gourmet way? You won't be the only one traveling to Suzhou at this time of year: Thousands of Shanghainese travel there not just to see the classical gardens and museums, but to enjoy a bowl of sanxiamian (三虾面).
As with many good things in life, sanxiamian (literally, three shrimp noodles) defies translation or explanation. Noodles containing three shrimpy treasures? Or noodles with triplicate shrimp?
We'll stick with sanxiamian, which consists of Suzhou-style noodles topped with shrimp flesh, shrimp roe and shrimp head – not the shells, but the tasty orangey chunks inside.
While you savor sanxiamian, simply chew on Lin's two principles. What a texture and flavor combination from a single basic local ingredient, freshwater shrimp! Try them at the local favorite Tongdexing Noodles (同德兴面馆), at 624 Shiquan Street (十全街624号). The eatery closes at quarter past one, so head for an early lunch!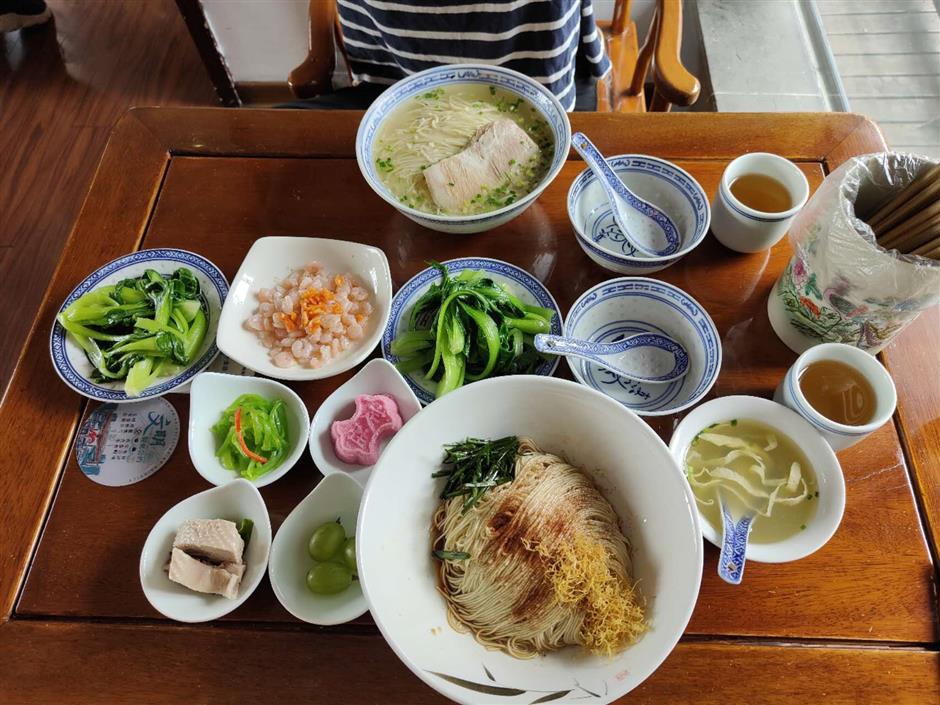 Louis Lee / Ti Gong
You will struggle to find sanxiamian after late summer. Lin really should have explained a crucial element in Chinese cooking – seasonality. Every corner of the world enjoys seasonal produce, but we Chinese take seasonality to another level. We let the seasons define not just what we cook but also how we cook.
Summers in Suzhou, just like in Shanghai, can be unbearably steamy. Lighter foods, such as stir-fried edamame with pickled cabbage or winter melon soup, are therefore appropriate.
Bitter winters, on the other hand, are best confronted with mutton soup. Mutton is considered to be a particularly warming meat, and Cangshu (藏书), a township, is famous for its mutton dishes. You now understand why Cangshu mutton (藏书羊肉) signs are found everywhere in Suzhou, especially in winter.
Why only in the winter? Because some restaurants double up as other businesses during the other seasons. Many fruit stores, or fruit stalls in markets, are converted into hairy crab specialty shops come autumn. So much for seasonality!
Louis Lee / Ti Gong
In Suzhou, a local acquaintance implored me to check out the markets – not supermarkets, but markets with actual activity – at least once in each of the 24 solar terms (二十四节气). I duly obliged, and now I urge you to visit the markets whenever you are in Suzhou.
The first stop on a gourmet's itinerary should be Fengmen Market (葑门市场). Here are your incentives: Tongdexing Noodles is up the road from the market, a 25-minute walk during which you will pass by the Master-of-the-Nets Garden. It is this garden that inspired the Astor Chinese Garden Court at the Metropolitan Museum of Art in New York.
My lasting memory of the market is of the many ladies sitting outside a corner shop at the intersection of Moye Road (莫耶路) and Fengmen Hengjie (葑门横街) shelling fox nuts (鸡头米) in late summer. Fox nuts are one of the Eight Delights from Water (水八仙) of which the locals are so proud and fond.
These eight aquatic vegetables, which also include lotus root (莲藕), water-shield (莼菜) and water celery (水芹), are so prized locally that a city mural features their pictures. I am particularly fond of water-shield and noodlefish soup (莼菜银鱼羹), whereas many locals vouch for fox nuts dessert soup. They claim eating fox nuts is texturally satisfying.
Louis Lee / Ti Gong
A stroll down the 800-meter Fengmen Hengjie, the market's main thoroughfare, is instructive. You will learn so much about the local culinary sensibilities. Stalls often advertise the origin of their produce; a fast count reveals that approximately two-thirds of the produce sold, particularly vegetables, is local (本地), whereas rice and eggs are typically from northern Jiangsu.
Not everything sold in the market is raw; try your luck at discovering a popular shop offering deep-fried fish fillets (爆鱼). And while we're on the subject of fish, look for the Three Glistening Treasures of Taiyuan's Lake (太湖三白, literally "the three whites") in the market and on the dinner table.
Suzhou's mother lake is home not only to the world-famous hairy crabs (大闸蟹), but also to noodlefish (银鱼), topmouth culter (白鱼) and freshwater shrimp (白虾). They are all staples of fine dining in Suzhou.
Louis Lee / Ti Gong
If you start your journey early enough and wish to walk off your calories after your sanxiamian, why not head to the quiet shores of Taihu Lake? Take Subway Line 5 to its westernmost terminus.
A walk along the lakeshore – a national wetland area, no less – is most pleasant when the weather is not too hot. You can even walk all the way from there to West Hill, a scenic island in the middle of the lake connected by a bridge. Yes, it is humanly possible. The author has done it!
However, for those searching for something simpler, head to Shuangta Market (双塔市集). Shuangta refers to a little-visited pair of over 1,000-year-old Buddhist towers in the heart of the old residential town. Its eponymous market was recently renovated and has become a Suzhou cultural center.
Shop for kitchen tools, household appliances, and other fashionable accessories, or sample numerous foods in the food hall. Until recently, the market even boasted a pop-up mini-bookstore offering food-related publications! The fact that a market was chosen as the site for a modern cultural center reveals how important food is to the people of Suzhou.
If you go:
Suzhou is about 100 kilometers from Shanghai.
1. By train: It takes about 25 minutes by high-speed train from Shanghai Railway Station or Shanghai Hongqiao Railway Station.
2. By car: It takes about an hour to drive from Shanghai to Suzhou.
Source: SHINE Editor: Liu Qi Special Reports