The people and places of China's revolution
10:50 UTC+8, 2020-07-28
0
An exhibition chronicling the Party's activities in Jing'an from 1921 to 1933 kicked off  on July 1.
10:50 UTC+8, 2020-07-28
0
Jing'an sits at the heart of Shanghai. It represents the essence of the history and culture of the city, home to century-old buildings, big-name attractions, glitzy retail malls and charming art galleries. Annual music and art events give the district a distinctive ambience. In this series, we showcase the highlights of Jing'an.
July Keywords:
Red DNA
Ti Gong
Ti Gong
Follow the footsteps of the Party's early days in Jing'an
A thriving, cosmopolitan metropolis, Shanghai also has glorious revolutionary traditions, a history unknown to many foreigners.
In July 1921, the Communist Party of China was founded in Shanghai, launching a new era for both the country and the city.
In the subsequent 11 and a half years, Shanghai was considered the Communist revolution's "gray matter," until the provisional Politburo was relocated in 1933 to the Ruijin revolutionary base in Jiangxi Province.
During that time, the Party placed more than 30 headquarters, committees and other major organs in Shanghai, more than two-thirds of which were situated in Jing'an.
An exhibition chronicling the Party's activities in Jing'an from 1921 to 1933 kicked off on July 1 at the Museum of the Second National Congress of the Communist Party of China, where the first Party constitution was drafted.
The exhibition is the first of its kind to lead people into the 25 sites related to early Party revolutionary activities. However, some didn't survive World War II or the wrecking ball of urban renewal.
The exhibition covers Pengpu Town and 13 subdistricts, providing a front-row seat to Party history.
Former 625 Fudeli (Bldg 30, 7 Laochengdu Rd N.)
This two-story shikumen (stone-gate) house was home to founding Party member Li Da, as well as the Party's first headquarters, first secret depository of confidential documents and first secret publishing house.
Li and his wife Wang Huiwu moved to Fudeli in April 1921 shortly after they were married.
At that time, there were few remaining secret sites other than 625 Fudeli that survived police raids and were safe for underground meetings of Party members.
Comprised of rows of similar-looking shikumen buildings, it was a wealthy neighborhood near the former international settlement and French concession.
Its upmarket veneer shielded the secret meetings. On July 16, 1922, 12 Party delegates gathered in secret at Li's house to attend the second nation - al congress.
Over eight days, they drafted the first Party constitution, consisting of six chapters and 4,000 words. In a footnote to history, Chair - man Mao Zedong failed to attend the meeting.
He later told journalist Edgar Snow he had forgotten the exact address and couldn't find anyone to tell him.
During the meeting, Wang held her newly born daughter and kept watch outside. She made a lasting contribution to the successful beginning of the first national congress.
The meeting was initially held in Shanghai but was interrupted by police. As such, she proposed moving it to a boat on Nanhu Lake in her hometown of Jiaxing, Zhejiang Province.
Li's residence, also serving as the provisional Politburo, was where Party correspondence and confidential documents were stored. Between July 1921 and June 1923, he kept nearly a million documents there.
In September 1921, Li established the People's Publishing House here, which to this day is one of the most reputable publishers in China.
It started as a one-man workshop in a narrow space underneath the staircase of the house near the kitchen. He served as editor, proofreader and publisher.
To prevent the publication from being discovered by the ruling Kuomintang government, Li printed a fake address and disguised Party propaganda leaflets as New Year's cards.
He painted "Happy New Year" on the front and Party slogans on the back. Whenever Li heard about a possible police raid, he hid the leaflets in a firewood pile.
Former 318 Jiaxiuli (120 Maoming Rd N.)
This shikumen house was where Chairman Mao spent the majority of his time in Shanghai, from June to December of 1924, living with his family on the first floor.
It was common for Mao to work at his desk past midnight while his wife Yang Kaihui copied documents. His mother Xiang Zhenxi took care of Mao's two young sons, Mao Anying and Mao Anqing.
While here, Yang and her two sons appeared in a photo, the only preserved photo of them. Mao wasn't in the picture because he strictly followed Party rules that Party leaders couldn't appear in photos.
It became his lifelong regret as Yang was killed in November 1930, so they never had the chance to take a family photo.
Former 1015 Jingyuanli (Bldg 12, 613 Xinzha Rd)
This shikumen building witnessed a real-life cloak-and-dagger story.
By the end of 1928, Bai Xin, early Party leader Peng Pai's secretary, was asked to rent the house as a spot for important Central Military Commission meetings, which was established in October 1925.
Peng lived and worked in an 8-square-meter garret, furnished with only a bed, table and two chairs, and a living room used by the commission to hold meetings.
However, Bai bore a grudge against Peng for having killed a deserter related to him. As such, he didn't hesitate to betray Peng and tipped off the Kuomintang government about a secret meeting on August 24, 1929.
Armed police and soldiers broke into the house and arrested Peng and four others — Yang Yin, Yan Changyi, Xing Shizhen and Zhang Jichun.
Premier Zhou Enlai organized a rescue attempt, but the effort failed. Six days later, all but Zhang were killed at Longhua prison.
On November 11, 1929, the Party's intelligence agency assassinated Bai.
Former 1141 Hengjili (Bldg 4-10, 673 Jiangning Rd)
This shikumen building was used by the Party's Secretariat to store classified documents from the end of 1927 until mid1931.
Finding it unsafe for Party members to keep important documents, Premier Zhou Enlai suggested finding a place for Party leaders to read documents and attend meetings, because they weren't allowed to take documents home.
Zhang Ji'en, under the pseudonym Huang Jici, rented the house in 1931. He lived with his wife Zhang Yuexia on the first floor and stored documents on the second floor.
Gu Shunzhang from the Party's intelligence office was arrested by Kuomintang, and gave information leading to the arrest of many underground Party members. After learning about the situation, Zhou transferred Party leaders and important documents to other sites.
At 1am on June 23, police raided the house, found nothing but arrested the couple anyway. Zhang's wife was soon released but he was sentenced to five years in jail.
SHINE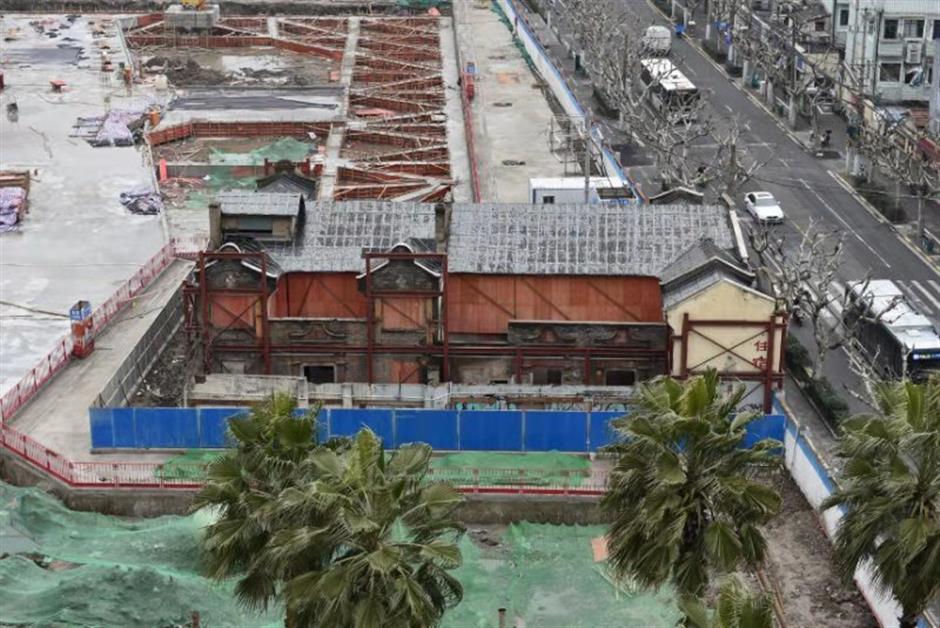 Ti Gong
Ti Gong
Important players of the revolutionary past
Many Communist revolutionaries left footprints in Jing'an from their early days. Here are three of them.
Zhang Renya
Zhang Renya was one of 200 Party members who received a copy of the first constitution shortly after the second national congress was held.
In 1927, when the ruling Kuomintang launched a crackdown on the Party, Zhang spirited the Party's founding documents, including the constitution, to safety in his hometown of Ningbo in Zhejiang Province.
At that time, some would have burned the documents, but Zhang believed they were too important.
He gave the documents to his father and hurried back to Shanghai to continue his work. His father, who supported his son's work, lied to neighbors, telling them his son had died in Shanghai. He then secretly buried the documents in the empty grave.
The young revolutionary did in fact die in 1932 at age 34, but his family didn't find out. When Zhang failed to return home after the founding of the People's Republic of China in 1949, his father decided to hand the documents over to the government in 1951. They have been preserved in China's Central Archives in Beijing.
Over the years, family members tried to uncover what happened to Zhang. In 2005, they discovered an old newspaper published in 1933 that contained an article mourning his loss.
Han Huiru
Han Huiru took part in Communist revolutionary activities in July 1935, because her elder sister Han Huiying and brother-in-law Chen Weiren were both Party members.
At that time, Chen was responsible for safely keeping the Party's most important documents. After her sister's arrest, Han disguised herself as Chen's wife to cover his identity until the end of 1936 when Chen transferred all the documents to his successor.
In 1937, the Party selected her to disguise Qin Hongjun's wife, a secret telegraph operator for the Party. However, she and Qin fell instantly in love and married the next year.
"He's not good-looking but he's such a sincere and honest person," Han said in her memoir. "He looked at me tenderly when I said all I wanted was to join hands with him on the revolutionary road, which really impressed me."
According to Han, they lived a happy life, especially after he joined the Party in 1945. However, their home was raided by police on May 17, 1949.
"It was very close to the liberation of Shanghai and Qin was very busy at work," Han said. "When police knocked on the door, he was working on the third floor. He immediately destroyed the telegraph transmitter and telegrams. Still, we were arrested."
They were interrogated separately, and Han insisted she knew nothing about Qin's work. She was eventually allowed to visit Qin, but his bloody body and fractured legs broke her heart.
"Again and again, he was tortured, in a coma and woken up by cold water, until he was dying," Han said. "And he took the chance to whisper in my ears. He said it's worthy to sacrifice for the country."
On May 7, 1949, Qin and 11 other Party members were killed just 20 days before Shanghai was liberated. Han escaped from jail on May 25, 1949. She died in 2009.
Liang Guangbi
When Liang Guangbi was just 3 years old, her father left the family and joined the New Fourth Army in the battle against Japan. He never returned home but made an impression on Liang.
"When Ji'nan was liberated in 1948, I was just 15 years old, but I didn't hesitate to quit school and follow the Party's footprints," Liang said. "I went to Shanghai in 1950 and two years later joined the Party."
Since then, she has worked in the Party's East China Bureau decoding telegrams.
"Our job was secret, so we couldn't go out or write letters to our families without approval," she said. "During the rare times we had a rest, we sang and danced in the garden, but we couldn't take photos to record the moments."
Ti Gong
Source: SHINE Editor: Chen Xingjie Special Reports