The legacy of 'the saint of modern China'
00:21 UTC+8, 2018-04-19
0
Lu Xun's spirit may also inspire people nowadays, providing calm for a society undergoing rapid change.
00:21 UTC+8, 2018-04-19
0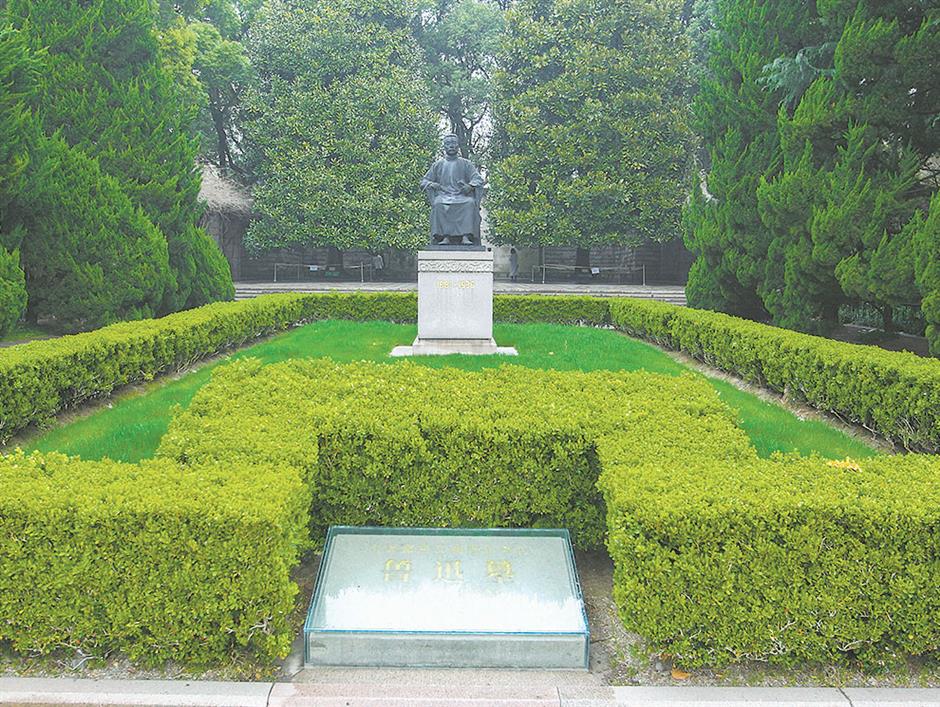 Jiang Xiaowei / SHINE
LU Xun, the "father of modern Chinese literature," influenced the thinking of 20th century Chinese people with his often biting short stories, poetry, translations, essays and literary criticisms
His legacy is honored in a memorial museum in Shanghai, where he spent the last decade of his life.
The Shanghai Luxun Museum in Luxun Park in Hongkou District opened in January 1951 to commemorate a man that late Chairman Mao Zedong called the "the saint of modern China."
Lu's enduring greatness is exemplified by the more than 20,000 people at home and abroad who visit the museum on average every month.
The Shanghai museum is one of more than 10 in China dedicated to the memory and works of Lu Xun (1881-1936), but it occupies a special place because of its close connection to the man of letters.
Over 80,000 exhibits, including original manuscripts and full collections of his works, are displayed in the museum.
Jiang Xiaowei / SHINE
Visitors can also pay tribute at Lu's tomb in the park and tour the well-preserved former residence not far away, where Lu lived with wife and son until he died of tuberculosis in 1936.
"Lu Xun was not only a literary giant, but also a thinker and reformist who played a key role in awakening and inspiring the Chinese people in the nation's modern history," said Le Rong, deputy curator of the museum and a senior researcher on Lu. "His spirit may also inspire people nowadays, providing calm for a society undergoing rapid change."
Lu, whose real name was Zhou Shuren, was born in 1881 to impoverished but educated gentry in Shaoxing in Zhejiang Province. He went to Japan to study medicine in 1902 but abandoned that pursuit in favor of literature because he was troubled by what he saw as China's spiritual malaise.
Jiang Xiaowei / SHINE
The entrance to the museum takes us back to his childhood years, which Lu depicted in his wide published essay series "Dawn Blossoms Plucked at Dusk." The museum also contains a garden of various herbs and shrubs that resembles the Baicao Garden, or "hundreds herbs garden," where Lu Xun played in his youth.
Traditional lanterns from Shaoxing hang in the main hall.
The handrails of the staircase are in the same style as the window fences of Lu's former residence in Shaoxing. Several sharp stones are piled around a bronze statue of the writer to highlight his satirical writing style.
Lu became a writer after witnessing the cold indifference of the Chinese to the execution of a Chinese prisoner during the Russo-Japanese War (1904-05). Reform, he wrote, was impossible without changing the mentality of the people.
From 1918 to 1926, Lu penned 25 highly influential stories, including what is considered the first story written in vernacular Chinese, "The Diary of a Madman." By 1926, he was writing satirical essays and also served as the head of the League of Left-Wing Writers, an influential revolutionary literary organization based in Hongkou near his residence.
Jiang Xiaowei / SHINE
Lu's works have been translated into English, Russian, German, and Korean and distributed worldwide.
The exhibition at the museum starts with miniature figures and scenes from "The True Story of Ah Q," a Lu masterpiece that was published between 1921 and 1922 in the Beijing Morning News. The clay models revisit the classic adventures of Ah Q, an uneducated rural man famous for "spiritual victories" that symbolized the Chinese national character of his time.
Over 1,500 paintings of the famous characters in Lu's works are also on display. They include masterpieces created by famous painters like Cheng Shifa and Chen Yifei.
"These characters represent the human nature exposed in Lu's works," Le said. "He never took writing as his livelihood, but aimed to expose the spirit of Chinese people and inspire especially the young generation."
Jiang Xiaowei / SHINE
In a nearby exhibition, a group of wax statues of Lu talking with four woodblock artists stands in the middle of the exhibition hall. It recalls an encounter 11 days before he died.
Lu was a devotee of woodcut prints because the traditional paintings are easy to understand for the general public. The museum has stored more than 7,000 woodcut paintings collected by Lu, according to Le.
One exhibition highlight is a plaster mold of Lu's face cast shortly after his death by his Japanese friend Okuda Koka.
Other key exhibits include a first edition of the Chinese translation of "The Communist Manifesto," which was presented to Lu by Chen Wangdao, a prominent educator and former president of Fudan University, who did the translation.
Jiang Xiaowei / SHINE
"I was surprised to discover so many facets of Lu Xun that were unfamiliar to me before," said Zhou Yajun, a visitor from Taiyuan in northern China's Shanxi Province. "They make me want to go back and look at Lu Xun's writings that I once studied in school."
Preparatory work on the museum started in June 1950, with many of the participating government officials either friends or students of Lu. The late Premier Zhou Enlai assigned Xu Guangping, Lu Xun's widow, to serve as a deputy secretary-general of the State Council in Beijing to guide the preparatory work.
The original site for the museum was Lu's former residence on Shanyin Road, a five-minute walk from the park. The three-story home was restored under Xu's guidance. She moved the original furniture back to the house for the exhibition.
The museum, opened to public in January 1951, was the first memorial site honoring Lu. The government relocated his tomb from the Wanguo Cemetery in Hongqiao to the park in 1956 on the 20th anniversary of his death.
Jiang Xiaowei / SHINE
Chairman Mao inscribed the "Tomb of Mr Lu Xun" on the large granite tombstone. Two pine trees either side of the tomb were planted by Xu and their only son, Zhou Haiying, who became a radio expert and researcher on his father's works.
As the number of visitors exceeded the capacity of the former residence, the government decided to renovate a nearby former navy warehouse to house the museum in 1999.
The museum has received many foreign officials and diplomats, especially those from Japan, Le said. According to Kitaoka Masako, founder of Ya Sou, Japan's largest, modern research institute on Chinese literature, many contemporary foreign scholars gained their first insight into China through Lu's works.
"Without a thorough understanding of Lu Xun, it's impossible to know about China," Masako said.
Source: SHINE Editor: Zhang Shunyi Special Reports