Heritage lanterns to light up festival night in Baoshan
22:33 UTC+8, 2019-02-20
0
Zhu Lingbao, 77 years old, a lantern artist in northern Shanghai, will present the most wonderful lanterns he has ever created with his team for the coming Lantern Festival.
22:33 UTC+8, 2019-02-20
0
Ma Xuefeng / SHINE
Luodian lanterns from northern Shanghai's Baoshan District will produce their most sumptuous display, perhaps ever, during this year's Lantern Festival.
There will be more lanterns than ever, bigger than ever, whirling round and round on mechanical spindles.
Zhu Lingbao, 77, is the last master and sole guardian of the art of making the distinctive lanterns. Impervious to age, he was still climbing up and down the display yesterday, determined that nothing would go wrong on the big night.
Luodian lanterns, which come in bright colors and various shapes, typically Chinese pavilions, pagodas, dragons, dragon boats and flowers, have 400 years of history and saw a revival in the early 1980s.
Zhu, who was working at the town's cultural exhibition hall at that time, was enchanted by a lantern show and started to learn to create his own.
Having won the top prize of a local lantern art competition in 1988 with a 1-meter-long mobile dragon-boat lantern, Zhu had his name heard far and beyond and was soon after invited to make two 10-meter-long lanterns of the same design for a festival in Nanhui of the Pudong New Area at the other end of the city.
Zhu got so famous that his skills were also trusted by small shop owners who sought light box advertising for their businesses, so that Zhu would find himself creating "lanterns" shaped like screws and beep pagers.
In 2007, Luodian lanterns were officially named an intangible cultural heritage item of Shanghai, and Zhu was established as a master that inherited the skills of the art form.
Over the years, Zhu has significantly developed the art form, and the purpose, as he said, is to make it easier for people to acquire the skills so as to draw more interest in it.
"Old lanterns used reeds and bamboo to make skeletons and then pasted paper onto them, but such lanterns were fragile and not really good-looking," he said.
Now, iron wires, more economic and versatile in creating different shapes, are used in making the lanterns, and silk cloth is used to cover the skeletons.
Also, to streamline the procedure of producing a lantern, instead of finishing up the entire skeleton before pasting cloth onto it, Zhu and his team now break down a lantern into parts and assemble them after the parts are done.
"What will never change about our Luodian lanterns are their gaudy colors and ancient motifs," Zhu said. "Our lanterns can't be compared with the industrially made sleek lanterns at Yuyuan Garden, but they're a part of our tradition and life."
One of Zhu's co-workers is 76-year-old Tang Xiuying, who joined the team in 2004. She is now in charge of preparing and cutting the cloth and pasting it onto the skeleton of a lantern.
"This work is interesting because when you're creating something with your own hands, you also get to chat with co-workers who are good friends," she said.
Ma Xuefeng / SHINE
Ma Xuefeng / SHINE
Zhu's lanterns have traveled to New Zealand and France. He still remembers his two-week stay in New Zeland in 2008, the first time he had been to another country. He took with him a double-dragon lantern, almost 20 meters long.
"The lantern was lifted to a pedestrian overpass by crane," he recalled.
The lantern, together with some others, was for a festival held by the Chinese community there.
In Luodian, every year during the Lantern Festival and Dragon Boat Festival, Zhu and his team present their best work. For the coming Lantern Festival on February 19, they took up some brand-new challenges.
Instead of one huge lantern, they are creating four sets of lanterns based on the four seasons. The spring lantern, over 3 meters tall, will be blossoming with a human figurine rising up in the middle, and on the summer lantern, five dragon boats in the colors of blue, green, white, pink and yellow will float round and round.
Zhu has various professionals on his team, including 62-year-old Zhang Guiqiu, a retired electrician, who started his work on the project in October last year. As there were no welders on the team, Zhang learned.
"My parents told me that there was a long tradition of lighting pagoda-shaped lanterns on the day of the Lantern Festival in our town," he said. "I loved those lanterns and I think we have to keep our tradition alive."
"One day is not enough to show off these great works of art," he said. "Last year on the Lantern Festival, they started to get put out at 9pm while tourists were still jostling each other for the last pictures."
The lantern show featuring works created by Zhu and his team will be found at Dragon Boat Square in Luodian Town on February 19.
Ma Xuefeng / SHINE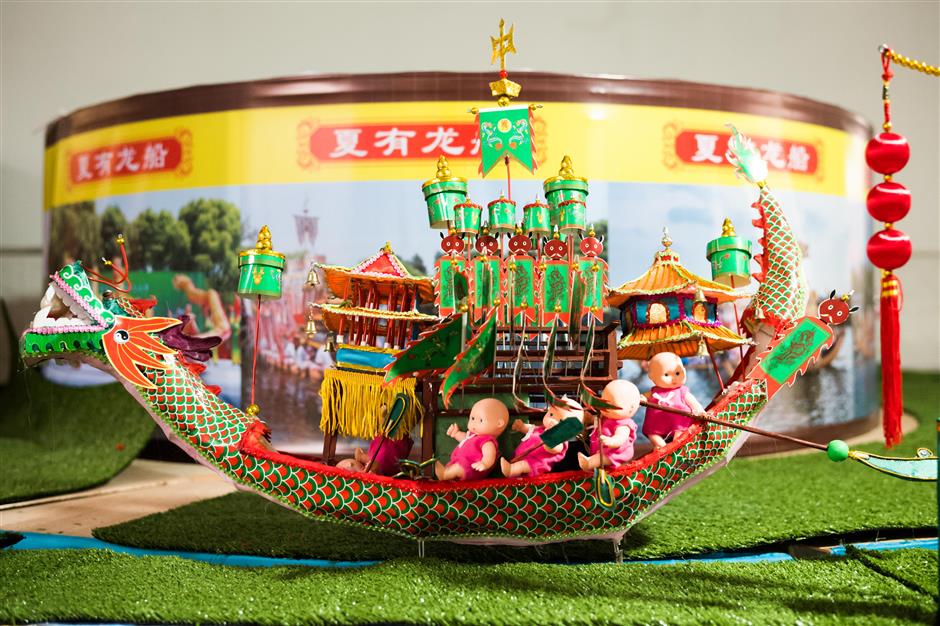 Ma Xuefeng / SHINE
Source: SHINE Editor: Wang Xinzhou Special Reports